Ingrediënten 3 a 4 personen:
250 gr kersen (vers of uit pot in eigen sap)
125 ml melk
35 gr bloem
1,5 ei
35 gr kokosbloesemsuiker
1 theelepel vanille extract
Snufje zout
Bereiding:
Verwarm de oven voor op 190 graden. Vet een quichevorm van ongeveer 16 cm in. Ontpit de kersen en verdeel deze over de bodem.  Klop de overige ingrediënten tot een luchtig beslag en schenk over de kersen. Bak in de oven in ongeveer 30 tot 45 minuten gaar. Serveer warm.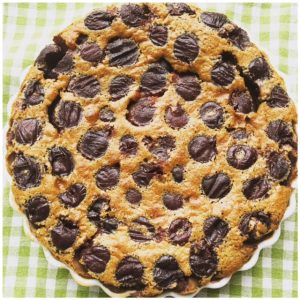 English version
Ingredients 3 a 4 persons:
250 gr cheries (fresh or from a pot in it's own juice)
125 ml milk
35 gr flour
1,5 egg
35 gr coconut blossom sugar
1 tea spoon vanilla extract
Sprinkle of salt
Direction:
Preheat the oven on 190 degrees. Smeer some butter in a quiche molt of 16 cm. Remove the stone of the cherries and spread the cherries on the bottom of the quiche molt. Whip the rest of the ingredients together and pour over the cherries. Bake till done in about 30 to 45 minutes. Serve warm.