Ingredienten voor 1 persoon:
80 gram verse ravioli 5 formaggio
1/3 bakje champignons (ongeveer 5 stuks)
2 eetlepels gekarameliseerde rode ui*
2 of 3 handjes spinazie
Scheutje witte wijn (optioneel, maar wel lekker)
4 walnoten
Bereiding:
Kook de pasta zoals vermeld op de verpakking. Snij de champignons in plakjes. Verhit een beetje olie in een pan en voeg de champignons toe. Voeg vervolgens de gekarameliseerde rode ui toe. Schenk een klein beetje witte wijn erbij. Giet de pasta af maar bewaar een beetje kookvocht en voeg dit toe aan de champignons en ui. Voeg de spinazie toe en laat slinken. Voeg als laatste de pasta toe en verwarm nog even kort. Bestrooi met de walnoten.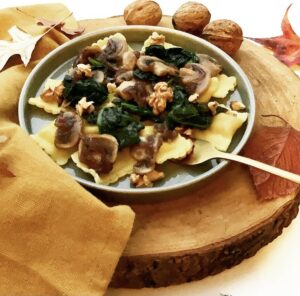 *gekarameliseerde rode ui maak je heel makkelijk door de uien heel dun in ringetjes te snijden. In een pan met dikke bodem wat olie of boter verhitten. De rode ui toevoegen en even aanbakken. Vervolgens een scheut water erbij en dit laten sudderen tot de uien heel zacht worden. Hoe langer, hoe beter, maar let wel op dat je telkens wat water erbij doet anders branden ze aan. Nog iets zoeter, voeg een beetje honing of agave siroop toe.
English version:
Ingredients for 1 person:
80 gram fresh ravioli 5 formaggio
1/3 of a container of mushrooms (5 pieces)
2 spoons caramelized red onion*
2 or 3 handfulls of spinach
Splash of white wine (optional but good)
4 walnuts
Directions:
Cook the pasta as described on the package. Cut the mushrooms in slices. Heat a little oil in a pan and add the mushrooms. Than add the caramelized red onion. Pour the wine over it. Take the pasta out of the water but keep a little of the water it was in. Add this to the mushrooms and onion. Add the spinach and let it shrink. Add the pasta and heat it through. Serve with the walnuts.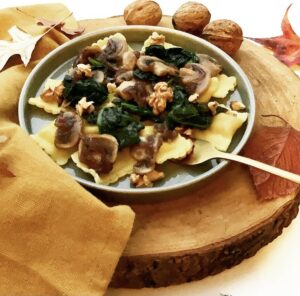 *caramelized red onion is very easy to make. Slice the onions really thin. Heat some oil or butter in a pan with a thick bottom. Add the red onion and bake. Add some water and let is shimmer untill soft. The longer the better, but just make sure to keep adding water or else the will burn. Want it a little sweeter? Add a little honey or agave syrup.