Laat de lijst aan ingrediënten je niet afschrikken, geloof me, het is het waard!!!
Ingrediënten voor 6 personen:
50 gram boter
4 hele rijpe (zwarte) bakbananen (te krijgen bij de Toko), gepeld en grof gesneden
100 gram prei, grof gesneden
150 gram wortel, grof gesneden
75 gram rode ui, grof gesneden
1250 ml water
25 gram kippenbouillon (half blokje of poeder)
1 stengel bleekselderij
1 takje rozemarijn
1 takje tijm
1 laurierblaadje
1 theelepel kaneel
1 theelepel komijn
1 lepel suiker
1 Scotch Bonnet Chili, heel, aan een prikker (ik kon deze chili niet bij mijn toko vinden dus ging voor een gele Madame Jeanette peper)
175 ml slagroom
175 ml kokosmelk
175 ml sinaasappelsap, vers geperst
Zout en peper
Bereiding:
Smelt de boter in een grote pan op medium vuur en voeg de bakbanaan, prei, wortel, ui en bleekselderij toe. Doe de deksel op de pan en laat de groentes 5 minuten "zweten" terwijl je regelmatig roert.
Voeg het water, de kippenbouillon, selderij, rozemarijn, tijm, laurierblad, kruiden, suiker en het pepertje toe. Roer goed door en breng aan de kook. Zet het vuur lager en laat 1 uur pruttelen. Haal de soep van het vuur en haal de rozemarijn, tijm, laurierblad en het pepertje uit de soep. Laat even staan tot voldoende afgekoeld om de soep te pureren met een staafmixer, blender of keukenmachine. Voeg de slagroom, kokosmelk en sinaasappelsap toe en roer goed door. Zet terug op het vuur en voeg wat peper & zout toe. Verdeel de soep over 6 komen en garneer eventueel nog met bakbaanchips en gehakte peterselie.
Recept komt uit Modern Caribbean Flavors van Helmi Smeulders. Te koop bij Bol.com.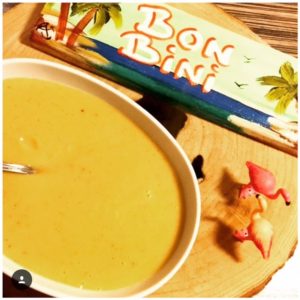 English version:
Don't let the list of ingredients scare you off, believe me, it's worth it!!!
Ingredients for 6 persons:
1/4 cup (50 gr) butter
4 very ripe (black) plantains, peeled and roughly chopped
1 cup (100 gr) leek, roughly chopped
1 cup (150 gr) carrot, roughly chopped
1/2 cup (75 gr) red onion, roughly chopped
5 cups (1250 ml) water
5 tablespoons (25 gr) powdered chicken stock
1 stalk of celery
1 sprig of rosemary
1 sprig of thyme
1 bay leave
1 teaspoon ground cinnamon
1 teaspoon ground cumin
1 tablespoon sugar
1 Scotch Bonnet chili, whole, pierced onto a bamboo skewer (i couldn't find one, so i decided to use a yellow Madame Jeanette peper)
3/4 cup (175 ml) heavy whipping cream
3/4 cup (175 ml) coconut milk
3/4 cup (175 ml) orange juice
Salt and pepper
Directions:
Melt the butter in a large stockpot over medium heat and add the plantain, leek, carrot, onion and celery. Cover with a lid and let the vegetables sweat for 5 minutes while stirring occasionally.
Add the water, chicken stock, celery, rosemary, thyme, bay leave, spices, sugar and chili. Stir well and bring to a boil. Reduce the heat and let simmer for 1 hour. Take the soup off the heat and remove the rosemary, thyme, bay leave and chili. Let stand until cool enough to handle and puree the soup in a blender or food processor. Add the cream, coconut milk and orange juice and stir to combine. Put back on the heat and season to taste with pepper and salt. Divide the soup over 6 bowls and garnish with a fried plantain chip and some chopped parsley.
Recipe from Modern Caribbean Flavors of Helmi Smeulders, Buy Modern Caribbean Flavors at Bol.com)