Ingredienten voor een klein taartje (16 cm springvorm):
Bodem:
5 mazafati dadels
3 eetlepels havermout
3 eetlepels amandelmeel
1 theelepel cacao
klein scheutje water
Eerste laag:
1 gelatineblaadje
200 gram Ehrman High Protein Caramel Pudding
Snufje zeezout
Tweede laag:
1 gelatine blaadje
200 gram bananen kwark (Jumbo)
1/2 banaan
Eventueel een klein beetje chocolade of caramelblokjes als versiering
Bereiding:
Week een gelatine blaadje in een klein beetje koud water. Maak de bodem door alle ingrediënten te mixen in een keukenmachine. Bedek een springvorm met bakpapier. Verdeel de dadel/haver/amandelmix over de bodem, strijk glad met de achterkant van een lepel. Zet in de koelkast tot gebruik. Verwarm 2 eetlepels Caramel pudding in een pannetje op laag vuur. Voeg een snufje zeezout toe. Knijp de gelatine uit en voeg toe. Roer tot deze volledig is opgelost en haal de pan van het vuur. Voeg vervolgens de rest van de pudding toe en roer goed door. Schenk over de bodem en zet in de koelkast om op te stijven. Dit duurt ongeveer 1 a 2 uurtjes. Herhaal met de bananenkwark met gelatine en schenk deze over de eerste laag als die is opgestijfd. Zet in de koelkast en laat opstijven. Snij de banaan in plakjes en versier de taart ermee, strooi er vervolgens nog wat chocolade of karamelblokjes over. (of smelt een klein beetje chocolade en versier de taart hiermee).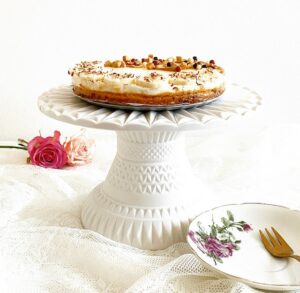 English version:
Ingredients for a small pie (16 cm round cake tin/spring form):
Base:
5 mazafati dates
3 spoons oatmeal
3 spoons almond flour
1 teaspoon cacao
little bit of water
First layer:
1 gelatine sheet
200 gram Ehrman High Protein Caramel Pudding
Sprinkle seasalt
Second layer:
1 gelatine sheet
200 gram banana quark (Jumbo)
1/2 banana
A little chocolate or caramel cubes as decoration
Directions:
Soak a gelatine sheet in a little bit of cold water. Make the base by mixing all the ingredients in a kitchenmachine/blender. Cover the springform/cake tin with a bit of anti grease paper. Divide the date/oat/almondmixture over the base, smooth out with the back of a spoon. Put in the fridge till needed. Heat 2 spoons of Caramel pudding in a pan on low. Add a little seasalt. Squeeze the water out of the gelatine and add to the pudding. Stir untill it's completely dissolved and take the pan of the heat. Add the rest of the pudding and stir well. Pour over the base and put in the fridge to set. This will take 1 or 2 hours. Repeat with the banana quark & gelatine and pour this over the first layer if it has set. Put in the fridge to let it set. Cut the banana in slices and decorate the pie with it, sprinkle some chocolate or caramel on top. (or melt a little chocolate and decorate the pie with it).