En hoe? Wat een geweldige manier om dit culinaire jaar af te sluiten. Brabant was namelijk dit jaar gekozen door een internationale jury als DE Europese regio van de Gastronomie. En na afgelopen woensdag kan ik dat alleen maar heel erg beamen.
Ik werd uitgenodigd door mede-foodie Anne van AnneTravelFoodie (IG:anne_travel_foodie) en toen ik de e-mail las wist ik eigenlijk wel dat ik deze food experience echt niet mocht missen! Want hoe vaak krijg je nou een lunch aangeboden in een gevangenis en dan ook nog verzorgd door twee geweldige chefs, Tim Bressers van restaurant Taste by Dirk en Soenil Bahadour van De Lindehof, bekroond met 2 michelin sterren. Daarnaast kan je erop vertrouwen dat als Anne je uitnodigt het sowieso bijzonder wordt, de Brabantse gezelligheid & gastvrijheid had ik al mogen proeven tijdens een superleuke foodtour die ze had georganiseerd in Tilburg. En ook dit keer was het genieten met een hele grote (zachte) G!
De locatie met het contrast van de koude kille celdeuren met een hele warm aangekleden tafel door Enjoy pure styling maakte het echt heel bijzonder. En dan het gezelschap, een mooie mengeling van (nationale & internationale) foodies en food journalisten met allemaal dezelfde passie…lekker eten. Tja, dat kan alleen maar goed uitpakken. En dat deed het zeker. We begonnen met een heerlijke amuse van Tim Bressers, een brioche met ossenstaart en parmezaanse kaas. De ossenstaart was zo zacht gegaard dat het smolt op je tong. Dit beloofde wat voor de rest van de lunch.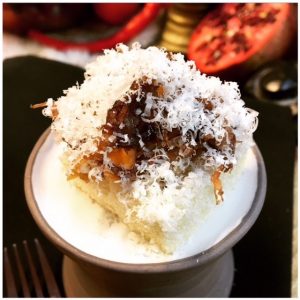 Nu had ik de naam Soenil Bahadoer al regelmatig voorbij zien komen en wist ik ook dat hij 2 Michelin sterren had, wat ik echter niet wist was dat hij Surinaams is en z'n roots dan ook duidelijk naar voren laat komen in z'n eten. En voor wie mij kennen…je kan mij niet happier maken. Vooral niet als je dan ook nog eens 2 gerechten in je amuse en hoofdgerecht verwerkt die bij mij boven aan staan in m'n favoriete comfortfoodlijstje. Dus ja, amuse 2 viel heel erg in de smaak. Dit heerlijke kommetje met Rendang, Kimchi en gemberbier ijs was echt heaven.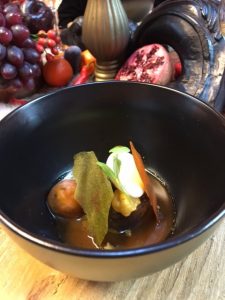 En of we nog niet genoeg verwend waren, krijgen we toen het voorgerecht. Kreeft op 3 heerlijke manieren bereid door Tim Bressers.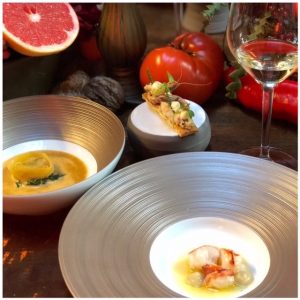 (fotocredits: Roos van Stylemyday)
Als ik gevraagd was naar de ingrediënten voor m'n laatste maaltijd dan komt deze lunch wel verdomd dicht in de buurt. (gelijk maar even afkloppen trouwens ;)!!!). Vooral als je daar het hoofdgerecht bij telt…eend van Eendenboerderij Helvoirt met vadouvan, roti en eendenjus ennnnnn…pom :)!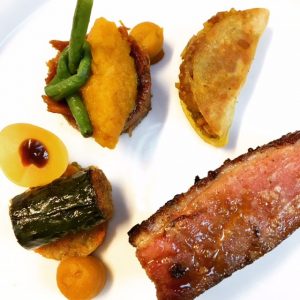 Tja ik ben dan een burger en fries meisje, maar van zulke mooie ingrediënten kan ik ook echt oprecht gelukkig worden. Het hoofdgerecht werd trouwens geserveerd met een La Trappe dubbel biertje en nu ben ik geen bierkenner of zelfs liefhebber, uiteraard heb ik het wel geprobeerd en voor diegene die wel van bier houdt…deze combinatie is echt heel goed.
Om het heerlijke eten te laten zakken en op weg naar het toetje, kregen we een stadswandeling door het mooie Breda waar we de blind wall paintings bekeken en uitleg kregen over de stad. Voor wie nog nooit in Breda is geweest…zeker doen, wat een leuke stad.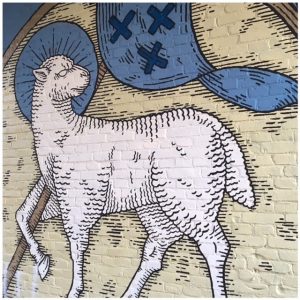 Helaas was het best koud, dus was ik blij dat we aankwamen bij het Belastingkantoor wat deze maand (tot de 22ste dus wees er snel bij!) dienst doet als o.a. pop up restaurant De Teruggave van cateringbedrijf Ravanello waar we in geheel Brabantse stijl afscheid namen van deze heerlijke lunch: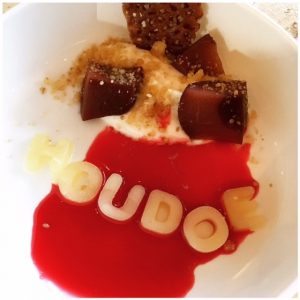 Houdoe en bedâânkt Brabant (en Anne) voor deze heerlijke celebration of Food!
English version:
And how? What an amazing way to end this culinary year. Brabant was this year chosen by an international jury as THE European region of Gastronomy. And after Wednesday i can't agree more.
I was invited by fellow foodie Anne of AnneTravelFoodie (IG:anne_travel_foodie) and when i read the e-mail i already knew i couldn't miss out on this food experience. 'Cause how often do you get invited to have lunch in a prison and by two amazing chefs, Tim Bressers of restaurant Taste by Dirk en Soenil Bahadour of De Lindehof, awarded with 2 michelin stars. And besideds that, if Anne invites you, you can be assured that it's going to be special, i had a taste of the Brabant way of cozyness and hospitality last time during a super fun foodtour she had organized in Tilburg. And also this time it was a huge pleasure.
The location with the contrast of the cold celldoors and the very warm decorated table by
Enjoy pure styling made it so special. And than the company, a great mixture of (national & international) foodies and food journalists with all the same passion…good food. That can only mean a great afternoon. And it was for sure! We started with a delicious amuse of Tim Bressers, a brioche with ox tail and parmesan cheese. The ox tail was so soft, it melted on your tongue. This set the promise for an amazing menu.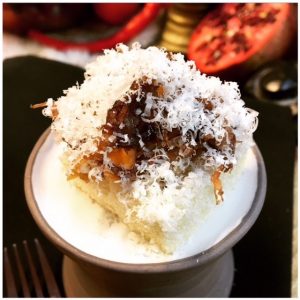 Ofcourse i had heard of Soenil Bahadoer and i did know he had 2 Michelin stars, what i didn't know was his Surinam roots and how he presents those in his food. And for those who know me…you can't make me happier. Esspecially when you use two dishes that are on top of my favorite comfortfoodlijstje in the amuse and main dish. So yes, amuse 2 was very pleasing. This delicious bowl with Rendang, Kimchi en gemberbier ijs was heavenly.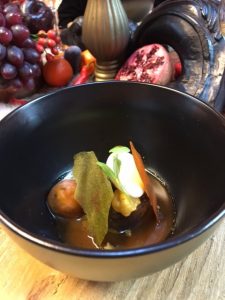 And if we hadn't been spoiled enough, we got the entree. Lobster 3 way by Tim Bressers.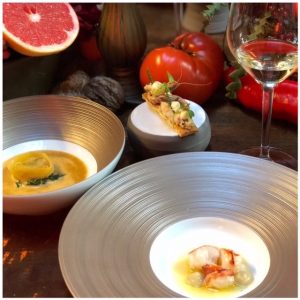 (Photocredits: Roos van Stylemyday)
If you had asked my ingredients for my last meal this lunch is as close as it gets (yes i knocked on wood ;)! Especially when you add the main course… duck of Duckfarm Helvoirt with vadouvan, roti and duck gravy aaaand..pom :)!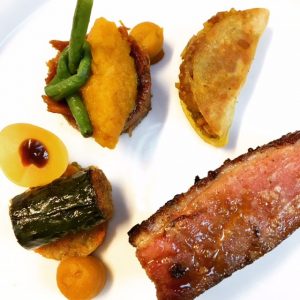 Yes i may be an burger and fries girl, but these beautiful ingredients do make me really happy. The main course got served with a La Trappe dubbel beer and eventhough i'm not a beer connoisseur or even like beer, i did try it and for those who do like beer…this combination is really good.
To digest this beautiful food and on our way to dessert, we had an city walk trough beautiful Breda where we were shown the blind wall paintings and they told us about the city. For those who never visited Breda and the reason why i translate this in English for those wanting to visit Holland, go to Breda, it's such a cute city.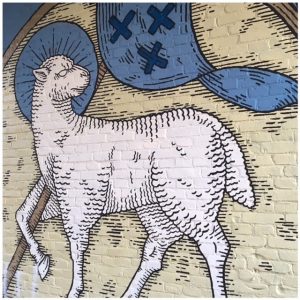 Unfortunately it was pretty cold, so i was happy to arrive at the tax office which serves as a popup restaurant De Teruggave this month (untill the 22nd so be quick!) of cateringcompany Ravanello where we said goodbye to this delicious lunch in a real Brabant way (Houdoe means goodbye):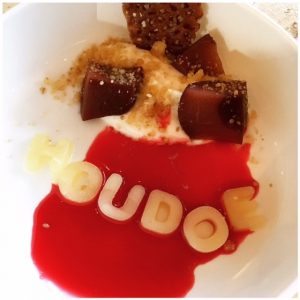 Goodbye and thank you Brabant (and Anne) for this delicious celebration of Food!