Naugthy: Pepernoten mandarijn cheesecake uit de oven
Ingrediënten zijn voor een taart/springvormpje van 15,5 cm, voor een "normale" maat taart verdubbel de ingrediënten.
Ingrediënten bodem:
100 gram pepernoten
30 gram boter, gesmolten
Ingrediënten topping:
1,5 pakje roomkaas (300 gr)
1/2 kop zure room (100 gr)
3/4 kop poedersuiker (90 gr)
1 theelepel maizena
2 eieren
Mandarijnenrasp en -sap van 2 kleine mandarijnen
Bereiding:
Knip een stuk bakpapier uit net iets groter dan de springvorm en beleg hiermee de bodem en klem er erna de ring omheen zodat het goed vast zit.
Verkruimel de pepernoten in een keukenmachine. Doe in een kom en voeg de roomboter toe en roer goed door. Schep in de bodem van de springvorm en maak glad met de achterkant van de lepel. Druk de zijkanten een beetje omhoog. Zet een half uur tot uur in de koelkast.
Verwarm de oven voor op 180 graden. Doe alle ingrediënten voor de topping in een grote kom en mix met een handmixer tot een gladde massa. Haal de springvorm uit de koelkast en schenk de roomkaasvulling bovenop de pepernotenbodem. Zet dit vervolgens in een braadslee en vul deze tot de helft van de springvorm met water (dit voorkomt scheuren bij het bakken). Zet de braadslee in de oven en bak 50 minuten in de voorverwarmde oven. Hij is goed als de bovenkant stevig is en een heel klein beetje goudbruin. Zet vervolgens de oven uit en open de deur op een kier en laat de cheesecake zo afkoelen. Als de taart genoeg is afgekoeld zet 'em dan in de koelkast en laat de taart hier 6 uur tot een hele nacht afkoelen. Versier met pepernoten en wat speculaaskruiden.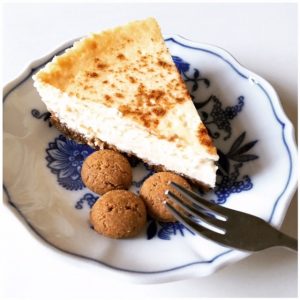 Nice: no bake speculaas mandarijn kwarktaartje
Ingrediënten voor 1 persoon (ik gebruik hiervoor een kookring met doorsnede 9 cm)
Ingrediënten bodem:
2 eetlepels amandelmeel
2 eetlepels havermout
1,5 theelepel speculaas kruiden
1/2 theelepel maple syrup
Scheutje water
Ingrediënten topping:
1,5 blaadje gelatine
6 el kwark
1/2 theelepel vanille
Mandarijnrasp van 1 mandarijn
Sap van een halve mandarijn
50 ml mandarijnsap
Bereiding:
Week de blaadjes gelatine in een kommetje met koud water.
Meng alle ingredienten voor de bodem in een kommetje. Leg de kookring op een bord en schep het amandelmeel/havermout mengsel in de kookring. Druk aan met de achterkant van de lepel/of stamper van de kookring. Zet in de koelkast tot gebruik.
Verhit 3 eetlepels met kwark in een pannetje. Haal 1 blaadje gelatine uit het kommetje en knijp goed uit en voeg toe aan de kwark. Roer goed tot het volledig is opgelost. Haal van het vuur en schep de overige 3 lepels kwark er door samen met het rasp en sap van de mandarijn en de vanille. Haal de kookring uit de koelkast en schenk het kwarkmengsel bovenop de bodem. Zet terug in de koelkast en laat zeker een uur tot 2 uur afkoelen en opstijven. Verhit de helft van het mandarijnsap in een pannetje. Haal het halve blaadje gelatine uit het water, knijp goed uit en voeg toe aan de mandarijnsap. Roer goed door tot het volledig is opgelost. Haal van het vuur en schenk de rest van het sap toe. Roer goed door. Haal het kwarktaartje uit de koelkast en schenk het mandarijnsap erboven op. Laat volledig afkoelen en opstijven. Ik zet het meestal een nachtje in de koelkast maar een paar uurtjes is ook goed.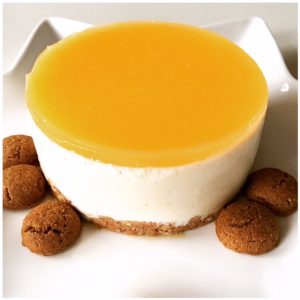 English version:
Naugthy: Baked Gingerbread cookie tangerine cheesecake
Ingredients are for a cake mold of 15,5 cm, for a "normal" size cake double the ingredients.
Ingredients base:
100 gram gingerbread cookies
30 gram butter, melted
Ingredients topping:
1,5 package creamcheese (300 gr)
1/2 cup sour cream (100 gr)
3/4 cup icing sugar (90 gr)
1 tea spoon cornflour
2 eggs
Tangarine zest and juice of 2 small tangarines
Directions:
Cut a piece of baking paper just a little bigger than the spring cake tin and put on the bottom before adjusting and closing the ring around it making sure it can't move.
Put the gingerbread cookies in a kitchen machine and make into a crumb. Put in a bowl and add the butter and stire really good. Spoon this into the cake tin and smoothen with the back of a spoon. Press the sides a little higher. Put in de fridge for atleast half an hour.
Preheat the oven to 180 degrees celcius. Put all the ingredients for the topping in a big bowl en mix together with a handheld mixer to a smooth mass. Get the caketin from the fridge and pour the cheesemixture on top of the gingerbread cookie bottom. After this put the caketin in a roasting tray and fill this up with water up to half of the caketin. Put the roasting tray in the oven and bake in 50 minutes in the preheated oven. It is done when the top is firm and a little goldenbrown. Turn the oven off and open the door a little and let the cheesecake cool down this way. When cooled down enough take out of the oven and put in the fridge for about 6 hours or the whole night. Decorate with some gingerbread spices and cookie crumb.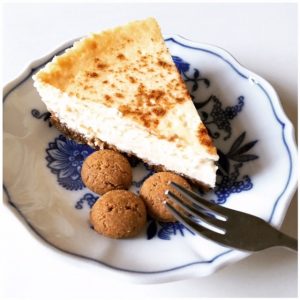 Nice: no bake gingerbread tangerine cheesecake
Ingredients for 1 person (i use a ring with of 9 cm)
Ingredients base:
2 spoons almond flour
2 spoons oats
1,5 teaspoon gingerbread spices
1/2 teaspoon maple syrup
Little bit of water
Ingredients topping:
1,5 sheets gelatine
6 spoons quark
1/2 teaspoon vanilla
Tangarine zest of 1 tangerine
Juice of half a tangarine
50 ml tangarine juice
Directions:
Soak the sheets of gelatine in a bowl of cold water.
Mix all the ingredients for the base in a small bowl. Put the ring on a plate and pour in the almond/oat mixture in the ring. Press with the bake of the spoon till nice and smooth. Put in the frigde till use.
Heat up 3 spoons with quark in a pan. Take 1 sheet gelatine from the bowl and squeeze the water out and add to the quark. Stire untill completely disolved. Take from the heat and pour in the rest of the 3 spoons quark together with the zest and juice of the tangarine and vanille.
Take the ring from the fridge an pour the quark mixture on top of the base. Put back in the fridge and let set for an hour to 2 hours. Heat the rest of the tangarine juie in a pan. Take the half sheet gelatine out of the water, squeeze and add to the juice. Stire till completely disolved. Take from the heat and add the rest of the juice. Stire well. Take the cheesecake from the fridge and pour the juice on top. Let set completely. I ussually put it in the frigde overnight but a few hours will do too!