Ingrediënten:
500 gram kip drumsticks
1 grote ui
2 teentjes knoflook
2 kippenbouillonblokjes
70 gram (1 blikje) tomatenpuree
1 eetlepel bloem
6 tomaten
2 theelepels gemberpoeder
2 eetlepels agavesiroop
1 eetlepel azijn
1/3 prei (ook lekker met lenteuitjes of taugé)
Bereiding:
Ontvel de tomaten door met een mes een kruis te maken in de tomaat. Doe ze in een hittebestendige schaal en giet er kokend water over. Laat een tijdje staan in de het hete water. Giet af en dan haal je makkelijk het velletje van de tomaat.
Verhit een beetje olie in een grote pan en bak de kip aan. Snipper de ui en knoflook en voeg toe aan de pan. Schenk er 1 liter water bij en de bouillonblokjes en laat ongeveer een half uurtje trekken. Haal de kip uit de pan. Pluk de kip als deze is afgekoeld. Verhit de tomatenpuree met 1 eetlepel water in een pannetje en voeg de gemberpoeder en bloem toe. Voeg dit aan de bouillon toe samen met de tomaten. Breng aan de kook en laat het dan ongeveer 10 minuutjes koken. Pureer de soep en zet daarna nog even terug op een laag vuur. Snij de prei in ringetjes en voeg samen met kipstukjes, de agavesiroop en azijn toe aan de soep. Voeg eventueel nog een beetje peper en zout toe.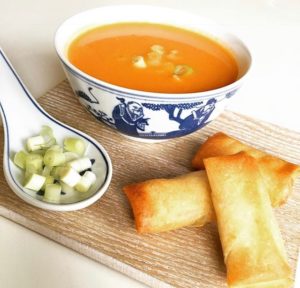 English version:
Ingredients:
500 gram chicken drumsticks
1 big onion
2 garlic gloves
2 dried chicken stock cubes (or 1 liter chicken stock, but don't add water)
70 gram (1 can) tomato puree
1 spoon flour
6 tomatos
2 teaspoons ginger powder
2 spoons agave syrup
1 spoon vinegar
1/3 leak (also good with spring onion or bean sprouts)
Directions:
Take the skin of the tomatos by carving a cross in the tomato. Put them in a heat resistant bowl and pour boiling water over them. Let it sit for a while. Pour the water down the drain and now you can easily take the skin off the tomatos.
Heat a little oil in a big pan and add the chicken. Bake for a bit. Cut the onion and garlic in small pieces and add to the pan. Pour 1 liter water into the pan and add the dried chickenstock and let it set for about half an hour. Take the chicken out of the pan. Take it apart once cooled down. Heat the tomato puree with 1 spoon of water in a small pan and add the ginger and flour. Add this to the chickenstock together with the tomatos. Bring to a boil and let it cook for about 10 minutes. Blend the soup and put it back in the pan on low for just a short while. Cut the leak into rings and add together with the chickenpieces, agave syrup and vinegar to the soup. Add salt & pepper to taste.