Nog eentje voor de Albert Heijn Festival Food challenge! Behalve een wrap (zie recept hier) besloot ik ook een eigen versie van de kokosballen uit de Allerhande te maken. En omdat ik ondanks dat ik bijna 40 ben, gewoon ook nog een heel erg meisje meisje ben, besloot ik voor roze ballen te gaan.
Ingredienten voor ongeveer 8 kleine balletjes:
1,5 ei (of 1 groot en 1 klein ei)
100 gram kristalsuiker
110 kokosrasp
80 gram bevroren frambozen
15 gram witte chocolade (ongeveer 2 blokjes)
Nog extra witte chocolade voor decoratie
Doe de bevroren frambozen in een pannetje op laag vuur en laat zo ontdooien en zacht worden. De reden dat ik bevroren frambozen gebruik is omdat zodra je ze kookt er meer sap afkomt waardoor de bollen mooi roze worden. Haal van het vuur en laat afkoelen. Verwarm de oven voor op 180 graden.
Klop met een mixer de eieren en de suiker dik, wit en luchtig (ongeveer 4 minuutjes). Schep de kokos er door. Voeg de frambozen toe, rasp de witte chocolade erboven en roer alles goed door. Maak met een ijsbolletjeschep (of met je natte handen) ongeveer 8 bolletjes die je op bakplaat bekleed met bakpapier legt. Bak in ongeveer 30 minuten gaar. Laat volledig afkoelen. Smelt de witte chocolade au bain marie of in de magnetron en schenk dit met een lepel over de bollen in een leuk streepjes patroon.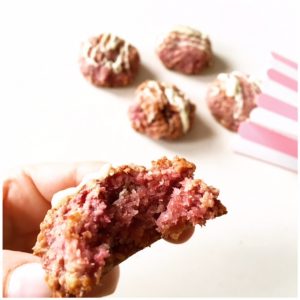 English version:
Another one for the Albert Heijn Festival Food challenge! Except for the wrap (see recept here) i decided to also to make my own version of the coconut balls that were in the Allerhande (magazine of the supermarket). And eventhough i'm almost 40, i'm still a girly girl, so i decided to make some pink balls.
Ingredients for approximately 8 smaller balls:
1,5 egg (or 1 big one and 1 small egg)
100 gram sugar
110 grated coconut
80 gram frozen raspberries
15 gram white chocolate (approximately 2 squares)
A little more white chocolate for decoration
Put the frozen raspberries in a pan on low heat and let it defrozed and get soft. The reason i use frozen raspberries is when you cook them they give off more juice which makes the balls nice and pink. Take of the heat and let it cool down. Preheat the oven to 180 degrees.
Mix the eggs and sugar with the handmixer untill thick, white and airy (approximately 4 minutes). Add the coconut and mix well. Add the raspberries, grate the white chocolate above the bowl and mix really wel. Make with a icescoop (or wet hands) approximately 8 balls and put them on a baking tray (which is topped with non grease paper). Bake in about 30 minutes untill firm. Let cool completely. Melt the white chocolate au bain marie or in the microwave and pour with a spoon over the balls in a nice stripy design.