Het voordeel van het leegruimen van je voorraadkast is dat je nog wel eens dingen tegen komt waarvan je niet eens meer wist dat je die had en waardoor er spontaan een idee voor een gerecht ontstaat. Zo gebeurde dat dus met een halfvol flesje Calvados. Maar denk dat ik deze binnenkort misschien toch weer aanvul in de kast, want dit gerecht bleek nog lekkerder dan ik had bedacht.
Ingrediënten voor 2 personen:
2 kipfilets
150 ml slagroom
2 plakjes bacon
2 eetlepels gekarameliseerde rode ui*
1/3 bakje champignons
50 ml Calvados
1/2 appel, in stukjes
Lekker met pasta of rijst!
Bereiding:
Bestrooi de kipfilets met peper & zout. Bak in een pan. Snij de bacon in kleine stukjes. Voeg na ongeveer 5 minuten de bacon toe. Voeg de champignons en gekarameliseerde rode ui toe. Haal de kipfilet uit de pan zodra deze gaar is en hou warm onder folie. Voeg de Calvados toe en de appelstukjes en voeg vervolgens de slagroom toe. Laat dit even goed doorkoken en leg dan de kipfilet terug in de pan en bak nog even mee. Serveer met pasta of rijst.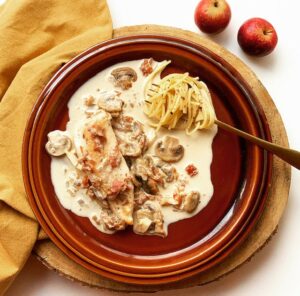 *gekarameliseerde rode ui maak je heel makkelijk door de uien heel dun in ringetjes te snijden. In een pan met dikke bodem wat olie of boter verhitten. De rode ui toevoegen en even aanbakken. Vervolgens een scheut water erbij en dit laten sudderen tot de uien heel zacht worden. Hoe langer, hoe beter, maar let wel op dat je telkens wat water erbij doet anders branden ze aan. Nog iets zoeter, voeg een beetje honing of agave siroop toe.
English version:
The advantage of cleaning out my pantry is that you find stuff you didn't even remember you had and you get a spontaneous idea for a recipe. That happened with a half full bottle Calvados. But i might gonna make it a fixed item to have in my pantry from now on, as this came out even better than i thought.
Ingredients for 2 persons:
2 chicken breast filets
150 ml cream
2 slices bacon
2 spoons caramelized red onion*
1/3 container of mushrooms
50 ml Calvados
1/2 apple, in pieces
Good with pasta or rice!
Directions:
Sprinkle the chicken with salt & pepper. Bake in a pan. Add after about 5 minutes the bacon. Add the mushrooms and caramelized red onion. Take the chicken out of the pan and keep warm in some tin foil. Add the Calvados and apple and than add the cream. Let it cook. Than put the chicken back in the pan and bake in the sauce for a little while. Serve with pasta or rice.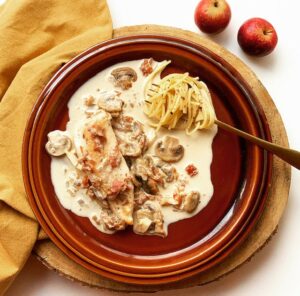 *caramelized red onion is very easy to make. Slice the onions really thin. Heat some oil or butter in a pan with a thick bottom. Add the red onion and bake. Add some water and let is shimmer untill soft. The longer the better, but just make sure to keep adding water or else the will burn. Want it a little sweeter? Add a little honey or agave syrup.