Whaahhh nog 1,5 jaar tot ik 40 wordt. De big 4-0!!! Hoe ik precies weet dat het nog 1,5 jaar is, is omdat vandaag m'n petekindje jarig is.  Ze is precies een half jaar na m'n verjaardag geboren (7 jaar geleden) en ook precies een half jaar na m'n laatste week bestralingen. Dat ik, aan de ene kant 40 echt heel oud vind klinken, ook heel dankbaar ben dat ik de 40 mag gaan vieren (er vanuit gaande dat ik in deze 1,5 jaar niet onder een auto kom, met een vliegtuig neerstort, nog een keer wordt geconfronteerd met een ernstige ziekte of op een andere manier het loodje leg) is dan ook een beetje dubbel.

40….vroeger als klein meisje vond ik onze oppas van 18 al oud. 20 was leuk, 30 vond ik nog wel okay, behalve dan dat jaartje dat ik daadwerkelijk 30 werd en een oproep kreeg voor een uitstrijkje wat helaas niet helemaal volgens plan ging, en 31, 32 en nouja 35 vond ik ook prima. De 36 en 37 heb ik maar even overgeslagen, net als m'n 38ste verjaardag. Dus ik vind ook gewoon dat ik nu nog steeds 35 ben…want niet gevierd betekend ook geen jaartje ouder, toch? Maar dat ik nu over 1,5 jaar 40 wordt is toch wel even wennen hoor!
Wat ik vroeger dacht dat je al bereikt moest hebben voor je 40ste is, nouja, niet helemaal gelukt, zeg maar. En om eerlijk te zijn ben ik daar ook heel blij om. Maar 40, tja dat klinkt toch wel heel erg volwassen, terwijl ik me vaak nog zo'n meisje voel. Misschien komt het omdat ik geen kinderen heb, of omdat ik nog steeds niet precies weet wat ik later wil worden (hopelijk kom ik daar voor m'n pensioen nog een keer achter) of gewoon omdat ik me nog echt niet bijna veertiger/zo oud voel.
Maar voor het geval ik me wel oud ga voelen in deze 1,5 jaar, heb ik maar een nieuwe challenge bedacht. De Fab@40 challenge, die komt met een Fab@40 fund (donaties zijn welkom 😉 !!!). En omdat een van m'n vriendinnetjes me altijd van de lijstjes vind, dacht ik, ik maak een lijstje met dingen die ik bereikt wil hebben voor m'n 40ste.
een boobjob (vandaar het fab@40 fund). Grappige is dat als ik zeg dat ik dit keer niet voor de volgende reis aan het sparen ben maar voor een boobjob, de meeste gelijk roepen: nog groter??? NEE, niet nog groter, geloof me na jaren last van m'n schouders, rug en nek, is nog groter wel het laatste wat ik wil. Dus wordt het een booblift, want na al dat gejojo zijn ze uhm niet zo stevig meer. Dat ze daarmee automatisch kleiner worden, vind ik heel erg prima. Kan ik ook eens een keer een goedkoop behaatje of bikini-tje shoppen bij de H&M.
Stoppen met jojo-en. Echt hier moet ik vanaf, ik wordt gek van al die verschillende maten in m'n kast, dus maatje 38 wordt het streefgewicht en dat moet ik vanaf dan ook gewoon blijven (tenzij het nog een maatje minder wordt…ook geen probleem mee natuurlijk).
M'n haar laten groeien. Ja ik weet het, iedereen vindt een bob of lob zo leuk staan, maar ik vind lang haar toch wel leuker…maar dan wel met wat krul erin. Dus Hollywood haar…moet lukken, toch? (en als ik het zat ben, knip ik het gewoon de dag na m'n 40ste weer af).
Op zoek naar de perfecte dagcreme. Tot nu toe nog steeds geen gevonden die fijn is en snel intrekt, dus tips zijn welkom! Gratis samples natuurlijk ook ;)!
Vaker mezelf trakteren op een beauty behandeling. Of dat nu wimpers zijn, een heerlijke pedicure of massage. Ik vergeet dat gewoon te doen. En als ik dan een keer doe, denk ik ohja, dit vind ik echt heerlijk. Dus vanaf nu, vaker aan mezelf denken.
Wat gelijk het volgende punt met zich meebrengt. Vaker dingen doen die ik leuk vindt. Vaak laat ik evenementen of leuke dingen aan me voorbij gaan omdat ik niemand heb die mee wil gaan. Nouja, so what? Als ik op vakantie ben doe ik zulke dingen ook alleen dus waarom niet in Nederland. En als ik dan toch bezig ben, ook maar gelijk wat vaker uit m'n comfort zone. Nu heb ik gelukkig een vriendin die de gekste dingen bedenkt (Toppers, Thunder from Down Under), dingen die ik zeg maar nooit maar dan ook nooit zou doen, maar achteraf toch wel heel erg leuk zijn. Dus door haar moet dit puntje wel gaan lukken! En tja ik moet m'n instanaam wel eer aan doen, dus iets meer een fab leven gaan leven en vaker mezelf van de bank af sleuren.
Vaker denken: Fuck it! Nog steeds ben ik veels te vaak bezig met wat andere mensen ergens iets van zouden kunnen vinden. Die onzekerheid daar ben ik wel een beetje klaar mee…dus fuck it en gewoon doen waar je zin in hebt.
Bringing sexy back…schrijft deze mevrouw terwijl ze in haar pyamabroek met topje en panterprint sloffen achter de computer zit. :0 Hahaha, hier bedoel ik niet eens supersexy mee, maar gewoon wat meer moeite doen voor ik de deur uit ga (of zelfs als ik dat niet ga, want ik denk dat de buren aan de overkant inmiddels denkt dat ik geen andere kleren bezit dan sportkleding of hangopdebank-pakken). Dus ja, net even een wat leuker outfitje, make-upje en misschien wat accessoires. Oh en m'n hakken wat vaker uit de kast want terwijl ik er vroeger niet zonder kon, grijp ik de laatste paar jaar, steeds vaker naar sneakers.
Enjoy the journey & make it a fit and fabulous one!
Donaties zijn welkom, net als tips van mede-bijna-veertigers of leuke events die ik niet mag missen tijdens met Fab@40 challenge!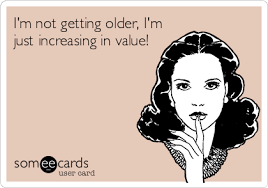 English version:
Whaahhh just 1,5 year till in turn 40. The big 4-0!!! How do i know it's exactly 1,5 year, well because today it's my godchilds birthday. She was born exactly a half year after my birthday (7 years ago) and exactly a half year after my last week of radiation. So that i'm on one hand not too happy about turning 40, but also am very gratefull that i get tot turn 40 (assuming i don't get hit by a car, crash with an airplane, get another confrontation with a terrible illness or die in other way in this upcoming 1,5 year, is a bit double.

40….when i was a little girl i found my babysitter of 18 already so old. 2o was fun, 30 was okay, except that year that i actually turned 30, got a call from the doctor after my smear and things didn't go as planned and 31, 32 and well, 35 were pretty okay. I skipped 36 and 37, just like my 38th birthday. So i still am 35, as when you don't celebrate you don't exactly turn a year older, right? But it's kinda hard to accept that in 1,5 years i'm gonna be 40 already!
The things i thought you should have accomplished by 40 when i was younger, well..they didn't really turn out that way. And to be honest i'm happy that they didn't. But 40 sounds so, uhh…adultish, while i often still feel like a girl. Maybe it's because i don't have kids or that i still don't know what i want to become when i grow up (hopefully i find out before i retire) or maybe it's just because i really don't feel like almost 40/that old.
But in case i do start to feel old in this upcoming 1,5 year, i decided on a new challenge. The Fab@40 challenge, which comes with a Fab@40 fund (donations are welcome 😉 !!!). And as one of my friends always tease me with my list making, i decided to make a list of things i want to accomplish before i'm 40.
a boobjob (that's were the fab@40 fund comes in). Funny thing is that i mention i'm saving for a boobjob instead of a foreign trip this year, most people answer in shock: even bigger??? NO, not even bigger, believe me, after years having back, neck and shoulder problems, going bigger is the last thing i want. So it's going to be a booblift, because after losing, gaining, losing, gaining weight (the jojo-effect) my boobs are, well, not as firm anymore. That a booblift will automatically make them smaller is very fine by me. For once i get to buy a cheap bra or bikini at H&M.
Stop the jojo-effect. Really it's gotta stop, it's driving me crazy having all these different sizes in my closet, so size 5 (UK), 6,5 (US) is the goal and that's how it has to stay (unless i get smaller, ofcourse i wouldn't mind that either!
Growing my hair. Yes i know, everybody loves a bob or a lob on me, but i prefer long hair, but with a bit of a curl. Like Hollywood hair, must be accomplishable, right? (and when i get sick of it, i cut it the day after i turn 40).
Finding the perfect day creme. Up to now i still haven't found one that i like and that moisturize without getting sticky, so tips are more than welcome! Just like free samples ;)!
Treating myself more often to a beauty treatment. If it's lashes, a delicious pedicure or massage, i just forget about it. And when i do treat myself to it, i always remember how good it feels. So from now on, i'm gonna treat myself more often.
Which gets me to the next point. Doing more things i love. I pass on to many events and fun things because i have no-one to go with. Well, so what? When abroad i also do these things, so why not when in the Netherlands. And since we are discussing this, i need to get out of my comfort zone more often. Luckly i have a friend who things of the weirdest things to do (Toppers (dutch music event), Thunder from Down Under), things i normally would never, EVER, do, but always are more fun than expected. So i'm sure she will think of things way out of my comfort zone this upcoming 1,5 year! And well i do need to honor my Instagram name, so start living a more fab life and get my ass of the couch moren often.
New attitude: Fuck it! At this age i'm still concerned what people think of me. I'm sick of this insecurity, so….fuck it and from now on i just do the things i love.
Bringing sexy back…is what this woman writes while wearing a pyama pants with a top and leopard print fluffy slippers. :0  Whahaha, i don't even mean getting supersexy, but just make more of an effort when i leave my house (or even if i don't as i think my neighboors from accross think i only have sportswear or pj's). So yes, put in some effort, wear a nicer outfit, make-up and maybe some accessoiries. Oh and put on my heels a little more often, while i wasn't seen without them when i was younger, the last few years i go more & more for comfort wearing sneakers.
Enjoy the journey & make it a fit and fabulous one!
Donations are welcome, just like tips from almost-40-girls or great events i can't miss during my Fab@40 challenge!