Voor diegene die mijn vorige blog over een January Less Ordinary hebben gelezen, las waarschijnlijk ook dat ik voor een Glow & Glam Up ga, en nee, niet alleen voor januari maar het hele jaar! Vorig jaar wou ik mij al meer richten op het Fabulous gedeelte van Fab and Fit on a Budget, maar het woord wat ik liever niet noem, gooide aardig wat roet in het eten, waardoor het een very on a budget jaar werd waar ik het merendeel ongemotiveerd en in joggingbroek op de bank door bracht. Niet heel gezellig en zeker verre van Fab! Dus ga ik dat voor dit jaar even anders aanpakken. Een Glow & Glam Up dus…en wat dat inhoudt, lees je hieronder!
Glow up:
– 2 liter water drinken per dag
– 4 x per week minstens 30 minuten bewegen (workouts/wandelen)
– meer groente en fruit
– meer gezonde vetten voor die extra glow
– make-up verwijderen elke avond
– gezichtsmassage met rose quartz roller elke avond
– 1 x per week beauty dagje (maskertje, leave-in conditioning/haarmasker, bodylotion, nagels lakken, etc)
– de dag langzaam beginnen (ontbijten, muziekje, thee, to do lijst maken)
– de dag langzaam eindigen ((gezichts)massage, kaarsjes, aroma diffuser, lezen)
Glam up:
– dress up (hakken, leuke outfits, sieraden)
– niet zonder make-up de deur uit
– zondag = pyjama dag (rest van de week niet dus!!!!)
– 1 x per kwartaal naar de kapper
– 1 x per maand mijn wimpers laten doen
– vaker muziek aan
– elke week verse bloemen
– kaarsjes aan
– do more things that make me happy 😉
Nu lijkt dit allemaal niet eens zo moeilijk maar ik merk dat het er regelmatig bij in is geschoten het afgelopen jaar en door dat het financieel stukken minder ging, verplaatsten veel dingen naar de achtergrond, zoals de kapper. Nu heb ik hier speciaal een potje voor aangemaakt op mijn spaarrekening. En nee, er staan bewust geen dingen op zoals minder snoepen, alleen nog maar gezonde dingen eten of detoxen, want ik geloof daar niet in! Juist jezelf af en toe verwennen met iets lekkers omdat je het verdient of gewoon omdat je er zin in hebt, is waar deze glow & glam up om gaat…je happier te voelen en jezelf niet te straffen omdat de weegschaal er even niet zo uitziet zoals je wilt. Geloof me, die zakt vanzelf wel weer, juist omdat je lekkerder in je vel gaat zitten! Dus…doe je mee?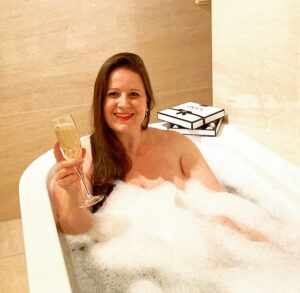 English version
For those who read my last blog about January Less Ordinary you probability also read that i'm going for a Glow & Glam Up, and no, not just for January but the whole year! Last year i wanted to focus more on the Fabulous part of Fab and Fit on a Budget, but because a thing i rather not mention, but did cause a lot of trouble, it became a very on a Budget year, were i spend most of my time unmotivated and in sweatpants on the couch. Not very fun and far from Fab! So this year i will do it differently. A Glow & Glam Up…what that means you can read below!
Glow up:
– drink 2 liter water a day
– 4 x exercise atleast 30 minutes per week (workouts/walks)
– more fruit & veggies
– more healthy fats for that extra glow
– remove Make-up every night
– face massage with a rose quartz roller every night
– 1 x per week a beauty day (mask, leave-in conditioning/hairmask, bodylotion, nails, etc)
– start the day slowly (breakfast, music, tea, make a to do list)
– end the day slowly (face massage, candles, aroma diffuser, read)
Glam up:
– dress up (heels, fun outfits, jewelry)
– don't leave the house without make-up
– Sunday = PJ day (rest of the week not!!!!)
– 1 x per quarter to the hairdresser
– 1 x per month get my lashes done
– play music more often
– fresh flowers every week
– candles
– do more things that make me happy 😉
Now all of this isn't even that hard, but i noticed the past year i forgot more and more about it and because financially things became tougher, i let a lot of it slide, like the hairdreser. Now i've made a special piggy bank for this. And no, i deliberately didn't add things like eat less candy, only eat healthy food or detoxing, as i don't believe in this! As treating yourself every once in a while with something delicious because you earned it, or because you feel like it, is exactly what this Glow & Glam Up is all about…to feel happier and not punishing yourself that the scale doesn't look the way you want it to. Believe me, that number will drop by itself, once you feel better about yourself! So…are you in?