Ingrediënten:
1/2 groene papaya
1/2 uitje, fijngesneden
1/4 prei, in ringetjes gesneden
1/2 theelepel hete peper of 1/4 theelepel madame jeanette
2 stengels bleekselderij
1/2 blokje kippenbouillon
750 ml water
1 el thaise kruiden
Kokosmelk
Bereiding:
Doe een beetje olie in een soeppan. Voeg de ui toe en bak deze even aan samen met de hete peper. Voeg vervolgens de rest van de groente, groene papaya, de thaise kruidenmix toe, het kippenbouillonblokje en het water. Laat aan de kook komen en zet vervolgens het vuur lager. Laat verder sudderen tot de papaya zacht is. Let goed op dat je genoeg water in de pan hebt, mocht het verdampen voeg dan wat water toe. Voeg de kokosmelk toe en pureer de soep.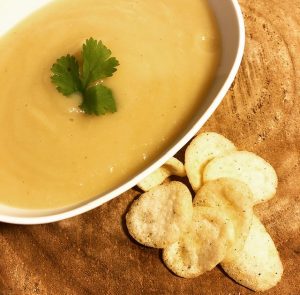 English version:
Ingredients:
1/2 green papaya
1/2 small onion, finely chopped
1/4 leak, in rings
1/2 teaspoon hot chilipepper or 1/4 teaspoon madame jeanette
2 stacks of celery
1/2 cube chickenstock
750 ml water
1 spoon thai spices
Coconut milk
Direction:
Put a bit of oil in a pan. Add the onion and cook with the hot chili pepper. Add the rest of the veggies, green papaya, the thai spices, the chickenstock and water. Let it come to a boil and than turn down the heat. Let it stew till the papaya is soft. Make sure the water doesn't go low, if it does, add some water. Add the coconutmilk and puree with a handheld mixer.