Op zondagen kom ik vaak niet verder dan van bed naar bank en okay, de keuken voor pannenkoeken natuurlijk, maar behalve bakken/koken doe ik eigenlijk niet heel veel. En eerlijk…i love it!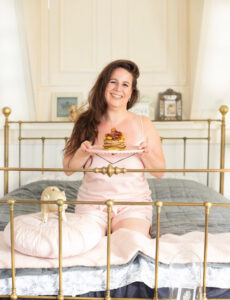 Inmiddels is het ook mijn Glow Up dagje waar ik na een douche lekker ga tutten met maskertjes voor mijn gezicht en haar, bodylotion, nagellakjes om vervolgens in een huispak op de bank te ploffen om Netflix aan te zetten met een grote kop thee of koffie en natuurlijk chocolade en daar de rest van de dag lekker een serie te bingen. Op dit moment Elite…echt een aanrader! Think Gossip Girl maar dan nog net wat rauwer/echter en darker en ohja, in het Spaans…dus stiekem leer ik zo toch nog iets.
Nu kon je mij in 2020 uittekenen in slonzige kleding..tja, with no place to go, waarom moeite doen, toch? Dat het ook mijn mood zo erg zou beïnvloeden had ik even niet door. Dus besloot ik het dit jaar anders te doen en alleen nog maar op zondag in iets supercomfie door te brengen. Maar aangezien ik ga voor een Glam Up betekent dit niet die broek met gaten (die overigens wel superlekker zit, herkenbaar?), maar ook mijn huispak een meer fabulous look te geven.
En ik ben echt verliefd geworden op de loungewear van Hunkemöller . En dan vooral de Velvet Collection. So Glam…en zo zacht!

En nog leuker, deze fijne broek en top shopte ik gewoon helemaal gratis…yup, blijf natuurlijk wel een Budget Queen. Hoe? Vraag een Hunkemöllercard aan en spaar PassionPoints. Bij elke aankoop ontvang je dan Passionpoints en 500 punten zijn €5,- waard. En nog leuker, op de Hunkemöller app verschijnt af en toe een paar dagen een Wheel of Passion waarbij je extra punten kunt scoren. Zo won ik dus laatst 3000 punten…wat genoeg was voor die heerlijke velvet broek.

English version:
On Sundays i go from bed to couch and okay, into the kitchen for pancakes ofcourse, but except for baking/cooking i don't really do much. And to be honest…i love it!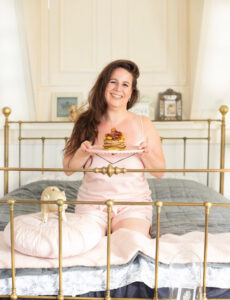 This year it's also my Glow Up day and after a shower i treat myself to masks for my face and hair, bodylotion, paint my nails and after that hit the couch in pj's to watch Netflix with a big cup of tea or coffee and ofcourse chocolate and binge the rest of the afternoon series. At this moment Elite…i can definetely recommend it! Think Gossip Girl but a little more raw/real and darker and oh in Spanish…so i do learn something aswell. .
20202 my outfit of the day was sweatpants and pj's, with no place to go, why bother, right? That it would influence my mood that bad i didn't notice at first. So i decided to change things up this year and only go for supercomfy outfits on Sundays. But as i'm also doing a Glam Up this doesn't mean my pj pants with holes (although it is really really comfy, we all know that one piece, right?), but also to make my loungewear more fabulous.
And i really fell in love with the loungewear of Hunkemöller . And especially the Velvet Collection. So Glam…and so soft!

And even better, i got this comfy pants and top for free…yup, i am a Budget Queen afterall. How? Get yourself a Hunkemöllercard and collect PassionPoints. Everytime you shop at Hunkemoller you get Passionpoints and 500 points are worth €5,-. And even more fun, on the Hunkemöller app they do a Wheel of Passion every once in a while for a few day where you can score extra points. I won 3000 points the last time…which was more than enough to shop this supercomfy and cute velvet pants.