Ingredienten:
1 plakje bladerdeeg
1/4 van een kleine prei
Klein scheutje witte wijn, optioneel
2 takjes tijm, alleen de blaadjes
2 grotere champignons (ze moeten naast elkaar op het plakje bladerdeeg passen)
1 sjalotje
Klein beetje agave siroop, optioneel
Peper en zout
Beetje olijfolie
Bereiding:
Ontdooi het plakje bladerdeeg. Verwarm de oven voor op 200 graden. Snij de prei en sjalot in dunne ringen. Doe de prei in een koekenpan en smoor tot zacht in een scheutje water of witte wijn. Bak de champignons heel even aan in een andere koekenpan. Haal deze uit de pan. Karamaliseer daarna de sjalot met een beetje agavesiroop en een scheutje water in een pan. Strooi de blaadjes tijm over het bladerdeeg en druk deze er een beetje in. Leg vervolgens aan een kant de prei op het bladerdeeg. Daarop de champignons en daar weer boven op de gekaramaliseerde sjalot. Nog wat peper & zout naar smaak er over heen en vouw daarna het bladerdeeg dicht tot een pakketje. Druk de randen goed dicht en smeer er een klein beetje olijfolie overheen. Zet in het midden van de oven en bak in ongeveer 20 minuten gaar en goudbruin.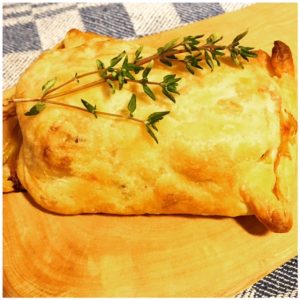 English version:
Ingredients:
1 piece of puff pastry
1/4 of a small leek
Little splash of white wine, optional
2 springs thyme, only the leaves
2 bigger mushrooms (they should fit next to eachother on the piece of puff pastry)
1 small shallot
Little bit agave syrup, optional
Pepper and salt
Little bit olive oil
Direction:
Defrozed the puff pastry. Preheat the oven to 200 degrees celcius. Cut the leek and shallot in thin slices. Put the leek in a pan and braise with a little water or white wine. Bake the mushrooms in another pan just for a moment. Take them out of the pan. Caramalize the shallot with a little agave syrup and water in a pan. Sprinkle the leaves of thyme over the puff pastry and press them in the pastry a bit. Put on one side of the puff pastry the leek. Top with the mushrooms and add the caramalized shallot on top of that. Add a little salt and pepper to taste and fold the puff pastry close like a little parcel. Press the edges really well together and spread a little olive oil on top. Put in the middle of the oven and bake till golden brown and crispy in about 20 minutes.