Naast alle mooie plekjes die ik heb mogen bezoeken voor mijn blog 12 cities, 13 snaccidents of zoals mijn kleine broertje het gekscherend noemt, mijn afscheidstour, zijn er natuurlijk nog meer plekjes in Nederland en daarbuiten die favoriet zijn en stiekem best wel ga missen. Hieronder vind je er een paar van:
Hectometerpaaltje 76,3
Hahaha, je zult wel denken, maar, ja, als je op het juiste moment, dus bij hectometerpaaltje 76,3 van Utrecht naar Arnhem naar rechts kijkt dan zie je dus het plekje langs de snelweg waar ik zo vrolijk van wordt. Het is ergens ter hoogte van Maarn en ik heb nooit de afslag genomen maar ben er zeker meer dan 100x langs gereden. En de groene vallei die ik vanuit mijn auto zie, tovert elke keer weer een glimlach op mijn gezicht! Mocht je ooit deze route rijden, dan hoop ik dat het voor jou hetzelfde doet!
De Nederlandse hei
Al liep ik er niet vaak over (shame on me, als je er zo dichtbij woont), als ik met de auto langs de hei rij en het dan zo mooi paars zie worden, krijg ik altijd een glimlach.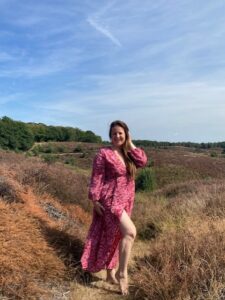 Favorietjes in Amsterdam:
Le Petit Deli: de beste taartjes in town of eigenlijk wel in heel Nederland, haal je bij Le Petit Deli! Behalve dat ze er echt prachtig uitzien, zijn de smaken echt heerlijk en niet doorsnee. En dan de lieve mensen wie dit runnen er nog bij, maakt dit plekje voor mij echt mijn lievelingsplek in heel Amsterdam!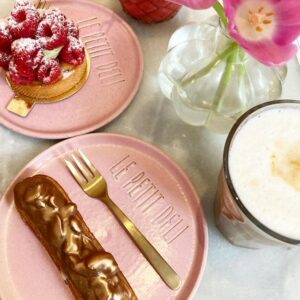 Polarberry: aardbeien in chocolade voelt zo decadent en zeker die van Polarberry, want die maken er echt kunstwerkjes van. Hier maak je me dan ook echt heel blij mee en ik maak er mezelf heel vaak heel blij mee ;)! Dit is echt zo'n treat!

De Bijenkorf: mijn grootste liefde al vanaf mijn jeugd. En het verdriet was groot toen hij uit Arnhem weg ging, maar als ik in Amsterdam ben kan ik eigenlijk nooit weggaan zonder even er doorheen te lopen. Het voelt gewoon zo luxe en oh zo niet on a budget, but a girl can dream! En het restaurant sla ik meestal ook niet over, al is het maar voor een warme chocolademelk. Ga ik de Bijenkorf missen..hahaha ja, best wel, maar vind vast ook zo'n fijn warenhuis in Buenos Aires ;)!
Van der Valk ZuidAs:
Mijn plekje om af en toe even te verstoppen, vooral tijdens corona. De wellness op de bovenste verdieping is zo fijn en zo luxe. Net als de kamers, het heerlijke bad en rainshower douche, het bed met uitzicht over Amsterdam, en het feit dat je Netflix kunt streamen maakt dat ik hier regelmatig even "onderdook" voor een paar dagen zonder de kamer te verlaten. Uiteraard sloeg ik genoeg snacks en drankjes in en sneakte ik ook nog wel eens naar mijn lievelingsrestaurant, wat lekker dichtbij zit, voor take-out! Nog altijd mijn favoriet onder al de Van der Valk's (en ja, ik heb er inmidddels redelijk wat getest)!
Happy Happy Joy Joy
Dit is dus dat restaurant waarvoor ik nog wel eens de hotelkamer af kwam en ook dit jaar mijn verjaardag vierde (maar dan gewoon gezellig in het restaurant met een vriend). Ik kom eigenlijk vooral voor de sticky ribs, maar er staat natuurlijk nog veel meer lekkers op de kaart.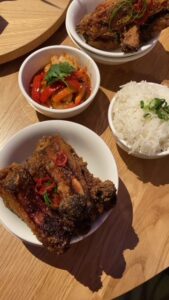 Favoriet in Rotterdam:
Mr. Salad: okay, okay, Mr. Salad himself ziet er ook niet slecht uit, maar ik kom toch echt voor de healthy bowls hier. Oh en de Carrot Cake!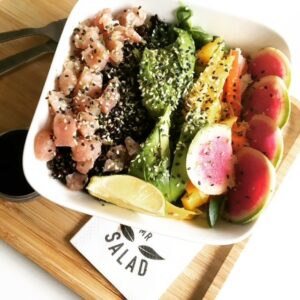 Wil je nu zelf ook wat vaker Nederland gaan ontdekken, Liz Lommerse (Instagram: Globalizious) heeft dus echt een geweldig boek geschreven. In One Night Stay zijn de leukste plekjes verzamelt om te overnachten. Van natuurhuisjes tot kastelen en van Tiny Houses tot boomhutten en dat dus door heel Nederland. Verder ook een heerlijk boek om gewoon af en toe doorheen te bladeren en even weg te dromen. Ook leuk om cadeau te geven, o.a. te koop bij Bol.com.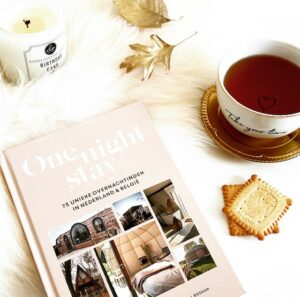 Maar ook buiten Nederland heb ik zo mijn favorietjes:
Kleve, Duitsland: Net over de Nederlandse grens bij Nijmegen. Hier kom ik dus echt heel graag voor mijn boodschappen. Vooral de DM op de Hoffmannallee is favoriet. En ja, je bespaart hier dus echt heel veel geld. A budget girl's dream en zo hield ik dus geld over voor die nachtjes VdV ZuidAs 😉 en die heerlijke maar dure chocolate covered aardbeien!.
Düsseldorf, Duitsland:
Zowel in de zomer als rond de kerst, beide seizoenen zijn even gezellig. In de zomer zijn de terrassen gevuld en vooral in de Altstad bij de bierhuizen. En in december is de stad gevuld met kerstmarkten en met al die lichtjes is het extra sfeervol. Mijn favoriete straat is de Köningsallee of door intimi de Kö, gevuld met alle bekende dure merken, brede stoep en dure auto's herinnert het me een beetje aan Beverly Hills in LA. Eten doe ik graag bij A Tavola en dat zegt veel want normaal is Italiaans niet mijn eerste keuze. Ernaast zit La Candeletta waar je de lekkerste pizza's van Dusseldorf eet.
Disneyland Paris
My happy place en toen vriendinnetje Laura (Lauras_super_vood) vroeg wat ik echt nog heel graag wou doen in Europa, was Disney het antwoord wat gelijk uit mijn mond kwam. Dus gingen we op de valreep nog even met de trein naar Parijs en genoten we van Disney in de kerstsfeer, de attracties, het eten en de magic! Dat je uren doorbrengt in rijen waar je tenen er bijna afvriezen is snel vergeten ;)!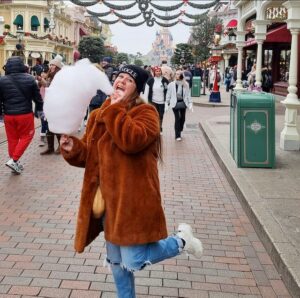 En nu ga ik Nederland & Europa verlaten…tijd om nieuwe favoriet places te ontdekken in Zuid-Amerika, waar ik jullie natuurlijk ook van op de hoogte ga houden via mijn Instagram! Ciao!
English version:
Besides all the beautiful places i visited for my blog 12 cities, 13 snaccidents or like my younger brother calls it jokely, my farewell tour, there are a lot more places in The Netherlands and Europe that are favorite and i secretely going to miss a lot. You can find a couple of them below:
Milemarker 76,3
Hahaha, I guess you are thinking what?, but yes, if you look to your right at the right time, at milemarker 76,3 from Utrecht to Arnhem, you will find the spot next to the highway which makes me happy. It's somewhere around Maarn and i have never taken the excit but drove past it atleast 100 times. And the green valley i see from my car window, makes me smile every time! So if you ever drive this route, i hope it does the same to you!
The Dutch heath land
Eventhough i didn't go there a lot (shame on me, if you live so nearby) but when i drive past it with my car and it has turned purple, it always makes me smile.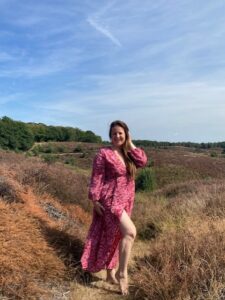 Favorites in Amsterdam:
Le Petit Deli: the best cakes in town or actually in the whole of the The Netherlands are from Le Petit Deli! As they don't just look gorgeous, the flavours are delicious and not avarage. And the sweet people running this place, definetly makes this my favorite place in the whole of Amsterdam!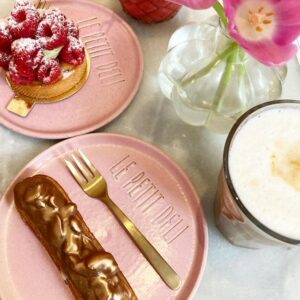 Polarberry: chocolate covered strawberries feel so decadent and definetely the ones of Polarberry, as they make them into art. This will make me really happy and i make myself really happy with them many times ;)! This is such a treat!

De Bijenkorf: my biggest love since childhood. I was so sad when they left Arnhem, and i can never leave Amsterdam without a visit. It just feels so luxurious and oh so not on a budget, but a girl can dream! And i ussually visit the restaurant, even if it's just for a hot chocolate. If i'm going to miss The Bijenkorf…hahahah definetly, but i'm pretty sure i will find such a great departement store in Buenos Aires ;)!
Van der Valk ZuidAs:
My place to hide away from time to time, especially during the pandemic. The wellness on the top floor is so nice and luxerious. Just like the rooms, the delicious bath and rainshower, the bed with a view of
Amsterdam, and the fact that you can stream Netflix makes it that i would "hide" here regularly for a few days without leaving the room. Ofcourse i made sure i brought enough snacks and drinks and i did sneak out sometimes to get some take-out from my favorite restaurant in Amsterdam, which is really close by. Still my favorites of all the Van der Valk's (and yes, i have tried a quite a few!)!
Happy Happy Joy Joy
This is the restaurant that made me come out of the hiding spot and also celebrated my last birthday in Holland at (but than i had dinner there with a friend). I come mainly for the sticky ribs, but they have a lot more deliciousness on the menu.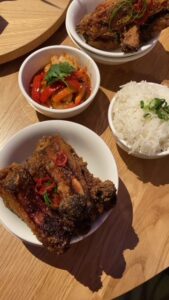 Favorites in Rotterdam:
Mr. Salad: okay, okay, Mr. Salad himself doesn't look that bad either, but i do really come here for their healthy bowls. Oh and the Carrot Cake!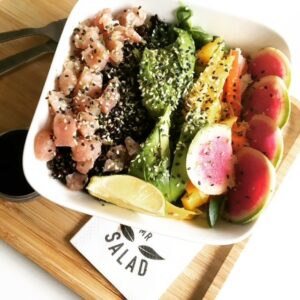 Want to discover more of The Netherlands yourself, Liz Lommerse (Instagram: Globalizious) has written an amazing book. In One Night Stay the funest places to stay are collected. From nature houses to castles and Tiny Houses to Treehouses and all through The Netherlands. Furtermore, a delicious book to pick up every once in a while to look through and dream away. Also nice to give as a gift, and for sale at Bol.com.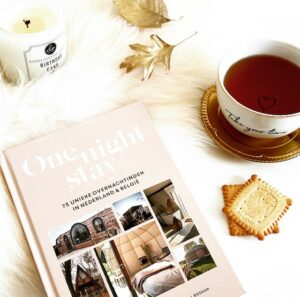 But also outside The Netherlands i have my favorites:
Kleve, Germany: Just over the border at Nijmegen. I love doing my grocceries here so much. Especially at DM on the Hoffmannallee is favorite. And yes, you save a lot of money here. A budget girl's dream and this way i had money leftover for all those nights at VdV ZuidAs 😉 and those delicious but expensive chocolate covered strawberries!).
Düsseldorf, Germany:
As well in summer as around christmas, both season are just as much fun. In the summer the terraces are full, especially in Altstad at the beer bars. And in December the city is filled with christmas markets and all the lights make it extra cozy. My favorite street is Köningsallee or for intamicy the Kö, filled with all the big expensive brands, broad sidewalks and expensive cars always remind me a little of Beverly Hills in LA. I love eating at A Tavola which says a lot ast Italian is normally not my first choice. Next to it, there's La Candeletta where you eat the best pizza's of Dusseldorf.
Disneyland Paris
My happy place and when my friend Laura (Lauras_super_vood) asked me what i really wanted to do in Europe before i leave, Disney was the first thing that came to mind. So last minute we took the train to Paris and enjoyed Disney in the christmas spirit, the rides, the food and the magic! That you freeze your toes of waiting in the lines for hours is quickly forgotten ;)!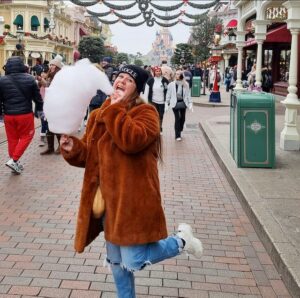 And now i'm leaving The Netherlands & Europe…time to find new favorite places in South America, which i will definetly share with you on my Instagram! Ciao!