Ingredienten 1 persoon:
1 plakje bladerdeeg
1 eetlepel smeerbare geitenkaas
1/2 peer
Klein beetje tijm
Paar amandelsnippers
Eventueel een paar druppels honing
Bereiding:
Verwarm de oven voor op 200 graden. Laat het plakje bladerdeeg ontdooien. Vet een 1persoons quichevormpje in met een klein beetje olie. Doe het plakje bladerdeeg in het quichevormpje en druk de randen iets omhoog. Prik met een vork gaatjes in de bodem van het bladerdeeg. Smeer de geitenkaas over de bodem. Snij de peer in mooie plakjes en leg dit bovenop de geitenkaas. Bestrooi met een beetje tijm en de amandelsnippers en eventueel een paar druppeltjes honing. Zet in het midden van de oven en bak in zo'n 15 minuten gaar.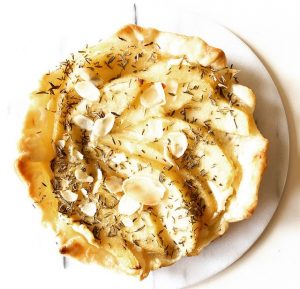 English version:
Ingredients 1 person:
1 sheet puff pastry
1 spoon spreadable goatcheese
1/2 pear
Little sprinkle of thym
Few almond flakes
Optional: a few drops honey
Direction:
Preheat the oven to 200 degrees. Defreeze the puff pastry. Grease a 1 person quiche molt with a bit of oil. Put the puffpastry in it and press the pastry to the side making a little bowlshape. Make a few holes with a fork at the bottom of the puff pastry. Spread the goatcheese onto the puffpastry bottom. Cut the pear in nice slices and put these on top of the goatcheese. Sprinkle a little thyme and almondflakes on top. Optional a few drops of honey. Put in the middle of the oven and bake in about 15 minutes (till done).