Ingredienten:
100 ml zonnebloemolie
275 gram zelfrijzende bakmeel
1 theelepel bakpoeder
Snufje zeezout
170 ml water
3 schijven ananas, in kleine stukjes
100 ml agave siroop
50 ml ananas sap
Voor de frosting:
Kokosmelk, 1 blik (zet deze een paar uur of een dag van tevoren in de koelkast)
Ananassap
Bereiding:
Verwarm de oven voor op 200 graden. Smeer een cakebakblik in met oven en bedek eventueel met bakpapier. Mix de droge ingredienten door elkaar en voeg erna het water, de olie, de agavesiroop en ananassap erdoor. Mix tot glad en voeg erna de stukjes ananas toe. Roer goed door en doe het deeg in het bakblik. Bak ongeveer 30 minuten in de voorverwarmde oven. De cake is klaar als je er met een sateprikker in prikt en deze er droog uit komt. Laat volledig afkoelen.
Mix de ingredienten voor de frosting samen en smeer deze over de top van de cake.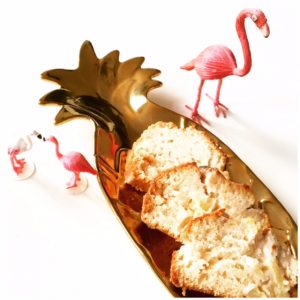 English version:
Ingredients:
100 ml sunflower oil
275 gram selfraising flour
1 teaspoon baking powder
sprinkle seasalt
170 ml water
3 slices pineapple, in small pieces
100 ml agave
50 ml pineapple juice
For the frosting:
Coconut milk, 1 can (put in the fridge for a few hours or the day before)
Pineapple juice
Direction:
Preheat the oven to 200 degrees. Oil a cake loaf tin and line with non greasing paper. Mix the dry ingredients together and add water, oil, agave and pineapple juice. Mix till smooth and add the pieces of pineapple. Stire to divide and pour the dough into the tin. Bake for approximately 30 minutes in the preheated oven. The cake is done when you can stick a skewer into it and it comes out clean. Let cool down completely.
Mix the ingredients for the frosting and spread on top of the cake.