Ingrediënten voor 1 glas:
200 ml (plantaardige) melk
100 gram Ruby Smelt chocolade (Jumbo)
1 anijsstaafje
Eventueel slagroom en roze sprinkels
Bereiding:
Verwarm de (plantaardige) melk en roer er de anijs door. Voeg de roze smelt chocolade druppels toe en roer heel goed door zodat de chocolade volledig gesmolten is. Schenk in een glas en serveer met slagroom en roze sprinkels.
Niet roze genoeg, voeg eventueel een druppeltje roze kleurstof toe.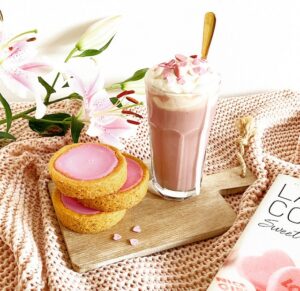 English version:
Ingredients for 1 glass:
200 ml (plantbased) milk
100 gram Ruby Melt chocolate (Jumbo)
1 anise tube (Ruijter)
Option: whipped cream and pink sprinkles
Directions:
Heat up the (plantbased) milk and stir in the anise. Add the pink melt chocolate drops and stir really well untill all the chocolate is melted. Pour into a glass and serve with whipped cream and pink sprinkles.
Not pink enough, add a few drops of pink food coloring.