Even een makkelijk receptje voor de #meatlessmonday (of als je even geen zin in vlees hebt) maar wel eentje met lekker veel smaak!
Ingrediënten:
Pitabroodjes
Hoemoes
Groenten (bijvoorbeeld courgette, aubergine, paprika)
Rucola
Halloumi (schapenkaas)
Pesto kant & klaar of maak zelf een pesto (ik maakte een variant met koriander, olijfolie en cashewnoten die hier goed bij past).
Bereiding:
Verwarm de pitabroodjes (ik doe dit in een broodrooster), snij open en besmeer een helft met hoemoes en leg er een klein beetje rucola op. Grill in een grillpan de groente met een beetje olie en voeg de halloumi toe. Gril deze mee tot deze iets zachter is en aan de buitenkant een beetje gebruind is. Als de groente gegrild is, plaats op het pitabrood en leg daarop de halloumi. Maak af met een lepeltje pesto en smullen maar! Je kan de groente kruiden maar ik zou geen extra zout meer toevoegen aangezien de kaas en pesto al redelijk zout zijn.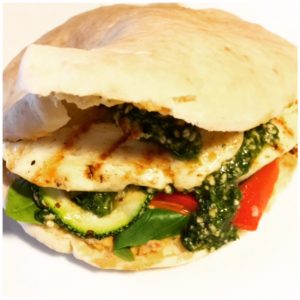 English version:
A quick and easy recipe for the #meatlessmonday (or when you don't feel like meat) but one with a burst of flavour!
Ingredients:
Pita bread
Hummus
Veggies (for example zuchinni, eggplant, bellpepper)
Arugula
Halloumi (sheep cheese)
Pesto out of a jar of homemade (i made a pesto with coriander, olive oil & cashewnuts which complimented the rest of the dish).
Direction:
Heat the pitabread (i use my toaster for this), cut open and spread with hummus and top with arugula. Grill the veggies in a grill pan (or on the grill) with a little oil and the halloumi. Grill this until soft & a little golden brown. When the veggies are ready place on top of the arugula and add the halloumi. Finish with a dollop of pesto and enjoy! You can add spices to the veggies, but i wouldn't add extra salt as the cheese and pesto is already pretty salty!