Met dit warme weer heb ik nooit zo'n zin in een warme zware maaltijd. En aan m'n Instagram timeline & Pinterest te zien, ben ik niet de enige. Dus besloot ik voor de nieuwe hype te gaan want ik moet zeggen, zo'n Hawaiiaanse Poké Bowl klinkt wel erg lekker! Ik besloot een beetje te spieken op Pinterest en er m'n eigen twist aan te geven en daarnaast kreeg ik nog een tip van het meisje van de Toko die altijd met de beste ideeën komt…dus hierbij de Poké Bowl à la moi:
Ingrediënten:
60 gram Jasmijn rijst
100 gram sashime tonijn (verse tonijn van viswinkel)
1 eetlepel witte rijst azijn
Een paar druppeltjes soja saus
1/2 theelepel kokosbloesemsuiker
1 lente ui
1/2 avocado
Zeewiersalade
1/2 mango
Wasabimayonaise (naar smaak)
1/2 theelepeltje zwarte sesamzaadjes
Wasabi furikake (tip van het lieve meisje van de Toko)
Bereiding:
Kook de Jasmijnrijst volgens de aanwijzingen op de verpakking. Snij de tonijn in blokjes. Maak een marinade van de witte rijstazijn, een paar druppels soja saus en een beetje kokosbloesemsuiker. Roer dit door de tonijn samen met in dunne ringetjes gesneden lente ui. Zet in de koelkast tot gebruik. Giet de rijst af, roer om en laat even staan in de pan met de deksel erop. Snij de mango en avocado in blokjes.
Laat de rijst een beetje afkoelen en verdeel over een kommetje. Verdeel de rest van de ingrediënten erover en decoreer met de wasabimayonaise, zwarte sesamzaadjes en de wasabi furikake.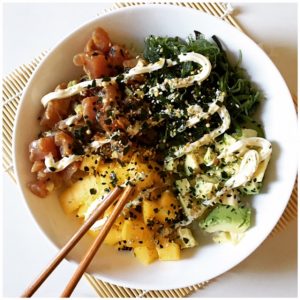 English version:
With this hot weather i'm not in the mood for a heavy warm meal. And seeing my Instagram timeline & Pinterest, i'm not the only one. So i decided to make the new hype as i must say, this Hawaiian Poké Bowl, sounds & looks amazing! I decided to take a little peak at Pinterest and decided to give it my own twist and got a tip of the girl in my favorite Toko and she always has the best ideas….so here it is, a Poké Bowl à la moi:
Ingredients:
60 gram Jasmine rice
100 gram sashime tuna (fresh tuna from the fish store)
1 spoon white rice vinegar
A few drops soy sauce
1/2 teaspoon coconut blossom sugar
1 spring onion
1/2 avocado
Seaweed salad
1/2 mango
Wasabimayonaise (to taste)
1/2 teaspoon black sesame seeds
Wasabi furikake (tip of the sweet girl at the Toko)
Direction:
Cook the jasmine rice according to the directions on the package. Dice the tuna. Make a marinade of the white rice vinegar, a few drops soy sauce and a little coconut blossom sugar. Mix this with the tuna together with very thin sliced spring onion. Put in the fridge till use. Pour the water from the rice, stire the rice and let it cool down in the pan covered with a lit. Dice the mango and avocado.
Let the rice cool down and put in a bowl. Divide the rest of the ingredients over the rice and decorate with the wasabimayonaise, black sesame seeds and the wasabi furikake.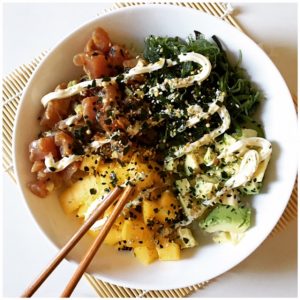 .