Ingrediënten 1 persoon:
1 kleine pompoen
80 gram rijst
1 sjalotje, fijngesneden
1 kipfilet, in kleine stukjes gesneden
1/2 potje tomatenpuree (70gram)
1 eetlepel ketjap
1 theelepel sambal
Snufje gemberpoeder
1/2 kakifruit, in blokjes
Bereiding:
Hol de pompoen uit en snij het vruchtvlees in stukjes. Kook de rijst gaar. Verhit olie in een wok. Voeg het sjalotje toe en bak even aan. Voeg vervolgens het vruchtvlees van de pompoen toe. Voeg de kipfilet toe. En voeg vervolgens de tomatenpuree toe en een glas water. Voeg daarna de ketjap, sambal en gemberpoeder toe en laat sudderen. Voeg de kakifruit toe. Giet de rijst af en voeg toe aan de saus en laat nog even sudderen. Schep in de uitgeholde pompoen om te serveren.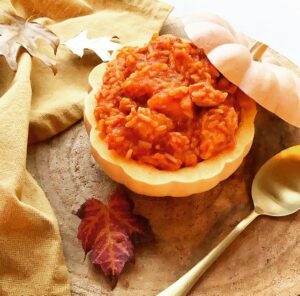 English version:
Ingredients 1 person:
1 small pumpkin
80 gram rice
1 shallot, finely sliced
1 chicken filet, cut into small pieces
1/2 jar tomato puree (70gram)
1 spoon ketjap
1 teaspoon sambal
Sprinkle ginger (dried)
1/2 kakifruit, in small cubes
Direction:
Scoop out the pumpkin and cut the pumpkin flesh in pieces. Boil the rice. Heat oil in a wok. Add the shallot and bake for a bit. Add the pumpkin flesh. Add the chicken. And than add the tomato puree and a glass of water. Add the ketjap, sambal and ginger and let it shimmer. Add the kakifruit. Strain the rice and add to the sauce and let it shimmer. Put back into the pumpkin to serve.