Ingrediënten voor een grote bak popcorn:
Popcorn mais of magnetron popcorn
1 lepel kokosolie
1 lepel pumpkin pie spice en nog wat extra (klik hier voor recept)
1 lepel maple syrup
Bereiding:
Bereid de popcorn zoals op de verpakking genoemd staat. Of pop de mais in een grote pan met een deksel in een klein laagje zonnebloem of indien je deze hebt in een popcornmachine.
Verhit in een pannetje de kokosolie, voeg een lepel pumpkin pie spices en maple syrup toe en roer goed door. Giet dit over de popcorn en schud even goed zodat het goed verdeeld wordt. Strooi er voor serveren nog een beetje extra pumpkin pie spice over.
Lekker bij een enge film voor Halloween!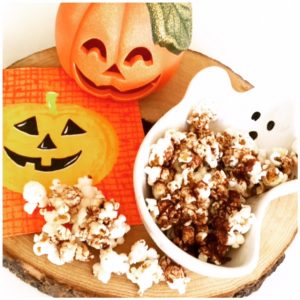 Ingredients for a big bowl of popcorn:
Popcorn corn or microwave popcorn
1 spoon coconut oil
1 spoon pumpkin pie spice and a little extra (click here for recipe)
1 spoon maple syrup
Direction:
Prepare the popcorn like the directions on the package. Or pop the corn in a big pan with a lit in a bit of sunflower oil or if you have one, in a popcornmachine.
Heat the coconutoil in a pan, add a spoon pumpkin pie spice and maple syrup and stirr well. Pour it over the popcorn and shake the bowl so that the mixture is divided evenly. Sprinkle some extra spices over it before serving.
Perfect to eat during a scary movie at Halloween!