A-a-ayyyy i'm on vacation, maar mijn dress challenge niet dus na een wat slechte start gaan we deze week gewoon weer normaal doen…soort van…
Maandag 16-8:
Ontbijt: Banana split met 1 banaan, Optimel straciatella kwark, klein beetje slagroom, caramel saus en sprinkles
Lunch: leftovers: 2 gestoomde pannenkoekjes met peking eend, saus en komkommer/lenteui. Dit hadden dus 3 pannenkoekjes moeten zijn maar werd gebeld en de kat van de buren vindt eend blijkbaar ook heel lekker, dus die snakte tijdens mijn telefoontje de keuken in 🙁 !
Diner: Poke bowl met garnalen, avocado, zeewiersalade, komkommer, mango en wasabi mayonaise
Tussendoortje: een half bakje zelfgemaakt Salted Caramel Baileys icecream (klik hier voor het recept)
Drinken: 2 thee, water, cola zero met koffiesmaak (Jumbo)
Bewegen: 7 minute workout, zwemmen en wandelen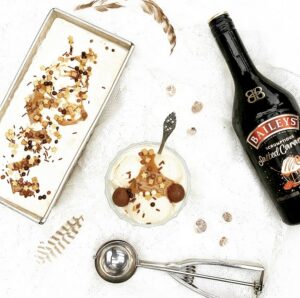 Dinsdag 17-8:
Ontbijt: Smoothie met avocado, mango, 1/2 banaan, aardbeien, soja melk en agave siroop
Lunch: Vitello Tonato
Diner: Chicken Tonight Hawaii met rijst en extra paprika, ui en mango
Tussendoortje: 2 vitalu koekjes en Ehrman High Protein mousse met dulce de leche en slagroom
Drinken: 2 x thee, 1 x latte caramel met slagroom, 1 kan water (soms met aanmaaklimonade Mojito zonder suiker)
Bewegen: 7 minute workout, zwemmen en wandelen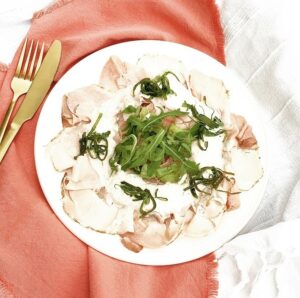 Woensdag 18-8:
Ontbijt: Kwark Stracciatella (Optimel)
Lunch: 2 pan tosti's met kaas en ketchup
Diner: Italiaanse kipfilet met salade (sla, tomaat, mozzarella en balsamico)
Tussendoortje: 2 vitalu koekjes en 1 zakje mini snoepjes
Drinken: water, limonade en 1 caramel latte met slagroom
Bewegen: 7 minute workout, zwemmen en wandelen
Donderdag 19-8:
Ontbijt: 2 croissantjes met aardbeienjam
Lunch: Tompouce
Diner: Plaattaart Tunamelt met zeewiersalade
Tussendoortje: 3 handjes snoepjes
Drinken: Caramel latte, water, aanmaaklimonade
Bewegen: 7 minute workout, zwemmen en wandelen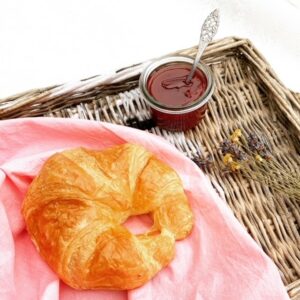 Vrijdag 20-8:
Ontbijt: Smoothie met banaan, aardbeien, ananas en sojamelk en gekookte eitje
Lunch: 1 boterham pindakaas met banaan en een sandwich met ei en wasabi mayo
Diner: Frietje Speciaal met een kaassoufle
Tussendoortjes: uit frustratie 4 handjes snoep, 1 mini Ruby Magnum en een bolletje (okay 2) Baileys icecream
Drinken: thee, water, cola zero marshmallow (jumbo)
Bewegen: Nope, heb vooral de dag op de bank doorgebracht wachtend op een pakketje om vervolgens om 19.00 uur gebeld te worden dat het niet meer komt…grrr…
Zaterdag 21-8:
Ontbijt: 2 kleine eierkoeken (had geen boodschappen gedaan, wachtend op een pakketje wat niet kwam…dit was het enige wat ik kon vinden)
Lunch: mueslibol
Diner: Broodje pulled pork met coleslaw en gegrilde ananas en bbq saus
Tussendoortjes: nootjes
Drinken: Water met aanmaaklimonade, cola zero, Optimel Drink yoghurt
Bewegen: wandelen naar het dorp

Zondag 22-08:
Brunch: Pancakes met candied bacon en gebakken banaan en stroop
Tussendoortjes: druiven
Diner: Pizza met pulled pork, ananas, ui, kaas en bbq saus
Drinken: Optimel drink yoghurt, water, aanmaaklimonade, cola zero, Baileys
Bewegen: another lazy day

Totaal gewichtsverlies: dus..ik dacht ik gooi deze What i eat een dag later online, zodat ik kan laten weten hoeveel ik precies ben aangekomen, na die niet zo gezonde laatste dagen van mijn staycation. Maar….je gelooft het nooit en ik ook niet toen ik op de weegschaal stapte vanochtend…hij is dus in mijn vakantie overleden! Hahahah ik weet niet of the universe mij probeert te beschermen van een mentale breakdown, maar hij doet dus echt niks meer. Ik ga straks maar even kijken of ik 'm nog aan de praat krijg met nieuwe batterijen! Tot nu toe voel ik mij overigens heel lekker in mijn vel, dus dat cijfertje maakt eigenlijk ook helemaal niks uit en als ie echt dood dood is, weet ik ook niet of ik het het geld waard vindt om een nieuwe te kopen.
English version
A-a-ayyy i'm on vacation, but my dress challenge isn't, so after a weak start, let's do better this week, sort of..
Monday 16-8:
Breakfast: Bananasplit with 1 banana, Optimel straciatella quark, a little whipped cream, caramel sauce and sprinkles
Lunch: leftovers: 2 steamed pancakes with Peking Duck, sauce, cucumber/spring onion. This was supposed to be 3 pancakes but i got a call and appearantly my neighbors cat also likes duck 🙁 !
Diner: Poke bowl with shrimps, avocado, mango, cucumber, seaweed salad and wasabi mayonnaise
Snack: half a small bowl of homemade Seasalt Caramel Baileys Ice cream (click here for the recipe)
Drinks: 2 tea, water, Cola zero with coffee flavor (Jumbo)
Bewegen: 7 minute workout, swimming and a walk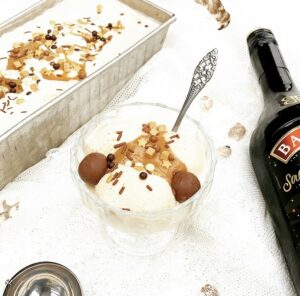 Tuesday 17-8:
Breakfast: Smoothie with avocado, mango, 1/2 banana, strawberries, soy milk, agave syrup
Lunch: Vitello Tonato
Diner: Chicken Tonight Hawaii with rice and extra bell pepper, onion and mango
Snack: 2 vitalu cookies, Ehrman High protein mousse with dulce de leche and whipped cream
Drinks: 2 x tea, 1 latte caramel with whipped cream, water (sometimes with lemonade syrup Mojito zero sugar)
Bewegen: 7 minute workout, swimming and walking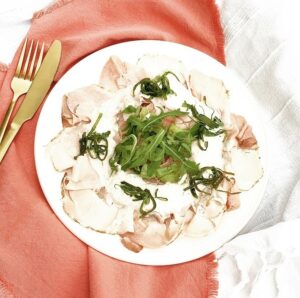 Wednesday 18-8:
Breakfast: Quark stracciatella (Optimel)
Lunch: 2 grilled cheese made in a pan with ketchup
Diner: Italian Chicken with salad
Snacks: 2 Belavita cookies, 1 mini bag candy
Drinks: water, lemonade (zero sugar) and 1 caramel latte with whipped cream
Exercise: 7 minute workout, swimming and walking
Thursday 19-8:
Breakfast: 2 croissants with strawberry jam
Lunch: Vanilla slice
Diner: plate pie with Tuna Melt and seaweed salad and wasabi mayonnaise
Snacks: candy
Drinks: caramel latte, water and lemonade
Bewegen: 7 minute workout, swimming and walking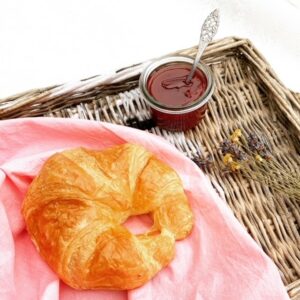 Friday 20-8:
Breakfast: Smoothie with strawberry, banana & pineapple and soy milk and a boiled egg with salt
Lunch: 1 sandwich with banana & peanut butter and a sandwich egg with wasabi mayonnaise
Diner: Fries with curry ketchup, mayonnaise and onions (special) and a cheese soufflé's
Snacks: candy, mini magnum ruby, and Baileys Ice cream
Drinks: thee, water and cola zero Marshmallow (Jumbo)
Exercise: not, spend most of my day on the couch waiting for a package only to hear at 7 pm that it won't be coming anymore…grrrr…
Saturday 21-8:
Breakfast: as i didn't go to the supermarket as i was wanting for a package that never arrived: 2 egg cookies (was the only decent thing i could find)
Lunch: Muesli bun
Diner: Pulled Pork Sandwich with coleslaw and grilled pineapple and bbq sauce
Snacks: nuts
Drinks: Lemonade zero sugar, Cola zero and Optimel Drink Yoghurt
Exercise: walk

Sunday 22-08:
Brunch: Pancakes with candied bacon and banana and syrup
Snacks: Grapes
Diner: Pizza with pulled pork, pineapple, onion and bbq sauce
Drinks: Drink Yoghurt Optimel, water, lemonade, cola zero, Baileys
Exercise: Another lazy day

Total weightloss: so…i thought i'm going to throw this What i eat a day later online, so i can tell you exactly how much i gained, after my not so healthy last days of my staycation. But…you will never believe it and my neither when i stepped on the scale this morning…it died during my vacation! Hahahah i don't know if the universe is trying to protect me from a mental breakdown but it's not working at all anymore. I will go and check later today if i can make it work with some new batteries! But up to now, i actually feel really good about myself, so that number doesn't really make a difference and if it's really broken, i'm not sure if i want to spend money on a new one.