Met zoveel te vieren en dan vooral dat Fabandfitonabudget.com al twee maanden online is, wat is dan een beter moment om die winactie die jullie nog tegoed hadden online te gooien! Want ja, als je Fab winactie doet dan moet er natuurlijk ook een Fit winactie komen, toch?
En wat voor een Fit winactie. Zoals jullie weten ben ik trots lid van het GymQueen team en heb ik voor jullie m'n favorieten uitgezocht, waaronder ook de nieuwe limited edition: Einhorn Queenella. Altijd al benieuwd naar al het lekkerst wat er op m'n tijdlijn voorbij komt, waag dan nu een kansje. Hoe?
Volg mij (fabandfitonabudget)
Volg Gymqueen (Gymqueen.nl)
Laat onder m'n post een berichtje achter waarom jij dit pakket verdient
Op maandag 6 maart 2017 kies ik een winnares!
Niet gewonnen maar wel benieuwd naar deze heerlijke producten, bestel ze dan nu met 10% korting op gymqueen.nl met code QueenEllen10.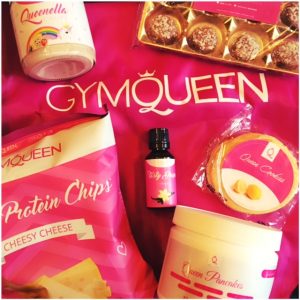 English version:
With so much to celebrate and than mostly that Fabandfitonabudget.com has been two months online already, what better time than to that a give-away that i promised you guys. As if you do a Fab give-away, surely there must be a Fit give-away aswell, right?
And wow, what an amazing Fit give-away. As you know i'm a proud member of the GymQueen team and i have chosen all my favorites for you guys, among it also the new limited edition: Einhorn Queenella. Always wanted to know how the products you see in my timeline taste, well you may get lucky. What to do?
Follow me (fabandfitonabudget)
Follow Gymqueen (Gymqueen.nl)
Let me know under my post why you deserve this package
I will be picking a winner on Monday, March 6, 2017
Didn't win but still want to try these delicious products, order them now with 10% discount at  gymqueen.nl using the code QueenEllen10.