Ingredienten:
2 grote bevroren bananen
5 mazafati dadels
1 eetlepel amandelmeel
1 theelepel kaneel
2 eetlepels (plantaardige) room of melk
1 eetlepel maple syrup
Bereiding:
Doe de bevroren bananen samen met de dadels en room of melk in een keukenmachine. Draai net zo lang tot de bananen een romige softijsachtige structuur krijgt. Voeg de rest van de ingrediënten toe en meng nog even goed door.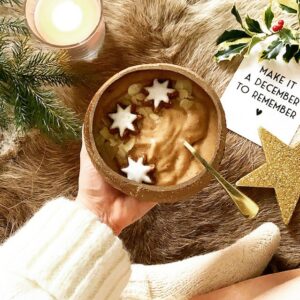 English version
Ingredients:
2 big frozen bananas
5 mazafati dates
1 spoon almond flour
1 teaspoon cinnamon
2 spoons (plantbased) cream or milk
1 spoon maple syrup
Direction:
Put the frozen bananas together with the dates and cream or milk in a kitchen machine. Turn it long enough so the bananas get a creamy softserve kinda consistancy. Add the rest of the ingredients and mix well.