Ik vind quiches dus echt geweldig om restjes uit je koelkast op te maken. Zo had ik van het kaasplankje van Oud & Nieuw nog wat blauwe kaas over en ik dacht dat smaakt vast lekker met courgette…en dat deed het zeker. Dus deel ik 'm ook even met jullie!
Ingredienten:
1 plakje bladerdeeg
1 ei
klein scheutje (plantaardige) melk of room
klein stukje courgette, in plakjes
klein stukje blauwe kaas, verkruimeld
Peper & zout
Benodigdheden: klein quiche vormpje
Bereiding:
Verwarm de oven voor op 200 graden. Ontdooi het plakje bladerdeeg. Vet het quichevormpje in. Leg het bladerdeeg plakje in het quichevormpje. Druk aan in de randen en prik er gaatjes in met een vork. Klop het ei los met een scheutje (plantaardige) melk of room en een snufje peper & zout. Snij de courgette in plakjes en verdeel over de bodem. Kruimel de blauwe kaas erover en schenk vervolgens het eimengsel erover. Bak in de voorverwarmde oven in ongeveer 15 minuten gaar. (als het ei is gestold dan is het gaar).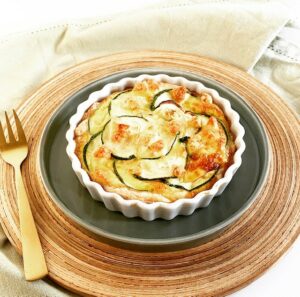 English version:
I think quiches are great to finish the leftovers in my frigde. I still had some blue cheese leftover from NYE cheeseplatter and i thought it might taste good with zucchini …and it did. So i'm gonna share it with you guys aswell!
Ingredients:
1 sheet puff pastry
1 egg
little splash (plantbased) milk or cream
small piece of zucchini, in slices
small piece blue cheese, crumbled
salt & pepper
Needed: small quiche mold
Directions:
Preheat the oven to 200 degrees. Defrozed the puff pastry. Grease the quiche mold. Put the puff pastry in the quicke mold. Press to the sites and make a few holes with a fork. Beat the egg with a little splash of (plantbased) milk or cream and a little salt & pepper. Cut the zucchini in slices and divide over the bottom. Crumble the blue cheese over it and pour the egg mixture over it after that. Bake in the preheated oven in about 15 minutes till done. (when the egg has set it's cooked).