De recept heb ik niet zelf bedacht maar is al zo oud dat ik echt niet meer weet waar het vandaan komt. Ik heb het inmiddels al zo vaak gemaakt dat ik het originele recept dan ook niet meer heb, maar het gewoon uit m'n hoofd doe.
Ingrediënten voor 1 persoon:
Zuurkool (ongeveer twee handjes)
2 plakken ananas
1 kipfilet
1 lepel mosterd
4 plakjes bacon
Peper en zout
Extra: bakpapier
Bereiding:
Verwarm de oven voor op 200 graden.
Leg in het midden van het bakpapier een bergje zuurkool (ongeveer even lang & breed als de kipfilet). Leg boven op de zuurkool 2 plakken ananas.
Bestrooi de kipfilet met peper & zout en besmeer erna met de mosterd. Pak de kipfilet daarna in met de plakjes bacon en leg de ingepakte kipfilet boven op de ananas.
Vouw het bakpapier goed op als een pakketje en bak het midden in de oven op 200 graden voor ongeveer een half uur. Voor serveren check de kipfilet of deze goed gaar is, anders vouw het pakketje weer dicht en bak nog een ongeveer 15 kwartier. (ligt even aan de dikte van de kipfilet).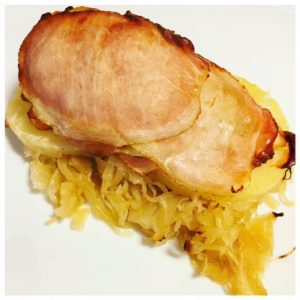 Restjes over, maak er een lekkere sandwich mee, klik hier voor het recept.
English version:
I didn't come up with this recipe but it's been with me for so long that i can't even remember where i got it from. Since i made it so many times i don't even have the original anymore, but just make it from the top of my head.
Ingredients for 1 person:
Sauerkraut  (approximately two hands full)
2 slices pineapple
1 chicken filet
1 spoon of mustard
4 slices bacon
Pepper & salt
Extra: baking paper/greaseproof paper
Directions:
Preheat the oven to 200 degrees.
Spread out in the middle of the baking paper a pile of sauerkraut (as long as wide as the chickenfilet). Put on top of the sauerkraut 2 slices pineapple.
Put some salt & pepper on the chickenfilet and spread some mustard on it. Wrap the chickenfilet in the slices of bacon and put it on top of the pineapple.
Fold the baking paper as as little package and bake in the middle of the oven at 200 degrees for aprroximately half an hour. Check before serving if the chickenfilet is completely done, if not, close the package and bake for another 15 minutes or so. (depending how thick the chickenfilet is).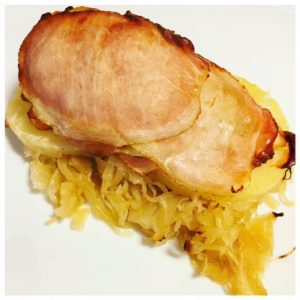 Leftovers, make this delicious sandwich, click here for the recipe.