Als je vriendinnetje in april niet kan maar je daardoor dus echt net in het lekkerste weekend van maart in Groningen bent…dubbel genieten!!! Ooit in een ver verleden ben ik een keer in Groningen geweest, maar ergens zat in mijn hoofd dat het ik niet echt bijzonder vond, nou…hahaahah misschien lag het aan het gezelschap maar oh wat is Groningen onwijs leuk zeg en hip! Er gaat niks boven Groningen? Misschien hebben ze daar nog gelijk in ook…
Coffee, tea…me? Uh i mean cake!
Pure Groningen: ohhh keuzestress, want serieus, echt alles ziet er hier heerlijk uit. Uiteindelijk ging ik voor een gevulde donut en mijn vriendin voor een cupcake en beide zijn meer dan goedgekeurd. Ik wou eigenlijk nog een doos donuts mee naar huis nemen…maar iets met bikini season wat er aan komt hield me tegen. Maar dikke vette aanrader dit! (en kreeg deze tip meerder keren van Groningse Instagrammers dus ben niet de enige fan!)
Blue Bananas: helaas had het hotel een ontbijt wat standaard bij de kamerprijs in zit (en daar maakt dit budget meisje dan wel gebruik van) maar anders was ik zeker pancakes gaan scoren bij Blue Bananas. Of iets anders lekkers…but there's only so much you can eat, jammergenoeg!
Cappuvino: zo'n leuk tentje met meerdere verdiepingen en uitzicht over de Vismarkt! En zoals de naam al zegt kun je hier terecht voor cappuccino of een vino. Maar ook voor een heerlijke lunch of diner.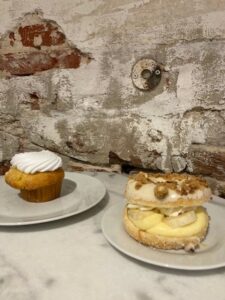 Leukste lunchplekjes:
Werkman: waar ik voor Lelystad bijna moest smeken voor leuke tips, kreeg ik er zoveel voor Groningen dat ik er wel 2 weken had moeten blijven om ze allemaal te doen. Dus ja, dan is het keuzes maken en oh…wat was Werkman een goede keuze, zeg. Prachtig ingericht, leuk met een tussenverdieping, aardig personeel en heerlijke broodjes. Wat wil je nog meer? (oh de foto waar ik in een deuk lag, was nadat mijn vriendin & ik de hele aardige ober iets te luid afwezen toen hij heel lief aanbod een foto van ons beide te maken …ik heb op IG al mijn excuses aangeboden ;)!) (foto 1 & 2)
Prinsenhof: dit vond ik dus echt zo'n plekje om op zondag lekker te gaan lunchen en daar bleek ik ook nog eens gelijk in te krijgen. Het was prachtig weer dus genoten we op het mooie terras van een heerlijke lunch en een ijskoffie met macarons als toetje. Tuurlijk heb ik ook even binnen gespiekt en ja, ook op een regenachtige zondag zit je hier fijn in het prachtig ingerichte Grand Café. Ook open voor diner en je kan er zelfs blijven slapen. (foto 3 & 4)
Gusto: Groningen heeft echt de leukste pleintjes om heerlijk op het terras te zitten in de zomer. Zo ook bij Gusto aan het Poeleplein. Helaas kun je maar 2x lunchen in een weekend anders had ik hier graag ook de heerlijke broodjes op de kaart geprobeerd! Het terras zat vol, dus deden we een drankje binnen. Mooie inrichting maar met een klein puntje, die plastic ham, tomaten en knoflook streng, deden de rest van het interieur echt te kort. Ik zou zeggen, hang er een echte ham neer en dan is alles echt on point! (ja foodies he..die vallen zoiets op!). (foto 5)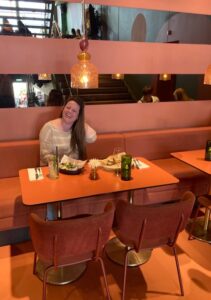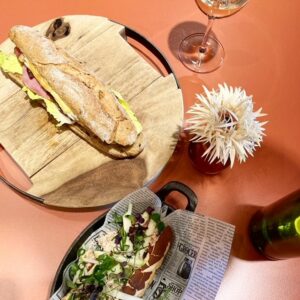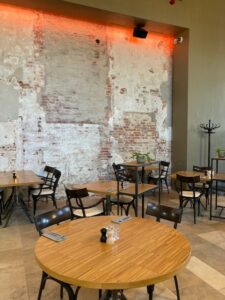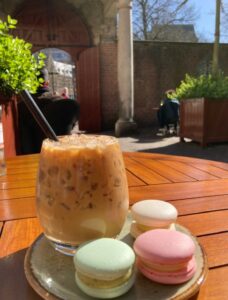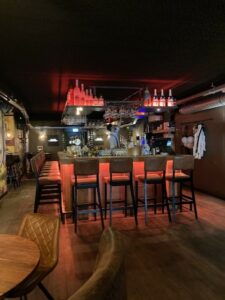 To do:
Forum: wooooowww, er was mij al verteld dat dit een mooi gebouw was, maar dit had ik echt niet verwacht. Wat een heerlijke plek in Groningen zeg. Met een museum, een Stach (jaloers!!!), interactie, bieb, werkplekken en een rooftop met een prachtig uitzicht over Groningen en op de Martinitoren. Superleuk ook met kinderen (zie agenda) en als ik in Groningen zou wonen zou ik hier vaak te vinden zijn. Prachtig staaltje architectuur van zo wel binnen als buiten. (foto 1,2 & 3)
Groninger museum: toen ik aan het bedenken was wat je in Groningen allemaal kunt doen, kwam het Groninger museum eigenlijk gelijk bij mij op. Naast de museums in Amsterdam is dit toch wel 1 van de bekendere museums in Nederland en niet geheel zonder reden. Een prachtig museum gelegen op een soort eilandje met indrukwekkende kunst. Op dit moment is er een expositie van JR een kunstenaar uit Parijs genaamd JR: Chronicles en eerlijk, alleen die is al een dagje Groningen waard. Zwaar onder de indruk verlieten we de ene na andere zaal. Ook de expositie Bitterzoet Erfgoed over het slavernij verleden van Groningen maakt je stil. JR Chronicles kun je tot 12 juni bezoeken en Bitterzoet erfgoed is tot 11 september te bezichtigen. Ik zou zeggen: doen!! (foto 4,5 & 6)
Martinitoren: hahaha, ja daar is ie weer, het beklimmen van een kerktoren. Dus wij sloegen 'm over maar mocht je zin in een workout hebben, dan wordt je erna wel beloond met een prachtig uitzicht over deze mooie stad. (maar shhhttt…ik zou gewoon de roltrappen in het Forum nemen of de lift in rooftop Merckt en straks in de zomer heb je vanaf het dak van hotel The Market ook een prachtig uitzicht. Dus er zijn andere opties, maar uiteraard is het ook erg leuk om meer over de geschiedenis te leren van de d'Olle Grieze en Groningen! (foto 3)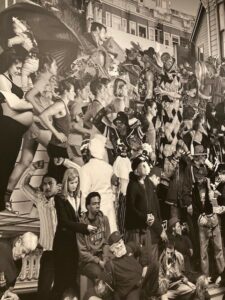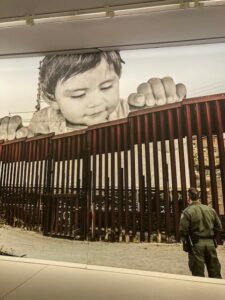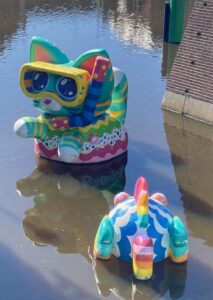 Staying for dinner?
NOK: bovenin het Forum vind je NOK, een prachtig restaurant met dito uitzicht. Nu hadden we al de hele dag lekker zitten eten, dus in plaats van een heel diner, gingen we voor een goedgevulde borrelplank met champagne en cocktails. Ik kreeg de tip van iemand op Instagram en hierbij, heel erg bedankt. Wel even reserveren want in het weekend is dit wel echt een place to be! (foto 1&2)
Feithhuis: of je nu voor een driegangen menu wilt gaan of gewoon een lekker burger wilt happen, bij Feithhuis kun je voor allebei terecht. Wij gingen voor de juicy burgers en namen er een heerlijke coleslaw bij en de frietjes met Parmezaanse kaas en truffel mayonaise en vooral die laatste is een echte aanrader! Overigens is het pand echt prachtig en erg mooi ingericht! Oh en het toetje van chocolade en toffee is erg Insta-reels-waardig..just sayin' ;)! (foto 3&4)
Merckt: als je vriendinnetje zich af vraagt waar die zwarte lift naar toe gaat recht tegenover de ingang van ons hotel, en je zelf ook nieuwsgierig wordt. Nu is het misschien minder leuk dat ik de verrassing ga verklappen maar oh, het was dat we de diner plannen voor beide avonden al vast hadden staan want anders was dit zeker een plek geweest waar ik echt heel graag had willen eten. Alleen al voor de inrichting en het prachtige uitzicht. Maar misschien toch meer iets voor een date of om iets te vieren…perfect om erna van de ene lift de andere lift in te rollen naar de prachtige hotelkamers van The Market 😉 (foto 5)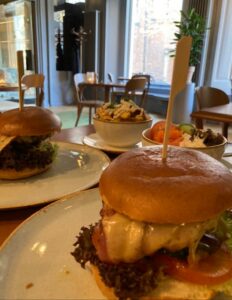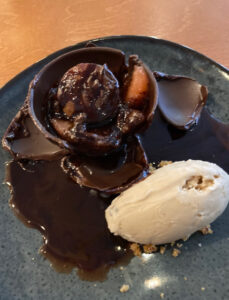 Voulez vous coucher:
The Market hotel: heel eerlijk, dit was niet mijn eerste keus, vooral eigenlijk omdat het niet echt "on a budget" is! Maar als de enige andere optie stapelbedden is (door een whiskey festival dat weekend was alles volgeboekt) en ik mijn vriendinnetje (en mezelf) dat echt niet aan wou doen, besloot ik toch hier een kamer te boeken. En oh, wat ben ik blij dat ik dit gedaan heb, alleen al voor de ligging. Midden op de Grote Markt staat dit luxe hotel. De kamers zijn echt prachtig. Ik grapte zelfs dat als er nog een keukentje in zou staan dat ik er wel zou kunnen wonen. Bed met tv geïntrigeerd, rainshower, heerlijk bad, mooi uitzicht en moderne inrichting…meer heb je niet nodig! Ohja en het hotel heeft een gym, wellness, een eigen bakkerij en een mega groot maar gezellig ingericht restaurant waar je, ook als niet gast, heerlijk kunt lunchen of dineren! Het uitgebreide ontbijtbuffet kun je hier ook vinden en is inbegrepen bij de kamerprijs. Deze zomer opent het dakterras waar je dus prachtig uitzicht hebt over de stad en wel heel dichtbij de Martinitoren kunt bewonderen. Honey…i'm home ;)! (alle foto's)
NH Groningen hotel: deze had ik dus eerst in gedachten en voor de helft van de prijs voor een kamer ook zeker een aanrader. Op maar 10 minuten lopen van de Grote Markt vind je dit modern ingerichte hotel. Ook hier hebben ze een gym en kun je genieten van een heerlijk ontbijtbuffet. 's avonds nog een drankje doen na een gezellig dagje Groningen kan aan de gezellige bar.
Bud Gett Hostel: om de naam alleen al zou ik eigenlijk hier moeten slapen, maar ik weet niet of de vriendschap dat had overleefd. Maar mocht je nog jong zijn en vooral het nachtleven van Groningen wilt ontdekken en dus toch maar een paar uurtje het stapelbed induiken, dan is dit wel echt een fijne budgetproof oplossing! Dicht bij alles wat Groningen leuk maakt!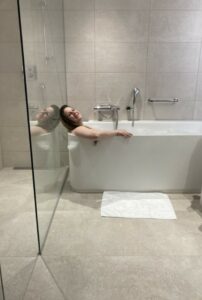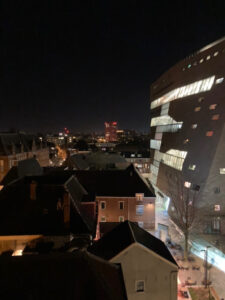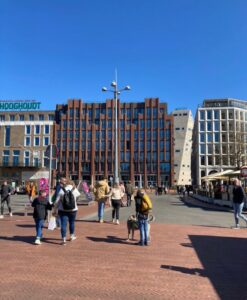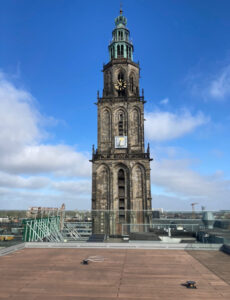 Snack souvenirs:
Ook hieraan geen gebrek in Groningen, van Groningerkoek (beetje jammer dat het hotel suikerbrood bij het ontbijtbuffet serveerde in plaats van hun eigen lekkernij), Hooghoudt Jenever, Poffert, Kniepertjes, Boer'n Droplul'n uut Grunn (ja echt!) tot iets wat een Eierbal heet en ons echt meerdere keren werd aanbevolen. Blijkbaar trekt heel Groningen dit na het stappen uit de muur bij Hoek. En misschien ben ik nu een culinair hoogstandje misgelopen maar de omschrijving en het uiterlijk van de Eierbal maakte dat we het niet aandurfde. Alle andere Groningse producten vind je heel handig bij elkaar bij De Boergondier, in het leuke Folkingestraatje!

English version:
If your friend can't go in April but that means you end up in Groningen in the sunniest weekend of March…double the pleasure!!! I have been to Groningen before a long time ago and somehow i had in mind that i didn't think much of it, well…hahahah maybe it was the company but oh Groningen is so much fun and so trendy! There's nothing above Groningen? Well, they might be right about that…
Coffee, tea…me? Uh i mean cake!
Pure Groningen: ohhh what to choose, as seriously, everything looks delicious here. I finally choose a stuffed donut and my friend took a cupcake and both have been more than approved. I actually wanted to take home a box of donuts home…but something with bikini season coming up made me change my mind. But big fat recommendation! (and i got the tip from a few local Instagrammers, so i'm not the only fan!)
Blue Bananas: unfortunately the hotel included breakfast in the room price (and ofcourse this budget girl will not skip it than) or else i would have scored some pancakes at Blue Bananas for sure. Or another treat…but there's only so much you can eat, unfortunately!
Cappuvino: such a cute place with multiple floors and view over the Vismarkt! And as the name says, you can get cappuccino or wine here. But also nice for a delicious lunch or diner.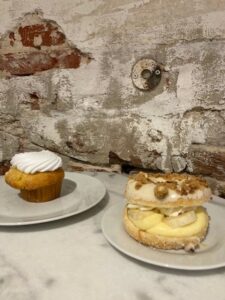 Best lunch places:
Werkman: when it came to Lelystad i almost had to beg for fun tips, for Groningen it was a whole different story, i got so many, i could have stayed for 2 weeks if i wanted to visit them all. So yes, that means making choices and oh…Werkman was a great choice. Beautiful interior, fun floors, friendly personnel and delicious buns. What else doe you want? (oh and the photo where i'm lol was taken after my friend & i loudly rejected a friendly waiter when he offered to take a picture of us…don't worry i already apologized on IG ;)!(Photo 1 & 2)
Prinsenhof: I thought this would be a place to have a nice Sunday lunch and i was pretty right about that. The weather was beautiful so we enjoyed a delicious lunch and an icecoffee with macarons for dessert on their gorgeous terrace. Ofcourse i did take a peek inside and yes, even on a rainy Sunday it is nice to sit in the beautiful decorated Grand Café. Also open for diner and you can even stay over. (photo 3 & 4)
Gusto: Groningen really has the cutest squares to enjoy the sun on the terrace in the summer. Also at Gusto at the Poeleplein. Unfortunately you can only lunch twice on a weekend or else i would have tried one of the lovely sandwiches on the menu! The terrace outside was full, so we had a drink inside. Nice interior but with a little flaw, the plastic ham, tomatos and garlic made it look a bit tacky! I would say, hang a real ham on the wall and everything is on point! (yup foodies…they notice things like that!)(photo 5)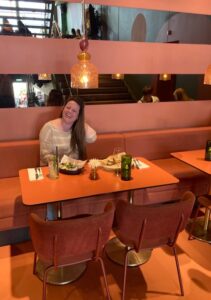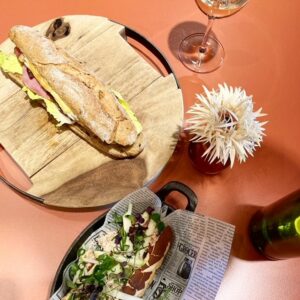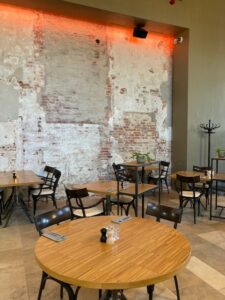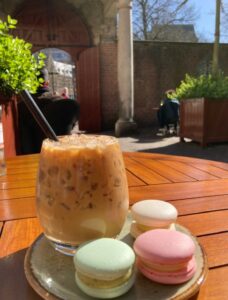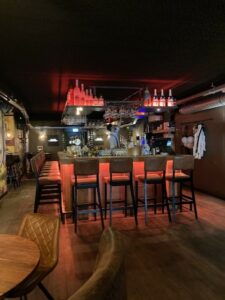 To do:
Forum: wooooowww, someone already told me this would be a nice building, but it exceeded my expectations. What an amazing place in Groningen. With a museum, a Stach (jealous!!!), interaction, liberary, work set ups and a rooftop with a gorgeous view over Groningen and on the Martini tower. Also super fun with kids (see agenda) and if i lived in Groningen i would be here a lot. Amazing architecture on the inside aswell as the outside (photo 1,2 & 3)
Groninger museum: when i was thinking what to do in Groningen, the Groninger Museum came to mind straight away. Besides the musea in Amsterdam this one is one of the more well known ones in The Netherlands. And not without reason. A beautiful museum on a little island with impressive art. Right now there's an exposition of JR, an artist from Paris, called JR: Chronicles and honestly that alone is worth a trip to Groningen. Deeply impressed we walked from hall to hall. Also the exposition Bittersweet inheritage regarding the slavery past of Groningen makes you go quiet. JR Chronicles can be visited until June 12 and Bitterzoet erfgoed is on till September 11. I would say: DO IT! (photo 4,5 & 6)
Martinitoren: hahaha, yup there it is again, climbing a church tower. We took a pass but if you are in the mood for a workout, you will be rewarded with a beautiful view over this gorgeous city (but shttt…i would just take the escalators of the Forum or the elavator in rooftop Merckt and in the summer when the rooftop of the Market hotel opens, you also have a great view. So there are other options, but obviously it's also fun to get to know more about d'Olle Grieze and Groningen! (photo 3)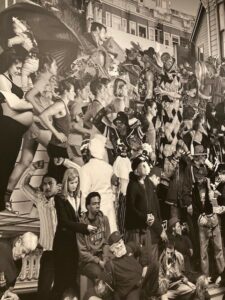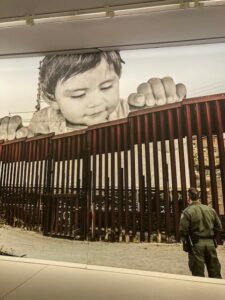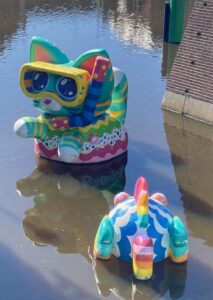 Staying for dinner?
NOK: at the top of the Forum you will find NOK, a gorgeous restaurant with matching view. After having a lot to eat the whole day, we decided instead of going for dinner, we had a well filled snack platter with champagne and cocktails. Someone gave me this tip on Instagram, thank you so much! Make sure to make a reservation as in the weekend this definetly a place to be! (photo 1&2)
Feithhuis: whether you feel like a three course dinner or just a bite of a hamburger, at Feithhuis you can do both. We went for their juicy burgers and a side of coleslaw and fries with parmesan cheese and truffle mayo and that last one is definetly a recommendation! Also, the building is gorgeous and very nicely decorated! Oh and the dessert with chocolate and toffee is very Insta-reels-worthy…just sayin' ;)! (photo 3&4)
Merckt: if your friend is wondering where that black elavator leads to that's situated just across the enterance of our hotel, and you get curious yourself. Well it might be a bit of a spoiler, but oh, it's that we already planned dinner for both days, or else this would definetly be a place i would have loved to eat. And that's just after seeing the interior and view. But maybe more for a date or when you have something to celebrate…perfect to roll into one elavator after dinner into another up to the beautiful rooms of The Market 😉 (photo 5)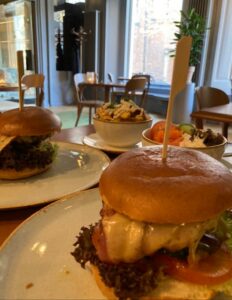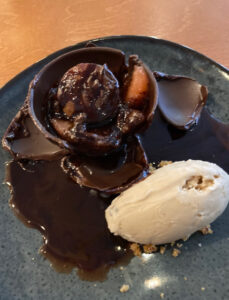 Voulez vous coucher:
The Market hotel: to be honest, this wasn't my first choice, especially as it wasn't really "on a budget"! But the only other option were bunkbeds (due to a whiskey festival in town that weekend everything was fully booked) but i didn't want to do that to my friend (and myself), so i decided to book a room here anyway. And oh, i'm so happy i did, if it was only for the location. In the middle of the Grote Markt you can find this luxerious hotel. The rooms are truly amazing. I even joked that if it had a kitchen i could live there. A bed with integrated tv, rainshower, comfortable bath, great view and a modern interior…that's all you need! Oh and the hotel has a gym, wellness, their own bakkery and a huge but cozy restaurant, where even if you aren't a guest you can have a lovely lunch or diner. The very divers breakfast buffet is also located here and is included in the room price. This summer the rooftop will open with an amazing view over the city and a very close up of the Martinitoren. Honey…i'm home ;)! (all the pictures)
NH Groningen hotel: so i had this one in mind when looking for hotels first and for half the price for a room definetly recommended. Only 10 minutes walk from the city center you find this modern decorated hotel. They also have a gym and you can enjoy a lovely breakfast buffet. Coming back after a day in the city you can have a drink in the lovely bar.
Bud Gett Hostel: only because of the name i should have stayed here, but i don't think our friendship would have survived. But if you are still young and mostly come to party in Groningen and only use the bunkbeds for a couple of hours, this is definetly a nice budgetproof solution! Close to everything that make Groningen fun!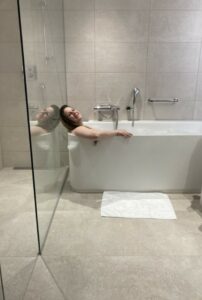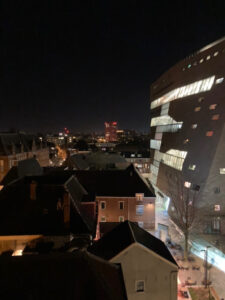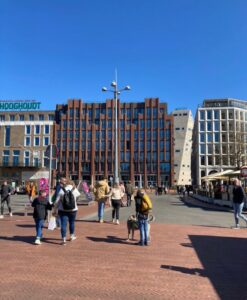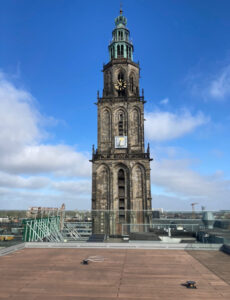 Snack souvenirs:
Also something they have more than enough of here in Groningen, from Groninger cake (but of a shame the hotel served us sugarloaf at the breakfast buffet instead of something from their own city/provence), Hooghoudt gin, Poffert, Kniepertjes, Boer'n Droplul'n uut Grunn (translation is farmers dick licorice, yup really! and something named an Egg ball and was recommended the most. Appearantly the whole of Groningen gets this after a night out at Hoek. I might have missed out on a culinary masterpiece but the description and looks of it made us chicken out. All other Groningen products can be found together at De Boergondier, in the cute Folkingestraatje!