Ik had echt geen idee hoe leuk Zwolle was, terwijl ik er zelfs een keer geweest was. Okay, verder dan de keuken van de schouwburg kwam ik toen niet om halfnaakte mannen te voorzien van eten. Overigens is de schouwburg naast De Librije dus de keuze om daar niet te eten vond ik toen heel vreemd, maar goed, of ze de Chippendales daar ook halfnaakt laten rond wandelen ligt even af een de smaak van Thérèse. Maar goed, we dwalen af…Zwolle, wat een superleuke stad zeg! Ik ontdekte de stad samen met Anne van Anne Travel Foodie en ja, wij gingen dus wel bij Jonnie & Thérèse eten…maar meer "on a budget" stijl. Waar we nog meer zijn geweest, lees je hieronder:
Coffee, tea…me? Uh i mean cake!
Corners Cake: sweet dreams are made of these…echt de gebakjes en lekkere zoete gerechtjes en de geweldige roze Instagram-able aankleding van Corners Cakes is inderdaad een sweet dream! Zeker niet overslaan als je in Zwolle bent, al is het maar voor een Pink Latte en een foto op het geweldige draaimolen paard! Maar goed, als je de gebakjes in de vitrine ziet, moet je wel heel sterk in je schoenen staan om die niet te willen proeven! Ook leuk voor high tea's, babyshowers of kinderfeestjes.
Brasserie In de Broeren: lekker om na het slenteren door de prachtige boekenwinkel neer te ploffen met je nieuwste aanwinst en een taartje!
Blue Bayou: we waren eigenlijk onderweg naar een ander plekje, tot we Blue Bayou zagen aan de overkant als een kleurrijke oase. Nu viel het taartje een beetje tegen, maar misschien is dit ook meer de plek voor een cocktail en bites met je voetjes in het zand. Wat je ook neemt, het is in ieder geval heerlijk vertoeven langs de waterkant.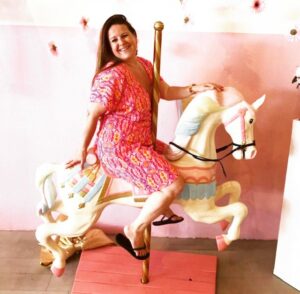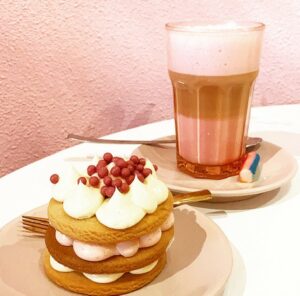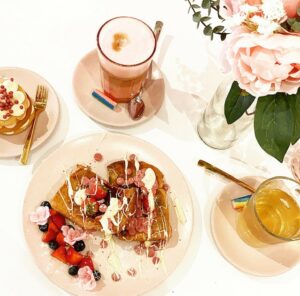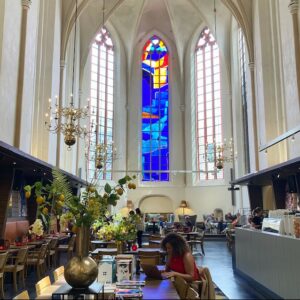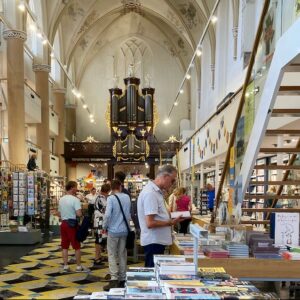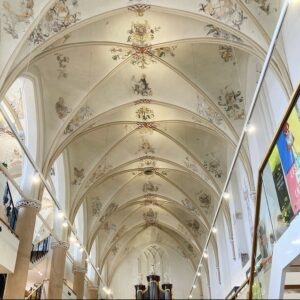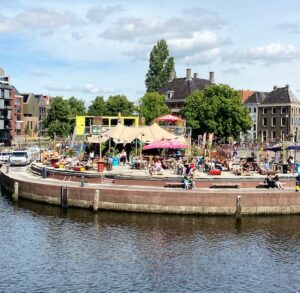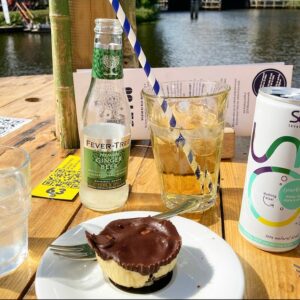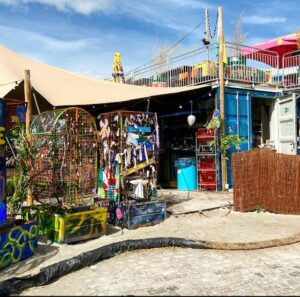 Leukste lunchplekjes:
Lots and More: op het hoekje bij de Sassenpoort vind je dit schattige tentje waar je de hele dag kan kiezen uit de heerlijkste brunch gerechten. Maar ook terecht kunt voor lekkere taartjes en zelfs frozen yoghurt. En niet alleen het interieur ziet er geweldig uit, de gerechtjes die uit de keuken komen zijn kleine kunstwerkjes. Als het zonnetje schijnt is het heerlijk buiten zitten op het gezellige terras en de perfecte plek om langzaam wakker te worden met een fantastisch ontbijtje, zoals een stapeltje fluffy pancakes of een prachtige smoothiebowl. Meer het hartige typje, ook hier vindt je genoeg van op de kaart!
Gillende Keukenmeiden: Gillen heb ik ze niet horen doen, wel de lekkerste gerechtjes uitserveren in de prachtige tuin. Als je nog geen summervibes hebt, dan krijg je het hier wel. Overigens wist ik niet of ik ze onder het kopje Coffee, tea, cake moest plaatsen of onder lunch, want beide zien er heerlijk uit. Wij besloten te gaan lunchen en ik genoot van een heerlijke tosti met geitenkaas, bacon en vijgencompote (aanrader!) en Anne voor een broodje smashed avocado. Regent het, geen probleem, ook binnen ziet het er supergezellig uit! Reserveren is dan wel aan te raden.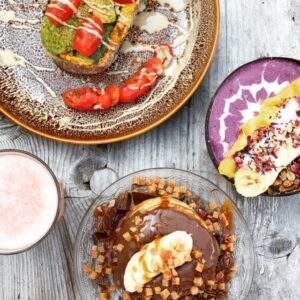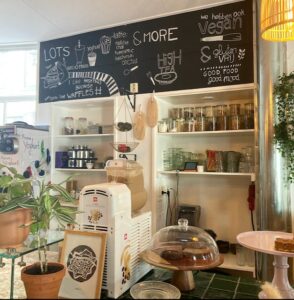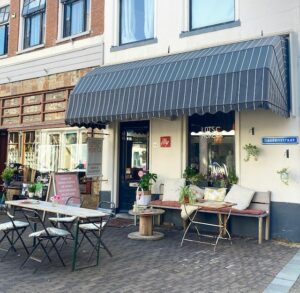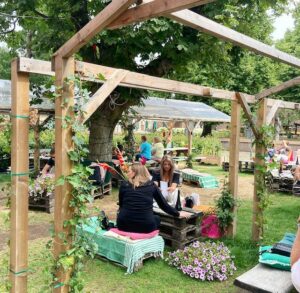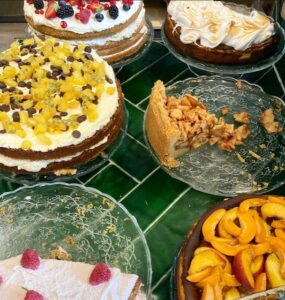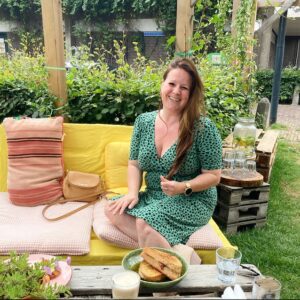 To do:
Museum de Fundatie: indrukwekkend, zo mag je de buitenkant van dit museum wel noemen, maar ook binnen is er genoeg om te bewonderen. Ik hou van musea die een goede mix aan moderne en oude kunst in huis hebben en bij de Fundatie word je niet teleurgesteld als je hier ook van houdt. Met wisselende tentoonstelling is er altijd wel iets moois te zien. En very budget proof, op zaterdagavonden van 17.00 tot 21.00 uur is het museum voor iedereen gratis te bezoeken.
Bootje huren: dat Zwolle een vestingstad is, merk je niet alleen aan de oude stadsmuren die je er tegenkomt, maar ook om de gracht om het centrum heen. En die leent zich op een zomerse dag heel goed voor rondvaarten, suppen of om gezellig een bootje te huren. Dit keer durfde ik dat laatste wel aan, want had nu een schipper (Anne) bij me. En ja, ook zelf een poging gewaagd. Oh en patisserie Lindeboom kan tijdens de rondvaart vanaf het brugje gebakjes naar beneden laten zakken. Hoe leuk is dat als verrassing als je bijvoorbeeld een vrijgezellenfeestje hebt of een date! Wij huurde ons leuke bootje bij Botenverhuur Schoone.
Boekwinkel in een kerk: ik noemde deze al, maar het is dan ook echt even een bezoekje waard. Overigens is gewoon lekker slenteren door Zwolle ook erg leuk, want je vind er veel middeleeuwse gebouwen en leuke kleine steegjes. Liever met een gids een stadswandeling maken? In de boekwinkel vind je ook een informatiepunt over Zwolle die je graag verder helpen.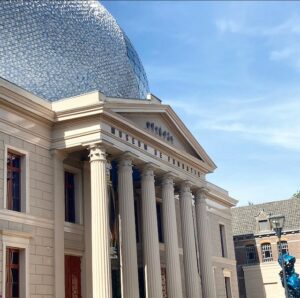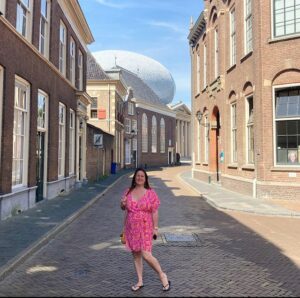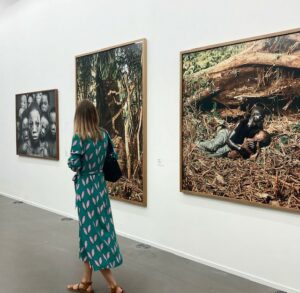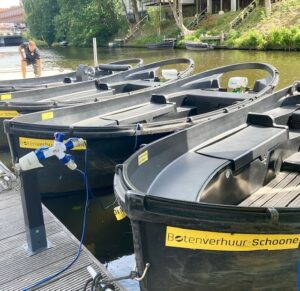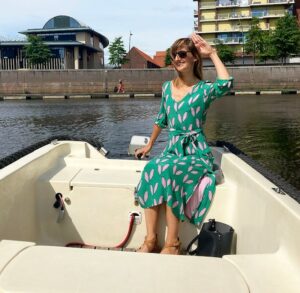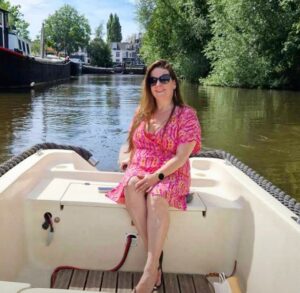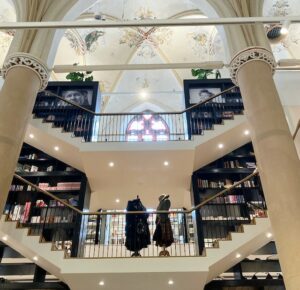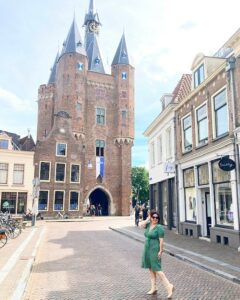 Staying for dinner?
De Librije: als je aan Zwolle denkt, denk je aan De Librije…tenminste als je een foodie bent. Want dan weet je dat dit sterrenrestaurant een bezoekje aan Zwolle waard is, tenminste, als je goed gespaard hebt en geluk heb een plekje te kunnen reserveren in de volle agenda. Helaas zat dat er voor ons niet in…
Brasserie Jansen: maar niet getreurd want wat blijkt, Jonnie & Thérèse bezitten bijna een heel plein vol heerlijke tentjes en Brasserie Jansen is daar een van. En wat voor eentje…wow..ik zat eigenlijk vol maar wou mijn bordje Lobster Mac & Cheese toch echt helemaal opeten. Dus zaten we daar wat langer, maar geen straf hoor, want de inrichting is erg mooi, deed ons denken aan Italiaanse restaurants in New York met foto's van beroemdheden aan de muur en het personeel is er superaardig. Ook fijn, je kunt dus van sommige gerechten halve porties bestellen. Don't be fooled trouwens, want de halve porties zijn echt nog wel heel groot. Volgende keer zorg ik voor een lege buik zodat ik een heel portie van mijn pasta kan bestellen ;). Oh en als dit een voorproefje is van de Librije, dan denk ik dat ik toch nog maar even een spaarpotje ga aanmaken!
Jaffa Jaffa: helaas niet wezen eten, maar het pand waar dit streetfood restaurant in zit, is echt prachtig en het interieur matched dat. Leuk voor lunch, bites of zelfs voor koffie en taartjes. De menukaart ziet er in ieder geval spannend uit en leuk om met een groepje vrienden uit te proberen!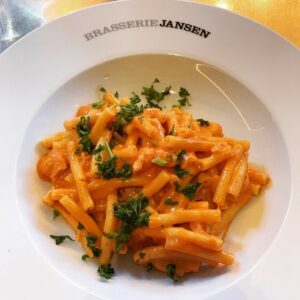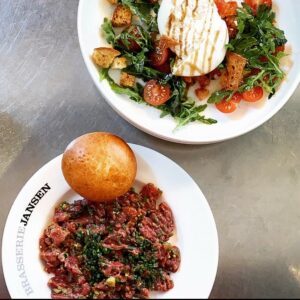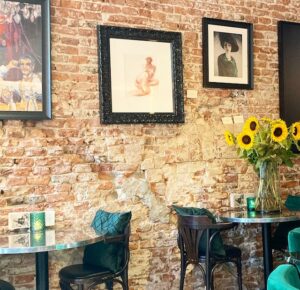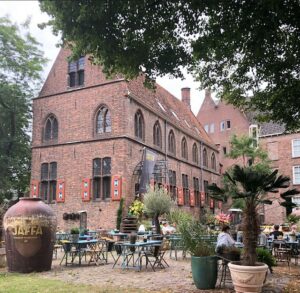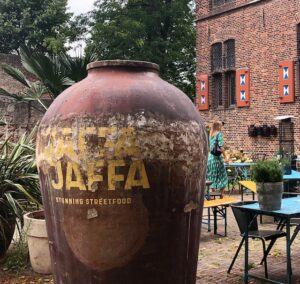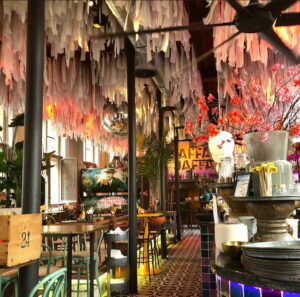 Voulez Vous Coucher:
Pillows Grand Boutique Hotel Ter Borch: ik had Pillows al eens voorbij zien komen op Instagram en eerlijk, als je blijft slapen in Zwolle, dan moet je dat gewoon hier doen. Van het ontvangst met bubbels tot de heerlijke kamer voorzien van alle gemakken en persoonlijke touches. Dit hotel is zo fijn…oh en dan vergeet ik het bed…oh wat was dat heerlijk zeg! Op loopafstand van het centrum en bijna naast het treinstation van Zwolle is het qua locatie in een prachtige laan ook nog eens perfect. Oh en er is ook nog een gym & sauna.
Kort Jakje: hou je niet zo van de grandeur die Pillows biedt, dan kun je natuurlijk ook heel leuk slapen in het centrum van Zwolle. Wij liepen een steegje in en zagen deze schattige B&B en werden op slag verliefd. Enige nadeel, je moet minimaal 2 nachtjes blijven, al is dat in Zwolle natuurlijk helemaal geen straf!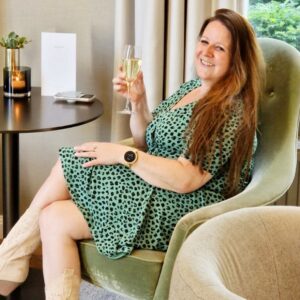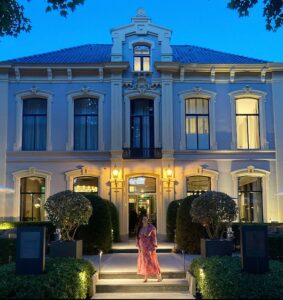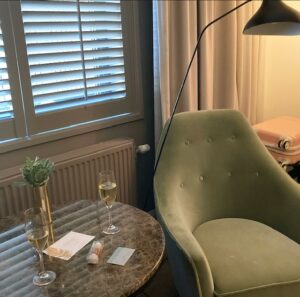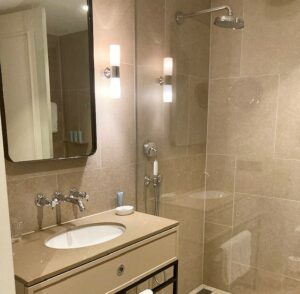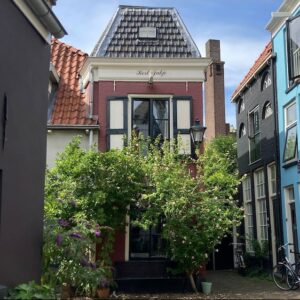 Snack Souveniers:
Patisserie-Chocolaterie Lindeboom: voor je naar huis gaat, vergeet dan niet even Patisserie Lindeboom te bezoeken voor echte Zwolse lekkernijen. Hier kun je de Blauw Vinger koekjes, de Blauw Vinger bonbon die we heel lief mochten proeven (aanrader!!!) en heerlijke schuimgebakjes genaamd Zwollenaartjes vinden. Maar de rest van het assortiment ziet er ook heel verleidelijk uit. En zoals eerder genoemd, kun je dus ook regelen dat er tijdens een rondvaart gebakjes je bootje in worden gezakt vanaf het brugje. Te leuk!
Zwolse Balletjes Huis: uiteraard verkoopt Patisserie Lindeboom ook de echte Zwolse Balletjes, maar leuker is om deze te kopen waar ze onder in de kelder nog gemaakt worden op ouderwetse wijze, het Zwolse Balletjes huis. Een schattig oud snoepzaakje waar je ook andere Zwolse souveniers kunt kopen…maar de balletjes is natuurlijk wel waar het om gaat hier! Oh en voor wie denkt dat je ronde snoepjes krijgt, niks is minder waar…blijkbaar is balletjes de oude Zwolse benaming voor snoepjes.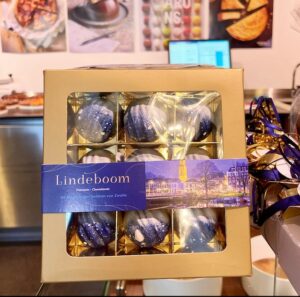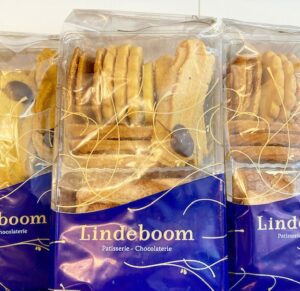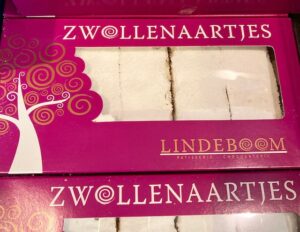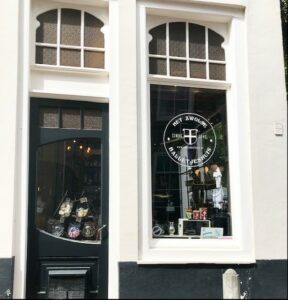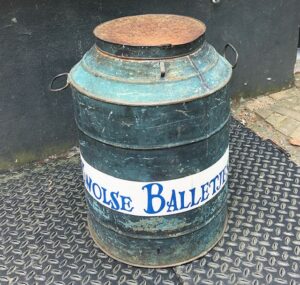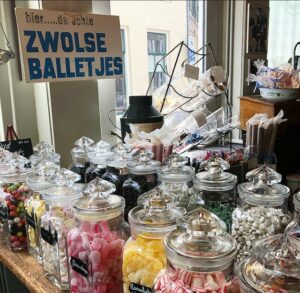 English version:
I really had no idea how fun Zwolle is, eventhough i had been there before. Okay, i never got further than the kitchen of theatre to make sure some half naked men got food. Which was weird as the theatre is next to The Librije (Michelin Star restaurant) so why didn't they just eat there. But hey, i'm not sure they would let the Chippendales walk around half naked there aswell…guess that depends on Thérèse's taste. But oh well…whe are getting a bit distracted…Zwolle, what a great town! I discovered the city together with Anne of Anne Travel Foodie and yes, we did eat at Jonnie & Thérèse eten…but more "on a budget" style. Where else we went, you can read below:
Coffee, tea…me? Uh i mean cake!
Corners Cake: sweet dreams are made of these…really, the pastries and sweet delicious dishes and the amazing pink Instagram-able aankleding of Corners Cakes is indeed a sweet dream! Definetly a must go when you are in Zwolle, even if it's just for a Pink Latte and a photo on their cute merry go round horse! But i'm pretty sure, if you see the pastries in the showcase, you have to be very determined not to wanna try them! Also fun for high tea's, babyshowers or kids parties.
Brasserie In de Broeren: after a nice stroll through the gorgeous book store, it's so nice to sit down with your new book and cake!
Blue Bayou: we were actually on our way to another place, untill we saw the Blue Bayou across the water as a colorfull oase. The cake wasn't what we hoped for, but maybe this place is better for cocktailes and bites with your feet in the sand. Whatever you are having, you will have a great time by the waterfront.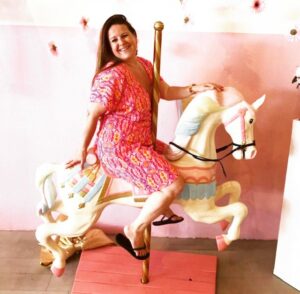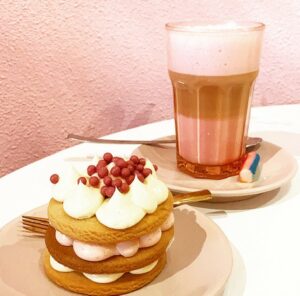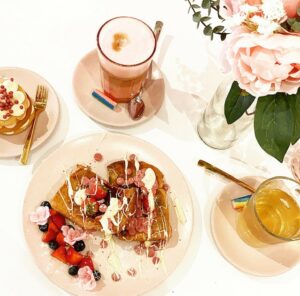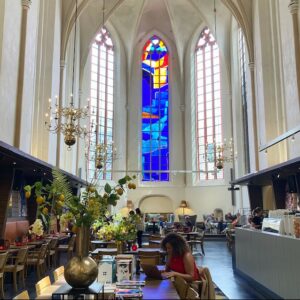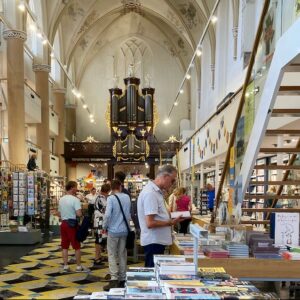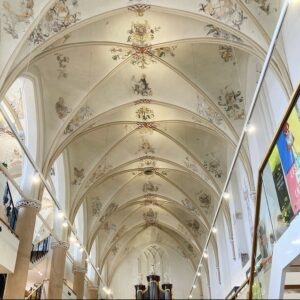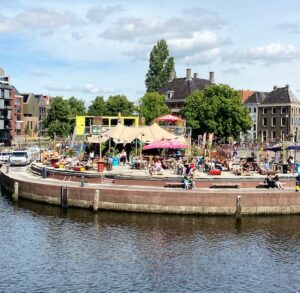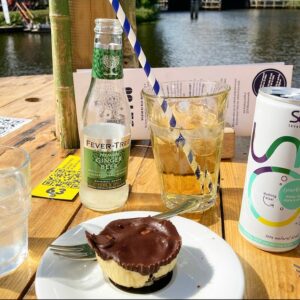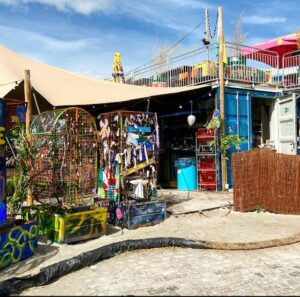 Cutest lunchplaces:
Lots and More: on the corner of the Sassenpoort you'll find this cute place where you can choose the most delicious brunch dishes all day long. But you can also come here for yummie cakes and even frozen yoghurt. And not just the interior is gorgeous, the dishes coming out of the kitchen look like little pieces of art. When the sun shines is so nice to sit outside on the cozy terrace and the perfect place to slowly awake with an amazing breakfast, like a stack of fluffy pancakes or a beautiful smoothiebowl. More of a savoury type, don't worry, they have enough of that on their menu aswell!
Gillende Keukenmeiden: I didn't hear them scream (the name of the place is the screaming kitchen girls) but i did see them serve the most delicious dishes in their gorgeous garden. If you haven't had the summervibes yet, you will get them here. I must admit, i didn't know if i should put them under the caption Coffee, tea, cake or under lunch, as both are looking great. We decided to have lunch here and i enjoyed a grilled cheese with goatcheese, bacon and fig jam (recommmended!) and Anne a sandwich smashed avocado. Rain, no problem, the inside looks just as cute! But i do recommend to make reservations than.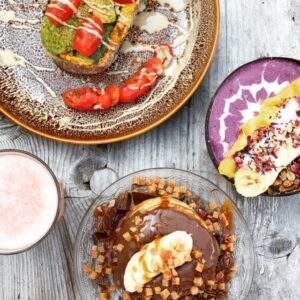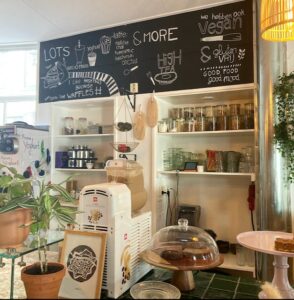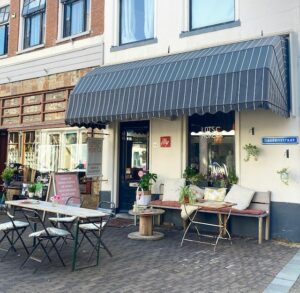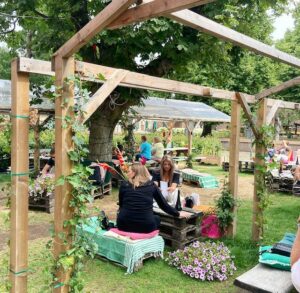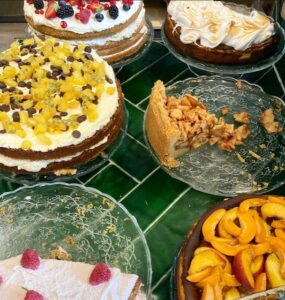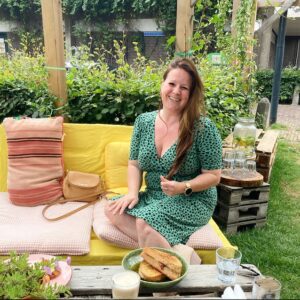 To do:
Museum de Fundatie: impressive, that's what i would call the outside of this museum, but also on the inside there's enough to admire. I love museums that have a good mix of modern and old art and the Fundatie does't dissapoint if you like this aswell. With varying expositions there's always something beautiful to see. And budget proof, on Saturday evening between 5 and 9 the museum is free for everyone.
Hire a boat: Zwolle is a fortress city you don't only notice because of the old walls around it that are still there in some place, but also because of the ditch around the centre. And this is the perfect place to have boat tours, supp or rent a boat on a summer day. This time i did dare to, as i now had a captain (Anne) with me. And yes, i did try it myself. Oh and patisserie Lindeboom can let some pastries come down into the boat when you come under their bridge. How fun is that for a surprise during, for example, a hen party or a date! We rented our cute boat at the Botenverhuur Schoone.
Book store in a church: ik mentioned it before, but it is really worth a visit. And by the way, just strolling around Zwolle is also nice as you find lots of old building and cute alleys. Rather have a guide for a city walk? In the book store you will also find an information point about Zwolle that will love to help you with that.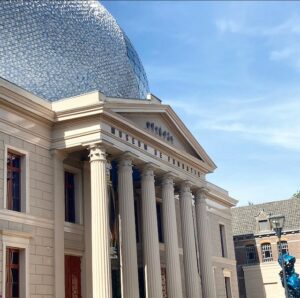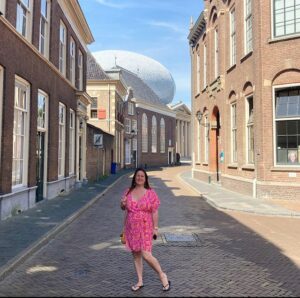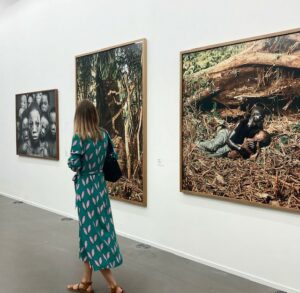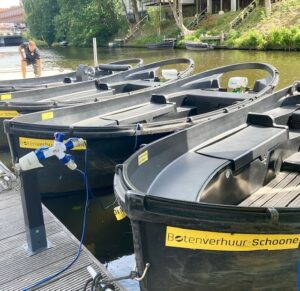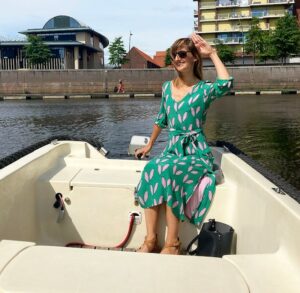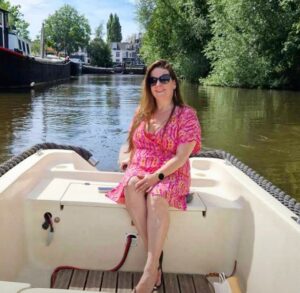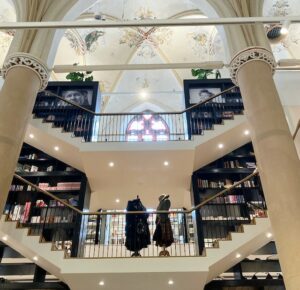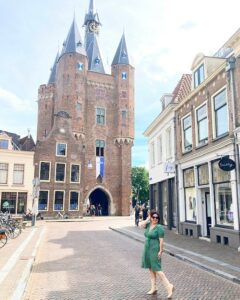 Staying for dinner?
De Librije: if you think of Zwolle, you think of De Librije…atleast, if you are a foodie. As than you know this Micheline star restaurant is worth a trip to Zwolle, atleast, if you saved up enough and was lucky enough to get a spot in their full agenda. Unfortunately we didn't…
Brasserie Jansen: but don't be sad, as it turns out that Jonnie & Thérèse own almost a square full of delicious food place and Brasserie Jansen is one of them. And wow, i was actually full but i really really wanted to finish my plate of Lobster Mac & Cheese toch echt helemaal opeten. So we sat there a bit longer, which isn't a punishment, as the interior is gorgeous, it reminded us of Italian restaurants in New York, with photo's of celebs on the wall and the personnel is really sweet aswell. Also nice, you can order half of some of the dishes Don't be fooled by the way, as half a portion is still pretty big. Next time i make sure my stomach is empty, so i can order the whole portion of my pasta ;), Oh and if this is preview of the Librije, i think i might gonna save up!
Jaffa Jaffa: unfortunately we didn't go for dinner her, but the building this streetfood restaurant is in, is really gorgeous and the interior matches it. Fun for lunch, bites or even for coffee and cake. The menu sounds exciting and fun to try out with a group of friends.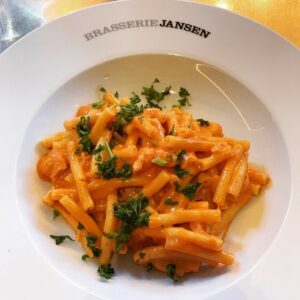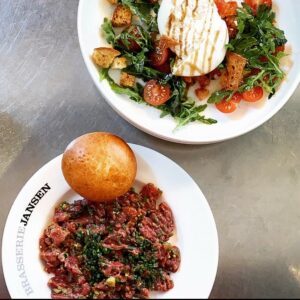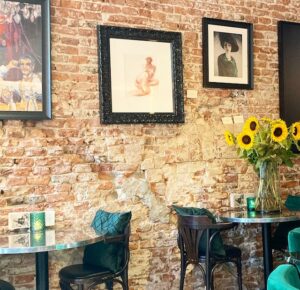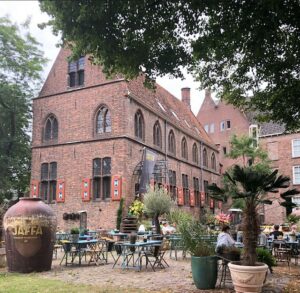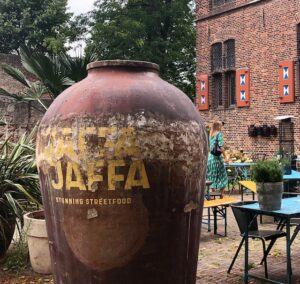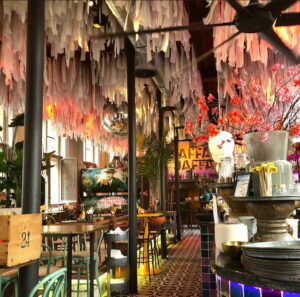 Voulez Vous Coucher:
Pillows Grand Boutique Hotel Ter Borch: i already saw Pillows come by at Instagram a few times, and if you are staying in Zwolle, you should really stay here. From arriving and getting bubbles to the amazing room with all the facilities you need and personal touches. This hotel is so amazing…oh and i almost forget the bed…that was so soft and great! Walking distance from the center and almost next to the train station of Zwolle situated in a gorgeous lane, it's pretty much perfect. Oh and they also have a gym & wellness.
Kort Jakje: if you don't like the grandeur that Pillows offers, you can also stay at a cute place in the city center of Zwolle. We walked into an alley and saw this cute B&B and fell in love right than and there. Only disadvantage, you need to stay for atleast 2 nights, but that's not a punishment at all in Zwolle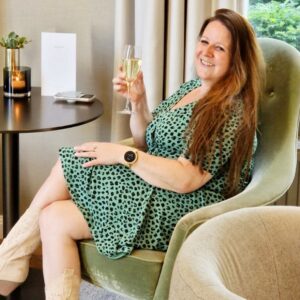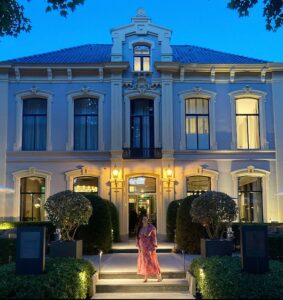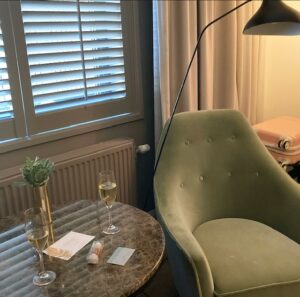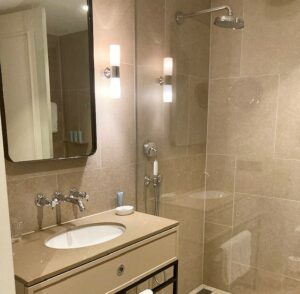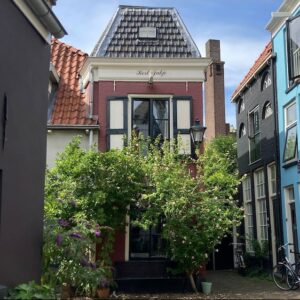 Snack Souvenirs:
Patisserie-Chocolaterie Lindeboom: before you go home, don't forget to go to Patisserie Lindeboom for some real Zwolle's deliciousness. Here you can buy the Blue Finger cookies, the Blue fingers bonbon which we got to try, so weet (recommended!!!) and a deliciou pastry called Zwollenaartjes. But the rest of the assortment looks very tempting aswell. And like mentioned before, you can arrange that the drop some pasteries in your boat during a tour. So cute!
Zwolse Balletjes Huis: ofcourse they also sell them at Patisserie Lindeboom but how fun is it to buy Zwolse balls at the place they actually still make them in their basement like the old days, at the Zwolse Balletjes house. A cute old fashioned candy store where you can also buy other real Zwolse souvenirs…but the balls is ofcourse what it's all about. Oh and for those thinking you get round candy, yeah no…appearantly balls is the old Zwols name for candy.