Shrimp rolls
Ingrediënten:
3 rijstvellen
50 gram rijst vermicelli
12 garnalen (ontdooid)
paar druppeltjes sesamolie
1 theelepel sweet & spicy chilisaus en eventueel extra voor dippen
1/4 komkommer, in reepjes gesneden
1/4 mango, in reepjes gesneden
1/4 rode hete peper, fijngesneden
Bereiding:
Kook de rijst vermicelli gaar. Spoel af met koud water en roer los met een paar druppels sesamolie. Bak de garnalen met een beetje chilisaus. Laat afkoelen. Maak een rijstvel nat en laat uitlekken (je hebt hier speciale matjes voor bij de toko). Leg onderaan het vel een beetje noodles, de komkommer, mango, 4 garnalen en bestrooi met rode peper. Vouw de rijstvellen dicht als een loempia. Herhaal dit nog 2 x. (of vaker, verdubbel dan de ingrediënten). Serveer eventueel met sweet & spicy chilisaus om in te dippen.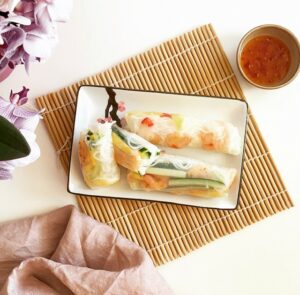 English version:
Shrimp rolls
Ingredients:
3 rice paper
50 gram rice vermicelli
12 shrimps (defrosted)
few drops of sesame oil
1 teaspoon sweet & spicy chilisauce and optional extra for dipping
1/4 cucumber, in slices
1/4 mango, in slices
1/4 red hot pepper, finely sliced
Bereiding:
Cook the rice vermicelli. Rinse with cold water and loosen with a few drops of sesame oil. Bake the shrimps with the chilisauce. Let it cool down. Wet the rice paper and let it drain (you have special mats for this at the Asian supermarket). Top the bottom of the paper with noodles, cucumber, mango, 4 shrimps and sprinkle some of the red hot pepper on top. Fold like a springroll. Repeat this twice (or more, than double the ingredients). Serve with some sweet & spicy chilisauce for dipping.