Ik moet zeggen dat ik tegenwoordig niet zo heel veel make-up meer gebruik, dit omdat ik vooral eigenlijk in de sportschool ben en veel thuis aan het werk ben. Dus met een beetje mascara, oogpotlood en lipbalm ben ik in de ochtend wel klaar. Maar als ik dan toch de deur uit ga, dan zijn deze 5 producten voor mij onmisbaar om er een beetje leuk uit te zien.
Naked2/Naked3 palet van Urban Decay
Nee helemaal niet budgetproof of zelfs budgetfriendly maar dit is echt m'n beste beauty koop ooit. Vooral eigenlijk Naked2, de eerste die ik kocht. Nu ben ik niet heel erg goed met het aanbrengen van make-up. Je zult me ook nooit zien contouren en zelfs met een beetje bronzer kan het er al uit komen te zien als een soort camouflage make-up of oranje lapjeskat, maar door het palet van Naked2 lukt het me zelfs om een redelijk uitziende smokey eye te creëren voor een avondje uit. Dit komt ook vooral door de fijne tutorials die je online kan vinden en m'n "Pretty Make-up" bord op Pinterest is dan ook voor de helft gevuld met alle mooie variaties die je kan maken met de Naked palets. Enige nadeel is wel dat je de kleurtjes niet los kan kopen dus zodra er eentje op is, dan heb je een beetje pech. Gelukkig zijn dat bij mij vooral de basis kleuren die bijna op zijn en gelukkig komen die van Naked3 aardig overeen dus voorlopig kan ik nog even vooruit. En hopelijk komt Urban Decay ooit met een navulpakket.

Gimme Brow van Benefit
In Amerika liet ik vorig jaar m'n wenkbrauwen doen bij de Benefit counter in de Macy's en sindsdien kan ik niet meer zonder. Ik ben niet zo van het verven van m'n wenkbrauwen, sowieso alles wat je bij moet blijven houden is niet echt m'n ding, dus deze brow volumizing fiber gel is echt perfect voor mij. Zo kan ik ze wat donkerder maken wanneer ik dat wil en zonder moeilijk gedoe met wenkbrauwpotloden of poedertjes. Plus door het borsteltje wat heen en weer te bewegen (tegen de groeirichting in) lijken je wenkbrauwen gelijk wat voller. Ook niet een heel goedkoop product maar je doet er best lang mee en voor mij echt een musthave.
Mac lipstick
Ik heb altijd wel wat duurdere lipsticks gehad want ik merkte gewoon dat het beter voor m'n lippen was en de kleur bleef meestal langer mooi dus toen ik op zoek was naar de perfecte Nude kwam ik uit bij Mac en sindsdien ben ik hooked. Alleen die geur al. En dan hoe fijn crèmig die aanvoelt op je lippen maakt dit echt m'n favoriete merk. Oh de kleur Nude die ik gebruik heet Modesty en eigenlijk is dat nog de enige lipstick die ik koop.

Essie Nagellak
Yep m'n beauty buys zijn niet echt budgetfriendly, ik weet het. Maar als het gaat over wat ik op m'n gezicht of in dit geval nagels smeer heb ik liever wat meer kwaliteit. Plus deze nagellak shop ik sowieso altijd met meer dan 2 euro korting net over de grens dus dan valt het nog wel mee en is ook echt een extraatje. Maar inmiddels wel eentje die ik bijna elk bezoekje in m'n mandje gooi, want de kleur Mademoiselle (heel licht roze) staat nu eenmaal heel netjes, glanst mooi en blijft lang zitten.
Rimmel Glam'eyes eyeliner
Eigenlijk de enige budgetbuy van m'n favoriete beauty buys maar na het proberen van verschillende merken (o.a. een belachelijk dure van Chanel die niet eens fijn was) is dit voor mij toch echt de beste om een mooi strak lijntje mee te trekken. Zo strak zelfs dat ik wel eens de vraag heb gehad of ik het getatoeëerd had. Dat zegt wel wat, toch? En hij blijft ook mooi lang zitten wat ik wel echt een voorwaarde vindt voor een goede eyeliner.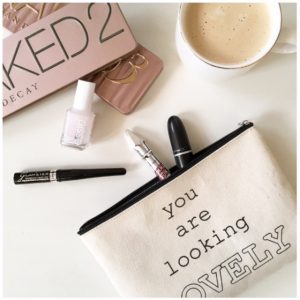 English version:
I must admit, i hardly wear any make-up lately, as i spend most of the time in the gym or at work from home. So a little mascara, eye pencil and lip balm in the morning and i'm done. But when i do go out, these 5 beauty products are the musthaves for me to make myself look a little cuter.
Naked2/Naked3 palet van Urban Decay
Nope, not really budgetproof or even budgetfriendly but this my best beautybuy ever. I'm not very good with doing make-up. You will never see me contouring and even with a little bronzer it can look like i'm trying to camouflage (the army kind) or look like a some kind of orange spotted species, but thanks to palet of Naked2 i can even create a decent looking smokey eye for a night out. This is mostly due to the tutorials which you can find online and my "Pretty Make-up" board on Pinterest is mostly filled with all the gorgeous looks you can make with the Naked palets. Only problem is that you can't buy the colors seperate, so when one is finished, well you are out of luck. Fortunately for me those are mostly the basic colors and the ones in Naked3 look pretty simuliar so i still have a backup. And hopefully Urban Decay will come with a refill sometime soon.

Gimme Brow van Benefit
Last year when i was in America i had my brows done at the Benefit counter at Macy's and since than i can't live without it. I'm not the type to have my brows painted, well honestly anything that needs a regular touch up isn't my thing, so this brow volumizing fiber gel is really perfect for me. So when i want them a bit darker i can do that whenever i want without difficult tricks with brow pencils or powders. Plus when you move the brush a bit over your brows (opposite from the way they grow) your brows will also look a bit fuller. Also not really cheap but you only need a little bit so it will last pretty long and for me a real musthave.
Mac lipstick
I have always had more expensive lipsticks as i noticed it feels better on my lips and the color lasts longer (most of the time) so when i was looking for the perfect Nude i found the one at Mac and ever since i'm hooked. Just the smell of it. And than the creamy texture and how it feels on my lips really makes this my favorite brand. Oh the color Nude i use is Modesty and honestly the only lipstick i bought since.

Essie Nagellak
Yep my beauty buys are really not budgetfriendly, i know. But when it's about what i put on my face or in this case nails i rather have a higher quality. Plus i get this nailpolish always with a discount of more than 2 euro as i buy it in Germany, so it isn't that bad and a little of a treat for me. But one that ends up in my shopping basking almost every trip i make, as the color Mademoiselle (very light pink) looks very neat, has a nice shine and lasts long.
Rimmel Glam'eyes eyeliner
Actually the only budgetbuy of my favorite beauty buys but after trying different brands (a.o. a very expensive one of Chanel that wasn't even good) this one turned out the only one for me which makes it easy to draw a nice even line above my eye. So even that i once got asked if i had it tattoed. Well that says a lot, right? And it last long which i find is one of the most important things for a good eyeliner.