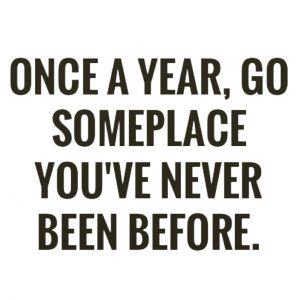 Als ik bovenstaande quote lees dan denk ik meestal aan een bestemming ver weg. Totdat ik de uitnodiging van foodblogger Anne kreeg (IG:anne_travel_foodie) voor een foodbloggertour in Tilburg. Nu kon ik me niet herinneren ooit in Tilburg te zijn geweest en leuke eettentjes uitproberen daar ben ik altijd voor in, dus natuurlijk nam ik deze uitnodiging graag aan.
En wat heb ik genoten! Niet alleen van het eten, maar ook van het zijn met like minded mensen die ook van lekker eten houden, waar het niet gek is dat je eerst 100.000 foto's van je bordje maakt en waarvan ik sommige al tijden volgden zonder ooit in het echt te ontmoeten. En dan sommige inrichtingen van zaakjes, daar word ik dus echt happy van.
Helaas was ik te laat voor de eerste hotspot (het OV en ik zijn geen match…vooral niet als je op het verkeerde perron gaat staan…dom, dom!) maar heb ik nog wel een blik kunnen werpen in het leuke wagonnetje van Stoom013. Een beetje afgelegen maar op een wel heel leuk plekje omringt door van allerlei creatieve concepten waar ze met liefde een goed bakje koffie schenken en met goed bedoel ik dan ook dat de bonen met zorg zijn uitgekozen en niet ouder dan zijn dan 3 weken. (www.stoom013.nl)
Het tweede leuke plekje wat we bezochten was restaurant Waanzinnig. Een concept waar ik helemaal achter sta, vooral omdat ik door een soortgelijke organisatie de kans kreeg m'n bedrijf op te starten (zie verder op in de blog) al betreft het bij mij een lichamelijke beperking en worden er bij Waanzinnig vooral mensen begeleid die een psychische kwetsbaarheid hebben en daardoor wat moeilijker aan een baan kunnen komen. Nou moet ik zeggen dat je dat overigens helemaal niet merkt, want iedereen was vooral heel erg gezellig, enthousiast en professioneel. En het eten was echt heerlijk…en eerlijk. Want vooral veel uit eigen streek en verse seizoensgebonden producten. En natuurlijk ook de Brabantse worstenbroodjes waar we een tegoedbon voor hebben gekregen in de goodiebag dus de volgende keer dat ik in Tilburg ben ga ik die sowieso even scoren. Nu kregen we een heerlijke proeverij met verschillende vegetarische gerechtjes. En ja, daarmee maken ze duidelijk dat je niet perse vis of vlees hoeft te serveren om lekker te kunnen eten. Maar het meest onder de indruk was ik van hun toetjes…oh het was dat we nog heel wat tentjes zouden aan doen en dat ik niet te gulzig wou overkomen op de andere bloggers maar anders… Met andere woorden, als ik dat worstenbroodje ga scoren, dan ga ik zeker ook nog wel zo'n heerlijk toetje erbij nemen. (www.restaurantwaanzinnig.nl)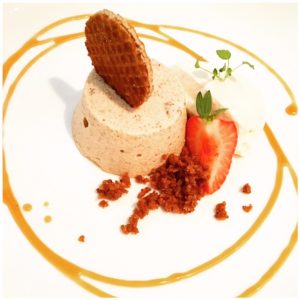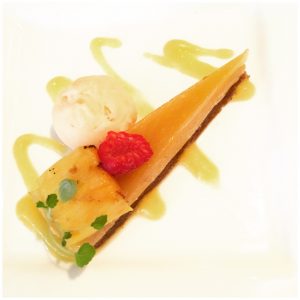 Daarna was RAK aan de beurt en kwamen we er achter dat Tilburg zelfs een haventje heeft. Dit mooi ingerichte restaurant ligt op het water waardoor je een geweldig uitzicht hebt. En aangezien het echt helemaal vol zat, kon je merken dat het ook echt een populair plekje is onder de Tilburgers. Kan ook niet anders want zo'n mooie inrichting, leuk personeel (in echt de leukste bedrijfskleding die ik ooit gezien heb) en lekkere gerechten. Ook hier kregen we een heerlijk vega hapje waarvan ik helaas niet zo'n mooie foto heb, dus moeten jullie het maar doen met een foto van mij op hun trap ;)! (www.restaurantrak.nl)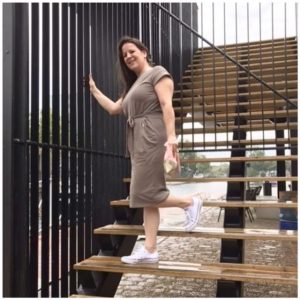 Toen het droog was gingen we naar de overkant, naar Eethuis Twintig. Dit leuke tentje zit in een oude regenjasfabriek samen met nog wat ondernemers en de inrichting heeft nog veel van de oude elementen en is zo instawaardig. Overigens dat geldt ook zeker voor het bordje wat we kregen…bijna te mooi om op te eten. Bijna zeg ik, want behalve dat het een prachtig plaatje was, was het ook echt heel erg lekker. Net als het watermeloen drankje wat we kregen (wil je zien hoe lekker, check dan even het filmpje op m'n Facebook). Wat een leuk plekje, zeker de moeite waard om even uit het centrum voor te lopen en lekker met vriendinnen bij te kletsen tijdens een dagje Tilburg. (www.eethuistwintig.nl)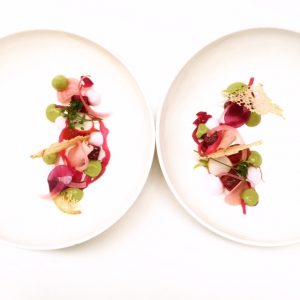 Nadat we even moesten wachten op de brug die open stond (en handmatig werd bediend, een leuke bezienswaardigheid op zich) zijn we verder gelopen naar Zoete Moed. Het grappige is dat ik Zoete Moed en de eigenaresse ken, omdat zijn net als ik een bikkel is (www.bartfoundation.nl mocht je willen weten wat dat inhoudt). Zo leuk om nu eens met eigen ogen haar zaakje te mogen bewonderen. Ze deelt haar bakkerij samen met een cadeauwinkel en dat is dan ook de perfect combinatie. Want wie kan de verleiding van haar gebakjes nou weerstaan als je eenmaal binnen bent. We werden verwend met een heerlijk en vooral ook prachtige taart, die uiteraard eerst door iedereen op de foto werd gezet. (www.zoetemoed.nl)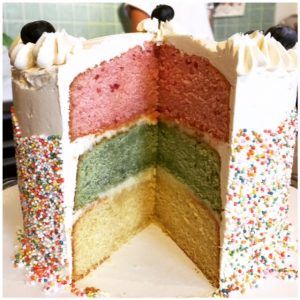 En of we nog niet genoeg verwend waren, liepen we erna door naar echt een van de lekkerste bonbonzaken van Tilburg. Nouja, de naam bonbons is eigenlijk te min voor deze heerlijke creaties. Niet alleen prachtig aan de buitenkant maar de smaken zijn zo verrassend. Denk aan smaken zoals Bergamot met tonkaboon, blauwe bes en balsamico of mandarijn en tijm. Maar het leukste vond ik het verhaal van de makers en de passie die je duidelijk terug zag in hun producten. Ben je in Tilburg dan mag je dit winkeltje zeker niet overslaan. (www.friandries.nl)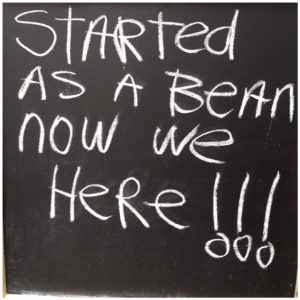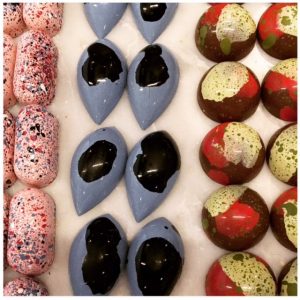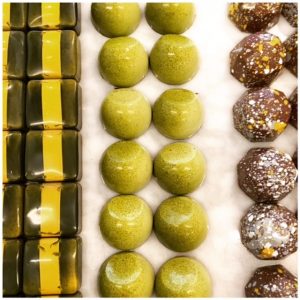 Save the best for last is in dit geval ook echt zo. Want op de terugweg naar het station deden we nog 1 stop. En hier gaat m'n eventplanner hartje echt harder van kloppen. Wat een prachtzaak is EVE. De voormalige loods waar vroeger locomotieven werden gerepareerd is omgetoverd tot misschien wel een van de mooiste locaties waar ik ooit binnen ben geweest. De mix van het oude wat in ere is hersteld en het nieuwe gaan feilloos in elkaar over. Met zoveel respect voor het pand en wat het ooit was maar ook met zo'n goed oog voor design (denk art deco/steampunk/klassiek maar zeker niet oudbollig) met een geweldig lichtplan. Dit kun je alleen maar zo bedenken als je ook echt passie heb voor je vak. En dat heeft de eigenaar ook echt. Vol trots en met een twinkeling in zijn ogen vertelde hij over het pand (waar je dus ook kunt trouwen of andere events kunt houden want er kunnen met gemak 650 man in), hoe ze de aanbesteding wonnen en liet hij ons een timelapse zien van de verbouwing. Hierna werden we heerlijk in de watten gelegd met een Eve cocktail en de meest heerlijke hapjes die je maar kan bedenken. Als je nog twijfelt over Tilburg dan trekt Eve je zeker over de streep. (www.eve-tilburg.nl)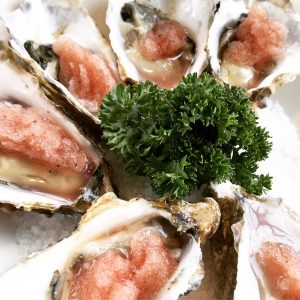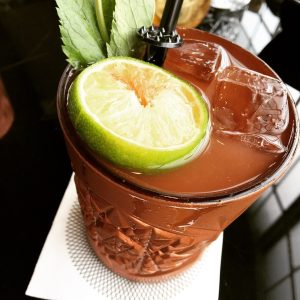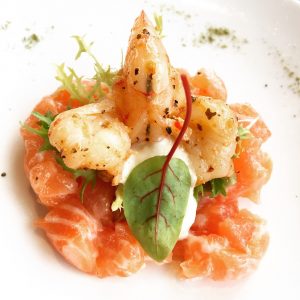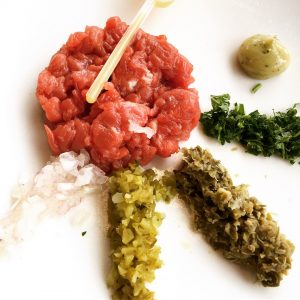 En toen was het tijd om het leuke Tilburg te verlaten maar met de belofte om zeker nog eens terug te komen. De Brabantse gezelligheid in combinatie met heerlijk eten op de leukste plekjes maakt dit een perfecte stad om eens wat vaker te bezoeken. Bedankt lieve Anne, voor de uitnodiging, de geweldige organisatie en de gezelligheid. Tilburg mag trots zijn op zo'n goede ambassadeur. En natuurlijk ook de andere bloggers, heel erg bedankt voor de gezellige dag, ik hoop jullie nog vaker tegen te komen op andere events.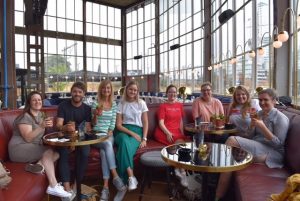 English version: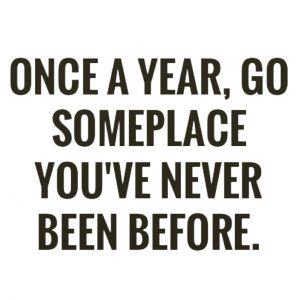 Whenever i read the above quote i always think of a destination outside Holland. (and yes i decide to translate this blog in English as if you ever visit Holland and want to see more than just Amsterdam, Tilburg might be a nice change). Untill i received an invitation of foodblogger Anne (IG:anne_travel_foodie) for a foodbloggertour in Tilburg. I can't remember if i had ever been to Tilburg and i'm always up for trying out new foodplaces, so ofcourse i accepted the invitation.
And wow what a day! Not just because of the food, but also to be with like minded people who also love food, who don't think it's weird that you first take 100.00 photo's of your food instead of eating it right away and to meet some of the people i've been following for a while in person. And than the interiors of some of the places we visited, well you've got one happy girl here.
Unfortunately i was too late for the first hotspot (trains and me are no match…especially when i was standing on the wrong platform..stupid me!) but i did get a little glance at the cute little wagon of Stoom013. A bit out of the way but in such a fun place surrounded by creative concepts they serve a good coffee with love. And when i say good i mean carefully selected beans that are not older than 3 weeks.(www.stoom013.nl)
The second cute place we visited was restaurant Waanzinnig. A concept i really embrace, as i got a chande in a similar way by an organisation to start my business (more about that later on) eventhough for me it's a physical thing and at Waanzinnig they educate and help people who are mentally vunerable and for who it's harder to find a job. But that being said, there's no way to notice, as everyone was mainly very friendly, enthusiastic and profesional. And the food was delicious and fair. As mostly out of the region and fresh seasonbound products. And ofcourse the real Brabants sausage rolls for which we got a free coupon in our goodiebag, so next time in Tilburg i will definetly score that one. We got a delicious plate of food to share and try with different vegetarian dishes. And yes, they proof their point that you don't nescessarily have to serve fish or meat to have a delicious meal. But i was most impressed by their desserts…i we weren't gonna visit more places and if i hadn't care that much about what other bloggers would think, i would have eaten it all by myself. With other words, when i score that sausage roll i will definetly order a dessert aswell.(www.restaurantwaanzinnig.nl)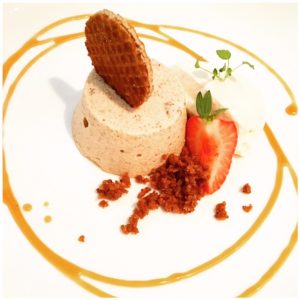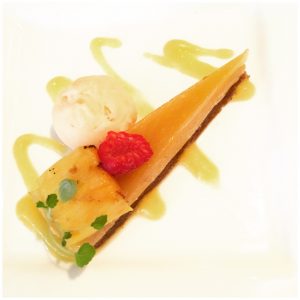 Afer that we went to RAK and we found out that Tilburg even has a little harbour. This beautiful design restaurant is on the water and therefore you have an amazing view. You could notice it's a popular place for the locals as it was fully booked. Which isn't weird as of the beautiful interior, nice personal (who wear the cutest company outfits i've ever seen) and the good food. We also got a delicious vegetarian bite of which i didn't take a good picture, so you will just have to do with a photo of me on their stairs ;)! (www.restaurantrak.nl)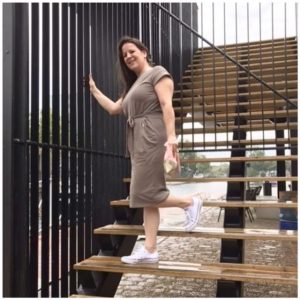 When it was dry we took a trip to the other side, to Twintig. This fun place is situated at an old rain coat factory which they share with other entrepreneurs and the interior has a lot of the old features and is so Instagrama worthy. And the same goes for the plate we were offered…almost to beautiful to eat.
Almost i said, as besides being just a pretty picture, it was truly delicious. Just like the watermelon drink they served us. (wanna see how delicious, check out the video on my Facebook page). Such a cute place, and definetly worth the walk to chill with your friends during a day out in Tilburg (www.eethuistwintig.nl)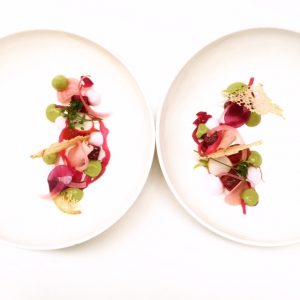 After waiting for the bridge that was open (which was done by hand and so fun to see) we took a walk to Zoete Moed. Funny detail, i know Zoete Moed and the owner as she is just like me a Bikkel (www.bartfoundation.nl if you want to know what it means). So fun to finally see her store with my own eyes. She shares the bakery with a giftshop and that's the perfect combination. As who can resist her pastry once you are inside. We were treated to a delicoious but also beautiful cake, which ofcourse had to be photographed by everyone first.(www.zoetemoed.nl)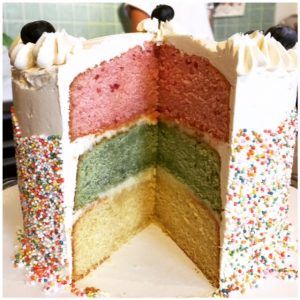 And if we weren't spoiled already, we than walked to one of the best chocolate places of Tilburg. Well bonbon might not be the right name for these delicious creations. Not just beautiful on the outside but the flavours were so surprising. Like Bergamon & tonko beans, blueberries and balsamico or tangerine and thyme. But the best part was the story of the makers and their passion that so easily translates to their products. If you are in Tilburg you don't wanna miss out on this place. (www.friandries.nl)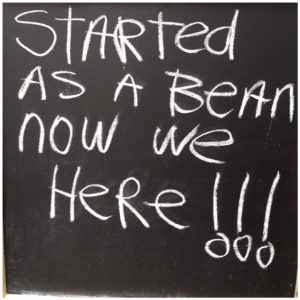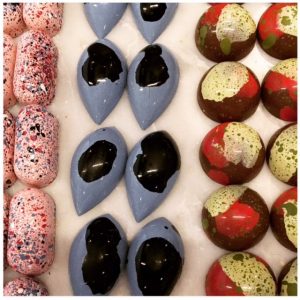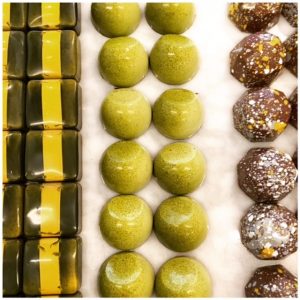 Save the best for last is not an understatement in this case. As on our way back to the trainstation we did one more stop. One that made my eventplanner heart beat a little faster. Such a beautiful place, EVE. This former warehouse were they used to repair trainsets is transformed into maybe one of the most beautiful places i have ever visited. The mix of old which has been restored and the new go togeher flawlessly. With so much respect for the building and what it once was but also with a good eye for design (think art deco/steampunk/classic without looking old fashion) with a great light plan. You can only do this if you are truly passionate about your trade. And the owner really is. Full proud and with a twinkle in his eye he tells us about the building (which is also a official wedding location or can be used for other events as it easily fits 650 people), how he won the tender and as he shows us a timelapse of the renovation. After this they spoiled us with an Eve cocktail and the most delicious bites you can think of. If you are still doubting to visit Tilburg, Eve makes it definetly worth while.(www.eve-tilburg.nl)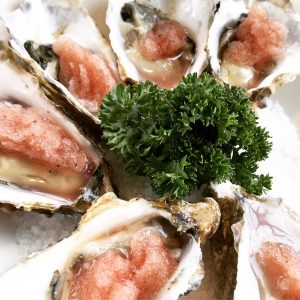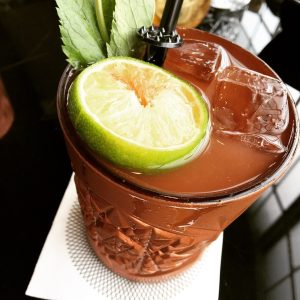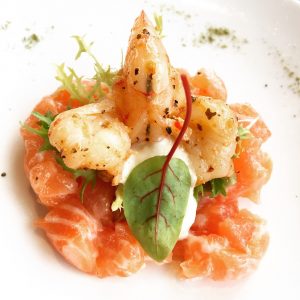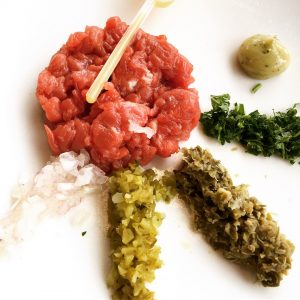 And than it was time to leave fun Tilburg but not without promising to visit it again. The Brabants hospitality in combination with delicious food at the cutest places makes this a perfect city to visit more often. Thank you, sweet Anne, for the invitation, the great organisation and the fun time. Tilburg can be proud to have an ambassador like you. And ofcourse, to the other bloggers, thank you all for the fun day, i hope to run into you at other events.