Ravioli with white wine sauce
Ingrediënten:
1/2 pakje verse ravioli met vulling naar smaak (ik gebruikte funghi en truffel)
Handje verse spinazie
Handje kleine tomaatjes, geroosterd in de oven
Mozzarella bolletjes
1/2 sjalotje
2 eetlepels creme fraiche light
1 scheutje witte wijn (of meer ;)!!!)
Peper en zout
Eventueel pijnboompitjes
Bereiding:
Rooster de tomaatjes met een klein beetje olie in de oven op 200 graden ongeveer 30 minuten. Bereid de ravioli zoals op de verpakking. Snipper het sjalotje. Bak in een pan. Voeg de witte wijn toe en de crème fraîche en een beetje peper & zout en roer goed door. . Giet de pasta af en schenk de saus erover. Maak af met de spinazie, geroosterde tomaatjes, de mozzarella bolletjes en eventueel wat getoaste pijnboompitjes.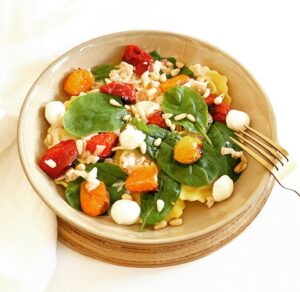 English version:
Ravioli with white wine sauce
Ingredients:
1/2 package fresh ravioli with filling to your preference (i used funghi and truffle)
Handfull fresh spinach
Handfull small tomatoes, oven roasted
Small Mozzarella balls
1/2 shallot
2 spoons creme fraiche light
1 sprinkle of white wine (or more ;)!!!)
Salt and pepper
Optional pine tree nuts
Directions:
Roast the tomatos in a little oil in the oven on 200 degrees celcius in about 30 minutes. Prepare the pasta as it says on the package. Slice the shallot finely. Bake in a pan and add the white wine, creme fraiche and a little salt and pepper and stir well. Take the pasta out of the water and pour the sauce over it. Serve with the fresh spinach, roasted tomatoes, mozzarella and toasted pine tree nuts (optional).