Whipped Feta:
Ingrediënten:
120 gram feta
75 ml Creme Fraiche light
Druppels olijfolie
Honing (eventueel)
Bereiding:
Snij de feta in kleinere blokjes. Voeg samen met de creme fraiche en olijfolie in een keukenmachine. Draai tot een smeuïge dip. Te zout, een klein beetje honing erdoor is ook erg lekker. Serveer met bijvoorbeeld volkoren pita.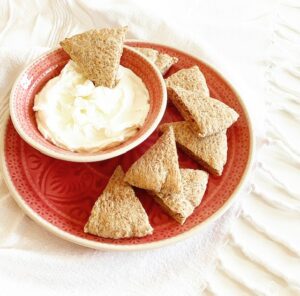 Tzatziki:
Ingrediënten:
4 eetlepels Griekse Yoghurt
2 kleine (snack) komkommers
1 teentje knoflook
Snufje peper & zout
Eventueel een klein beetje olijfolie
Bereiding:
Rasp de twee kleine komkommers en knijp het sap eruit (eventueel door het door een zeef te drukken. Voeg de komkommer pulp bij de yoghurt. Knijp een teentje knoflook erboven uit en voeg wat peper & zout toe. Roer door elkaar en voeg eventueel nog een scheutje olijfolie toe. Lekker als dip maar ook bij een broodje gyros.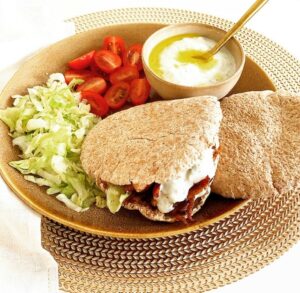 Spicy Mango Hummus
Ingrediënten:
1 blikje kikkererwten (265 gram)
1 eetlepel tahin
1 eetlepel citroen
250 gram mango
1/2 rode peper
paar druppeltjes hete saus (naar keuze)
Bereiding:
Doe alle ingrediënten in een keukenmachine en mix tot een gladde dip. Lekker met Turks brood! Of op een wrap (zie recept).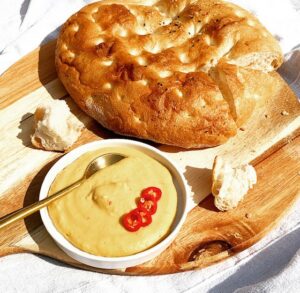 Creamy Avocado dip
Ingrediënten:
1/2 avocado
1,5 eetlepel kwark, griekse yoghurt of crème fraîche
Kneepje limoensap
Peper en zout, naar smaak
Bereiding:
Blend alle ingrediënten samen tot een romige dip! Lekker met nacho chips voor de borrel, bij een quesadilla of op toast.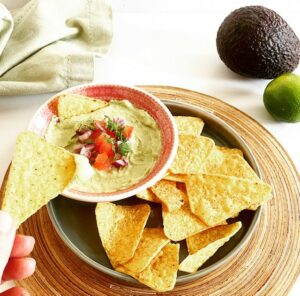 English version
Whipped Feta:
120 gram feta
75 ml Creme Fraiche light
Drizzle olive oil
Honey (optional)
Directions:
Cut the feta in smaller cubes. Add together with the creme fraiche and olive oil in a kitchen machine. Turn until smooth. Too salty, a little bit of honey mixed in is also very delicious. Serve with for example wheat pita.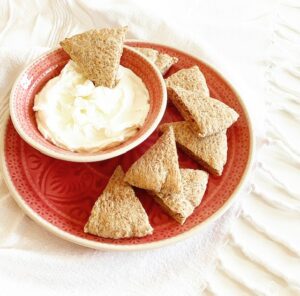 Tzatziki:
4 spoons Greek Yogurt
2 small (snack) cucucmbers
1 clove of garlic
Sprinkle salt & pepper
Optional: a little olive oil
Directions:
Grate the two small cucumbers and squeeze the juice out (you can use a sieve). Add the cucumber pulp to the yoghurt. Squeeze a clove of garlic above it and add some salt & pepper. Mix together and optional, add a little olive oil. Nice as dip but also good with a gyros sandwich.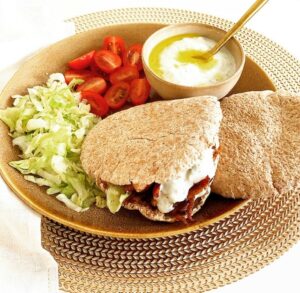 Spicy Mango Hummus
Ingredients:
1 can of chickpeas (265 gram)
1 spoon tahin
1 spoon lemon
250 gram mango
1/2 red hot pepper
few drops of hot sauce (to choice)
Directions:
Put all the ingredients in a kitchenmachine and mix into a smooth dip. Nice with Turkish bread! Or on a wrap (see recipe).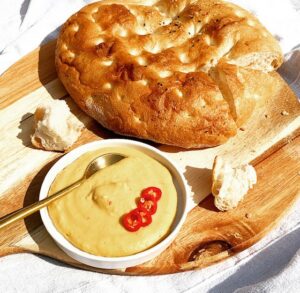 Creamy Avocado dip
Ingredients:
1/2 avocado
1,5 spoon quark, greek yoghurt or crème fraîche
Squeeuze of lime juice
Pepper and salt, to taste
Directions:
Blend all ingredients together into a creamy dip! Nice with nacho chips with drinks, at a quesadilla or on toast.