This is your reminder to drink some water & be fabulous!
Heel eerlijk, ik ben echt een ramp als het gaat om aan mijn 2 liter water per dag te komen. Een liter Gingerbeer of Cola (zero) tijdens een avondje tv kijken, geen probleem…2 liter water over een hele dag…yup not gonna happen tenzij ik echt moeite doe. Dus dacht ik, wat als ik nou wat smaakjes toevoeg aan mijn water die niet alleen lekker zijn maar ook nog eens gezond, en vanaf nu gewoon braaf elke dag minimaal 2 kannen hiervan op drink! En ja, ik snap dat sommige combinaties misschien een beetje apart zijn…maar hey, don't knock it till you try it 😉
Komkommer & Munt
Deze combinatie is lekker verfrissend en fijn tijdens een sweaty workout. Snij de komkommer in plakjes, kneus de blaadjes munt een beetje, doe in een kan en voeg water toe.
Komkommer: houdt je vochtgehalte in balans
Munt: ondersteunt je immuunsysteem en beschermt tegen ontstekingen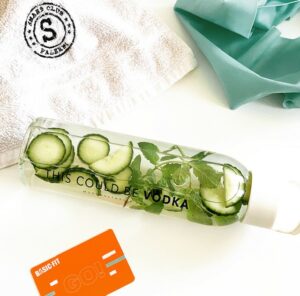 Citroen & Gember
Heerlijk als kopje thee maar ook koud een fijne combinatie. Snij de citroen en gember in plakjes, doe in een kan en voeg water toe.
Citroen: bevat vitamine c en kalium. Kalium helpt het regelen van vochtbalans en de bloeddruk
Gember: beschermt tegen ontstekingen en helpt tegen misselijkheid. Bevordert de opname van voedingstoffen.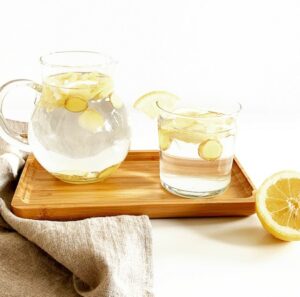 Limoen & Jalopeno
Let's spice it up! Snij de limoen en jalopeno in plakjes, doe in een kan en voeg water toe. Was na het snijden en vastpakken van de jalopeno goed je handen!!!
Limoen: helpt beschermen tegen oxidatieve schade van je lichaamscellen
Jalopeno: bevat vitamine C en E en helpen als antioxidant in je lichaam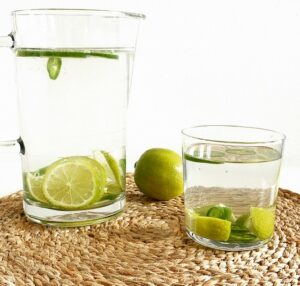 Aardbeien & Basilicum
Deze zomerkoninkjes smaken bijna overal in, van salade tot op een taartje, dus ja, ook in je water! Halveer de aardbeien, kneus de basilicum een beetje, doe in een kan en voeg water toe.
Aardbeien: bevat veel antioxidanten zoals vitamine C en anthocyaan die helpen schadelijke stoffen te vernietigen
Basilicum: zit bomvol ijzer wat helpt bloedarmoede te voorkomen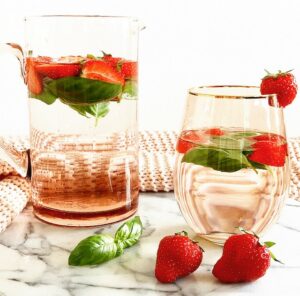 Ananas & Rode Peper
Some like it hot! Snij verse ananas in blokje, snij de rode peper in plakjes. Doe in een kan en voeg water toe. Ook hier…was goed je handen na het snijden en vasthouden van de rode peper!
Ananas: versterkt het immuunsysteem en helpt bij verkoudheid, is goed voor het bindweefsel en laat wonden sneller genezen
Rode Peper: is echt supergezond en bevat meer vitamine C dan een sinaasappel en ook deze helpt tegen verkoudheid.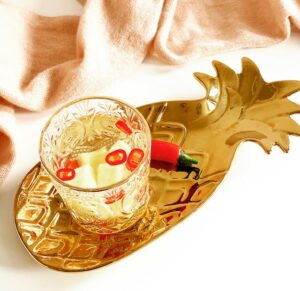 English:
This is your reminder to drink some water & be fabulous!
Honestly, i'm a disaster when it comes to drinking my 2 liters of water a day. A whole liter Gingerbeer or Cola (zero) during a movienight, no problem…2 liters of water throughout the whole day…yup not gonna happen unless i really try hard. So i thought, what if i add flavour to my water that isn't just nice but also healthy, and from now on be a good girl and drink minimal 2 water pitchers a day! And yes, i know some combinations might be a little different…but hey, don't knock it till you try it 😉
Cucumber & Mint
This combination is refreshing and perfect during a sweaty workout. Slice the cucumber and bruise the mint leafes a bit, put in a pitcher and add water.
Cucumber: keeps you hydrated
Mint: supports your immuunsystem and protects against inflammation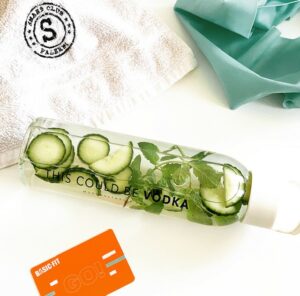 Lemon & Ginger
Delicious as cup of tea but also cold a nice combination. Slice the lemon and ginger, put in a pitcher and add water.
Lemon: contains vitamine c and potassium. Potassium helps regulate the hydration and blood pressure.
Ginger: protects against inflammation and against nausea. Helps intake of nutrients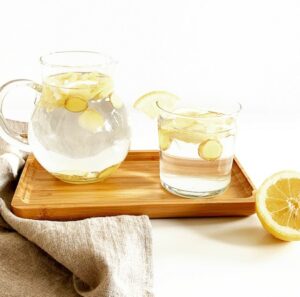 Lime & Jalopeno
Let's spice it up! Slice the lime and jalopeno in plakjes, put in a pitcher and add water. After cutting and holding the jalopeno make sure to wash your hands throughly !!!
Lime: helps protect agains oxidative damages of your body cells
Jalopeno: contains vitamine C and E and helps as a anti oxidant in your body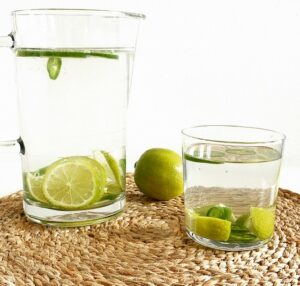 Strawberries & Basil
These beauties taste good in almost everything, from salad to cake, so yes, also in your water! Cut the strawerries in half, bruise the basil a bit, put in pitcher and add water.
Strawberries: contain lots of anti oxidants like vitamine C and anthocyaan which help destroy harmfull substances
Basil: are full of iron which helps prevents anemia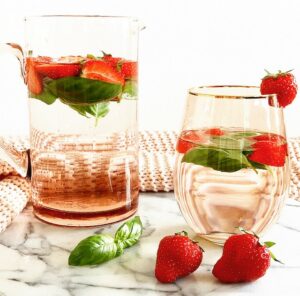 Pineapple & red pepper
Some like it hot! Cut the fresh pineapple in cubs, slice the red pepper. Put in a pitcher and add water. Also here….wash your hands afer cutting and holding the red pepper!
Pineapple: strenghtens the immunsystem and helps against a cold, is good for your tisseu and makes wounds heal faster
Red Pepper: is really super healthy and contains more vitamine C than an orange and also helps against colds.