BBQ Chicken Bowl
Ingrediënten:
120 gram kippendijenfilet
60 gram jasmijnrijst
Voor de saus:
2 eetlepels Worchestersaus
1 eetlepel appel azijn
1 theelepel mosterd
1,5 eetlepel honing
3 eetlepels ketchup (suikervrij, Verstegen)
1 theelepel tijm
1/2 theelepel chilipoeder
1 theelepel uienpoeder
1 theelepel knoflookpoeder
Eventueel een paar druppels liquid smoke of een klein beetje gerookte paprikapoeder als je een smokey smaak wilt.
Bereiding:
Maak de saus door alle ingredienten in een pannetje te doen en te verwarmen op laag vuur. Roer goed door. Kook ondertussen de rijst gaar. Bestrooi de kippendijenfilet met een beetje zout. Verhit wat olie in een grillpan en leg de kippendijenfilet erop. Smeer in met de bbq saus. Draai om en smeer ook deze kant in. Bak gaar. Serveer in een kom met sla met gegrilde ananas en strooi er wat BBQ Chilli Nuts van John Altman over.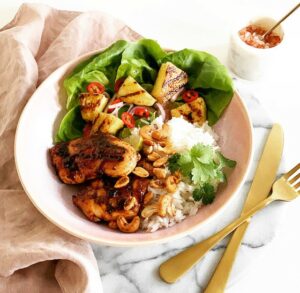 Sushi Bowl
Ingrediënten:
80 gram sushi rijst (ik gebruikte het merk Saitaku)
1 eetlepel rijstazijn
1 theelepel suiker
Sashimi zalm in reepjes (5 stuks)
Mango
Avocado
Komkommer
Sesamzaadjes
Bereiding:
Kook de sushirijst zoals vermeld op de verpakking. Meng een beetje rijstazijn met suiker en roer door tot de suiker opgelost is. Zodra de rijst klaar is, roer dit er door. Maak een roos met de zalm in het midden van je bowl. Leg de rest van de ingredienten eromheen. Ook zulke balletjes maken? Ik gebruikte plastic folie waar ik een klein beetje rijst in deed. Draai het plastic folie dicht en maak een balletjes vorm. Bestrooi met een beetje sesamzaad. Lekker met wat wasabi mayonaise of teriyaki saus.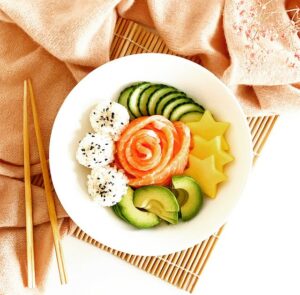 Greek Chicken Bowl
Ingrediënten:
230-250 gram kippengehakt
2 eetlepels citroensap
25 gram feta
1 handje verse munt
1 theelepel gedroogde munt
1 theelepel dille
Snufje peper & zout
Voor de whipped feta:
120 gram feta
75 ml Creme Fraiche light
Klein scheutje olijfolie
Voor de ingelegde rode ui:
1 rode ui
100 ml water
50 ml azijn
1 lepel suiker
Bereiding:
Begin met de ingelegde ui. Kook de azijn met het water en suiker. Snij de ui in dunne ringen en voeg toe. Zet het vuur uit en laat afkoelen. Maak de whipped feta door de feta in blokjes samen met de creme fraiche en olie in een keukenmachine te doen en tot een smeuige massa te draaien.
Voeg citroensap, verkruimelde feta, fijngesneden verse munt, de gedroogde munt en dille en wat peper en zout toe aan het kippengehakt. Kneed goed door. Verwarm wat olie in een pan en bak de balletje gaar en bruin. Serveer met de whipped feta, ingelegde ui, komkommer en flatbread. Verkruimel eventueel nog wat feta erover!
Whipped Feta over, dit is ook erg lekker als dip op een borrelplank of op een broodje met geroosterde tomaten en balsamico!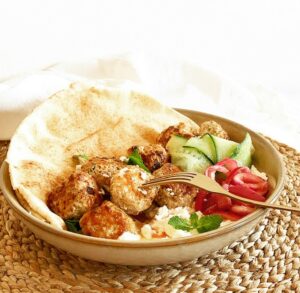 Thai Shrimp Curry Bowl
Ingrediënten:
60 – 80 gram jasmijnrijst
125 gram garnalen
1 eetlepel limoensap
1 eetlepel vissaus
1 1/2 eetlepel rode curry pasta
200 ml kokosmelk
1/2 rode paprika
1/2 mango
Koriander (optioneel)
Bereiding:
Kook de rijst. Verwarm olie in een wok. Voeg de garnalen en paprika toe. Bak even aan. Voeg de curry pasta toe en roer goed door. Voeg vervolgens de kokosmelk, vissaus en de limoensap toe. Voeg de mango toe. Laat sudderen tot de garnalen gaar zijn. Serveer met de rijst en strooi er eventueel wat koriander over.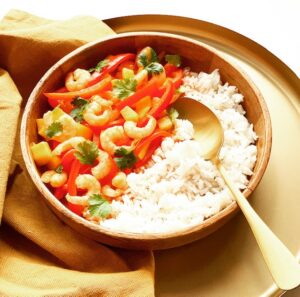 Tempeh Noodle Bowl
Ingrediënten:
125 gram Tempeh, in plakjes
80 gram noodles
1/4 groene papaya (of witte kool)
1/3 wortel
1/3 rode paprika
1/4 komkommer
1 eetlepel teriyaki saus (ik gebruikte Teriyaki Sesam van Kuhne)
1 handje pinda's
1 handje sesam zaadjes
Koriander (optioneel)
Voor de saus:
2 eetlepels pindakaas
1 eetlepel gembersap
1 eetlepel citroensap
1 teentje knoflook, geperst
1 theelepel sesamolie
1 theelepel sojasaus
paar druppeltjes hete saus
Bereiding:
Kook de noodles zoals op de verpakking. Meng de ingrediënten voor de saus. Snij de groente in reepjes (of gebruik een keukenmachine) Verhit een laagje (zonnenbloem)olie in een pan. Frituur de tempeh hierin en doe in een kommetje. Schenk de teriyaki saus erover en meng goed door zodat alle tempeh bedekt is. Giet de noodles af en meng de saus erdoor. Serveer met de tempeh en bestrooi met de pinda's, sesamzaadjes en eventueel koriander.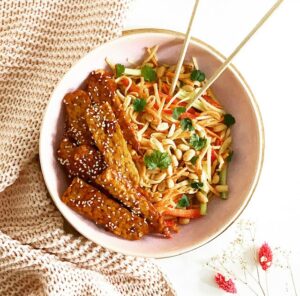 English version:
BBQ Chicken Bowl
Ingredients:
120 gram chicken thigh fillet
60 gram jasmin rice
For the sauce:
2 spoons Worchester sauce
1 spoon Apple Vinegar
1 teaspoon mustard
1,5 spoon honey
3 spoons ketchup (sugarfree, Verstegen)
1 teaspoon thym
1/2 teaspoon chilipowder
1 teaspoon onion powder
1 teaspoon garlic powder
Optional: a few drops of liquid smoke or a little bit of smoked paprika powder if you like a smokey flavour.
Directions:
Make the sauce by putting all the ingredients in a sauce pand and heat it on low. Stir really well. In the meanwhile cook the rice. Sprinkle a little salt on the chicken. Heat a little oil in a grill pan and put the chicken on it. Spread with bbq sauce. Turn and spread some sauce on this side aswell. Bake untill done. Serve in a bowl with lettuce, grilled pineapple and sprinkle some BBQ Chilli Nuts of John Altman on top.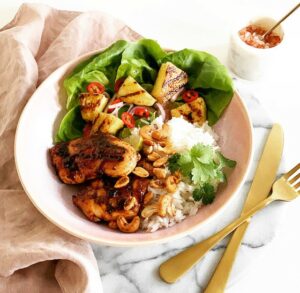 Sushi Bowl
Ingredients:
80 gram sushi rice (i used the brand Saitaku)
1 spoon rice vinegar
1 teaspoon sugar
Sashimi zalm in slices (5 slices)
Mango
Avocado
Cucumber
Sesame seeds
Directions:
Boil the sushirice as mentioned on the package. Mix the vinegar with the sugar and stir until the sugar is dissolved. When the rice is done, pour the mixture into it and stir. Make a rose with the salmon in the middle of your bowl. Put the rest of the ingredients around it. Also want to make sushiballs? I used cling film in which i did a bit of rice. Wrap it around and make balls. Sprinkle some sesame seeds over it. Delicious with some wasabi mayonaisse or teriyaki sauce.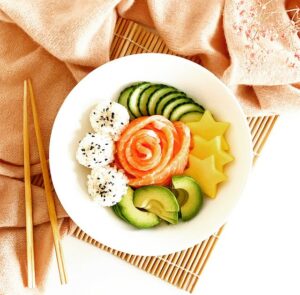 Greek Chicken Bowl
Ingredients:
230-250 gram chicken minced meat
2 spoon lemon juice
25 gram feta
1 handfull fresh mint
1 teaspoon dried mint
1 teaspoon dill
Sprinkle salt & pepper
For the whipped feta:
120 gram feta
75 ml Creme Fraiche light
Little drizzle olive oil
For the pickled red onion:
1 red onion
100 ml water
50 ml vinegar
1 spoon vinegar
Directions:
Start with the pickled onion. Cook the vinegar with water and sugar. Cut the onion in thin slices and add. Take of the heat and let it cool down. Make the whipped feta by cutting the feta in small cubes and add to the creme fraiche and oil in a kitchen machine and turn until smooth.
Add lemon juice, crumbled feta, fresh finely sliced mint, dried mint, dill and a little salt and pepper to the minced chicken meat. Knead throughly. Make balls with your hands. Heat some oil in a pan and bake till done and browned. Serve with the whipped feta, pickled onion, cucumber and flatbread. Crumble some feta over it when you have some left (optional)!
Leftover Whipped Feta is also nice as dip on a cheese board or on a sandwich with roasted tomatos and balsamico!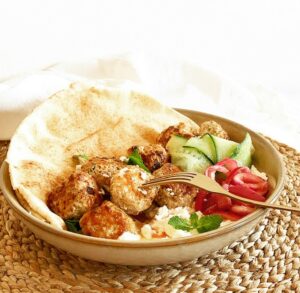 Thai Shrimp Curry Bowl
Ingredients:
60 – 80 gram jasmine rice
125 gram shrimp
1 spoon lime juice
1 spoon fish sauce
1 1/2 spoon red curry paste
200 ml coconut milk
1/2 red pepper
1/2 mango
Coriander (optional)
Directions:
Cook the rice. Heat some oil in a wok. Add the shrimp and pepper. Bake for a bit. Than add the curry paste and mix with the shrimp and pepper. Than add the coconut milk, fish sauce and lime juice. Add the mango. Let is shimmer untill the shrimps are cooked. Serve with the rice and sprinkle some coriander over it (optional).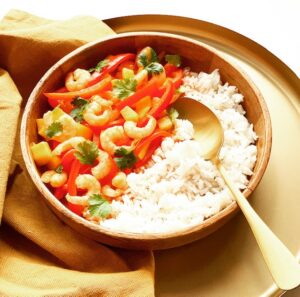 Tempeh Noodle Bowl
Ingredients:
125 gram Tempeh, in slices
80 gram noodles
1/4 green papaya (or white cabbage)
1/3 carrot
1/3 red pepper
1/4 cucumber
1 spoon teriyaki sauce (i used Teriyaki Sesam of Kuhne)
1 handfull peanuts
1 handfull sesame seeds
Coriander (optional)
For the sauce:
2 spoons peanut sauce
1 spoon ginger juice
1 spoon lemon juice
1 clove of garlic, squeezed
1 teaspoon sesame oil
1 teaspoon soy sauce
few drops hot sauce
Directions:
Cook the noodles as described on the package. Mix the ingredients for the sauce. Cut the veggies in slices (or use a kitchen machine). Heat a little layer of (sunflower) oil in a pan. Fry the tempeh and put in a bowl. Pour the teriyaki sauce over it and mix well so all the tempeh is covered. Drain the noodles. Mix the peanutsauce with the noodles. Serve with the tempeh and sprinkle some peanuts, sesame seeds and optional coriander over it.