Time really does fly when you're having fun!
En toen ik dit account begon had ik echt nooit kunnen dromen dat ik 7 jaar later bijna 17K volgers zou hebben, een boek zou uitbrengen en met de leukste merken mag samenwerken. Want eerlijk, ik begon dit account alleen om een steuntje in mijn rug te hebben tijdens het afvallen. En ja dit was dus de eerste foto* op mijn account: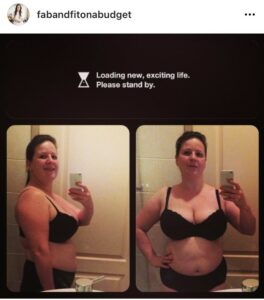 en heette het account nog Fat to Fit on a Budget, maar dat veranderde al snel toen de kilo's eraf vlogen.
En wow wat is er veel gebeurd in de afgelopen 7 jaar. Zo zijn mijn foto's wel een stukje (!) beter geworden: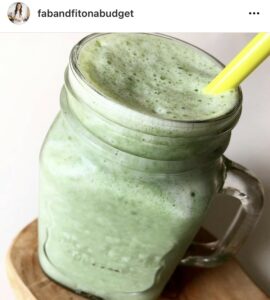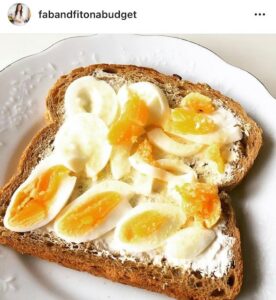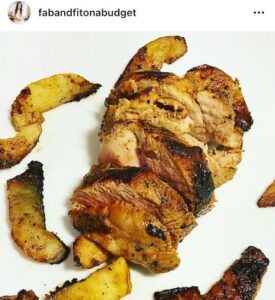 Deel ik mijn wc papier niet meer online: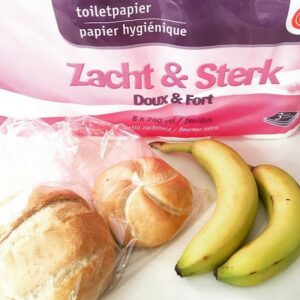 Al merk ik dat sommige mijn boodschappen wel missen, dus ik zal dit weer wat vaker gaan delen in mijn stories. (thank god voor de stories, want tja, die waren er in 2014 nog niet).
Was ik ambassadeur voor Albert Heijn en deel van het Nederlandse GymQueen team (ja, zelfs zonder blokjesbuik) en met nog geen 5000 volgers.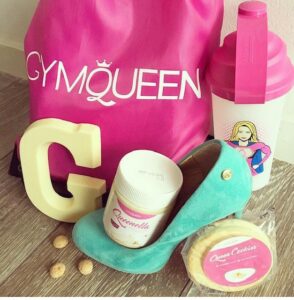 En begon ik in 2017 deze blog/website, vooral om recepten te delen maar ook om persoonlijke verhalen te vertellen, van mijn weightloss struggles tot financial struggles, maar ook echt persoonlijke dingen.
2017 was sowieso een speciaal jaar, want waar ik ervoor nog vooral aan het jojo-en was, kwam ik tijdens mijn vakantie op Curaçao erachter wat echt aan de hand was, en wow…daarna vlogen de kilo's eraf en kwam mijn zelfvertrouwen in mezelf en mijn lijf terug. En nam ik jullie mee in de grootste transformatie ooit in mijn Boob Blogs, iets wat ik anders nooit had gedurfd. En ja, nog steeds heel blij mee ben. Zo blij dat ik een heel persoonlijk verhaal deel in het tijdschrift van de Velthuis Kliniek ter ere van hun 25jarige bestaan wat deze maand uitkomt. Nieuwsgierig, meld je aan voor het VIP event en klik op "Ik ga akkoord dat het Velthuis Magazine naar mijn adres wordt gestuurd".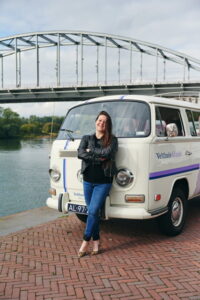 Ondertussen werk(te) ik samen met de leukste bedrijven, bezoek ik fun events (en hierbij toch wel een special thanks voor Anne, die mij voor echt de leukste events in en rond Tilburg en soms zelfs over de grens uitnodigt) en ontmoet ik de liefste mede-Instagrammers.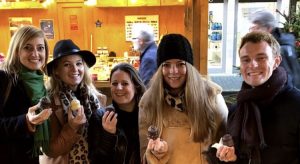 En ik heb echt de liefste volgers. Want zonder jullie zou in 2019 nooit mijn droom, 1 waarvan ik nog niet eens wist dat ik die had, zijn uitgekomen. Jullie vragen in mijn DM's en onder mijn post "hoe doe je dat toch?", was de reden dat ik mijn boek ging schrijven.
En dit is toch wel de kroon op dit account en iets waar ik supertrots op ben en er nooit was gekomen zonder jullie lieve volgers, de hulp van mijn geweldige uitgeefster, Kristel van Divas Publishing (en ja, toen ik de naam van haar uitgeverij hoorde wist ik gelijk dat dit een match was), de hulp van iedereen die op een of andere manier heeft bijgedragen aan het maken van het boek en mijn fantastische sponsoren, Princess, Hypotheek Facet, Fitness de Stap en Coca Cola Curaçao.
En hoe beter dan 7 jaar Fab and Fit on a Budget te vieren dan met het weggeven van mijn boek en…een reep chocolade van mijn lievelingsmerk, Handsoffmychocolate! Check snel mijn Instagram hoe je kans hierop maakt!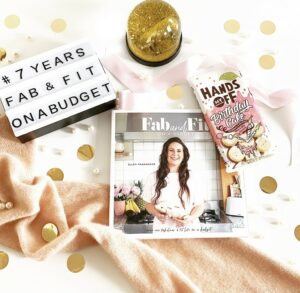 *oh en kleine opbiechting (ja spellingscheck ik weet dat dit geen woord is ;)!), maar helaas dankzij C (orona…anders krijg ik weer een disclaimer onder deze blog van de overheid) ben ik weer bijna op hetzelfde gewicht als op die foto (minus de supergrote cupmaat en onderkin dan, maar dat is dan weer het werk van mijn plastisch chirurg). Maar weet je, ik ben in die 7 jaar wel een stuk gelukkiger geworden, voel me sexy ook met dit maatje meer en een superfijne samenwerking met Hunkemoller en ik heb een goede basis en weet wat werkt voor mijn lijf (sportscholen sluiten werkt dus niet (Mark!!!), net zo als die Haribo verslaving ook niet mee helpt), dus die kilo's zijn er zo weer af…don't worry, die jurk gaat passen op mijn verjaardag!! Who's in for a Fit Girl July Challenge?
English version
Time really does fly when you're having fun!
And when i started this account i could have never dreamed that 7 years later i would have almost 17K followers, publish a book and work with the best brands ever. As honestly, when i started this account i only did it to support my weightloss. And yes, this was the first photo* on my account: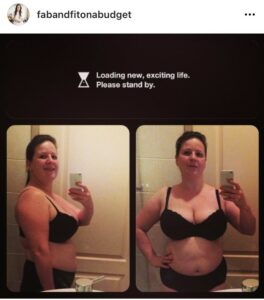 and my account was called Fat to Fit on a Budget, but that changed quickly when i started losing weight.
A wow a lot has happend in the last 7 years. My photo taking skills got a little (!) better :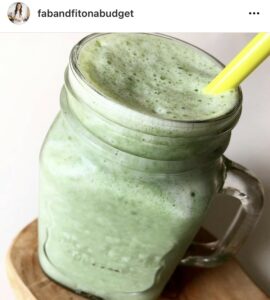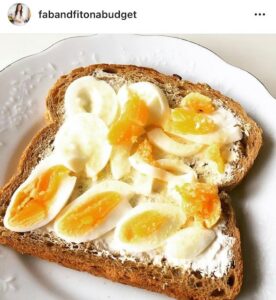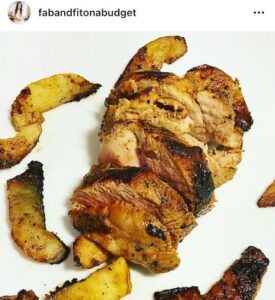 I don't share my toilet paper online anymore: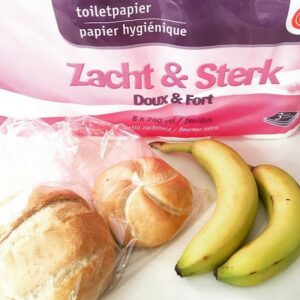 Although i noticed that some people do miss my groceries, so i will share them more often in my stories. (thank god for the stories, as well, those weren't there in 2014 yet).
I was ambassador for Albert Heijn and part of the Dutch GymQueen team (yes even without a sixpack) and with less than 5000 followers.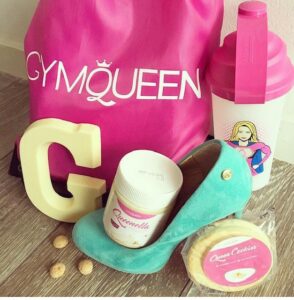 And i started this blog/website in 2017, especially to share recipes but also to share my personal stories, like my weightloss struggles and financial struggles, but also really personal stuff.
2017 was definetly a special year, as before i was going up and down in weight, during my vacation in Curaçao i found out what was really going on, and wow, after that the kilo's came flying off and my selfconfidence in me and my body came back. And so i took you guys with me on the biggest transformation ever in my Boob Blogs, something i would have never dared otherwise. And yes i'm still very happy with it. So happy that i decided to share a very personal story in the magazine of the Velthuis Kliniek in honor of their 25 year anniversairy that will be out this month. Curious, register for the VIP event and click on "Ik ga akkoord dat het Velthuis Magazine naar mijn adres wordt gestuurd".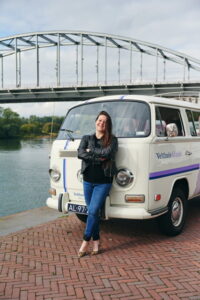 In the meanwhile i work(ed) together with the best brands, visit fun events (and hereby a special thanks for Anne, who always invites me for the best events in and around Tilburg and sometimes even across the border) and meet the sweetest fellow Instagrammers.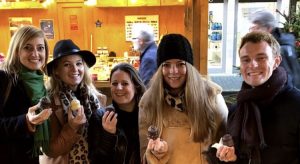 And i really do have the sweetest followers. As without you, my dream, the one i didn't know i had, would have never came true in 2019. Your questions in my DM's and under my post of "how do you do it?" was the reason i start writing the book.
And that's really the crown on this account and something i'm super proud of and would have never happend with you sweet followers, the help of my amazing publisher, Kristel of Divas Publishing (and yes, when i heard the name of her company i just knew it was a match), the help of everyone that was part in some way in making the book and my great sponsors, Princess, Hypotheek Facet, Fitness de Stap and Coca Cola Curaçao.
And how appropriate is it to celebrate 7 years of Fab and Fit on a Budget with a give away (Dutchies only sorry, my book is in Dutch) of my book and…and a bar of my favorite chocolate brand, Handsoffmychocolate!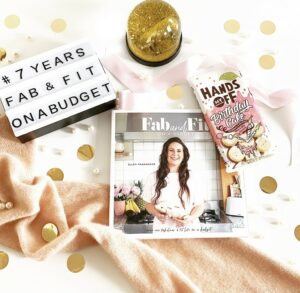 *oh and a little confession, but thanks to C (orona…otherwise i get another disclaimer under this blog by the government) i'm almost back on the samen weight as this photo (minus the superbig bra cup and underchin, but all those credits go to my plastic sergeon). But you know, i did become happier in the last 7 years, feel sexy even in a bigger size and thanks to a great collab with Hunkemoller and i have a good base and know what works for my body (closing the gyms doesn't (Mark!!!), just like that Haribo addiction doesn't do much good either), so yeah i will lose those kilo's quickly… don't worry, that dress will fit on my birthday!! Who's in for a Fit Girl July Challenge?