Ingrediënten:
3 sneetjes wit brood
1 ei
150 ml (plantaardige) melk
1 theelepel vanillesuiker
2 eetlepels geraspte kokos
Tropisch fruit als topping, bijvoorbeeld mango en passievrucht
Bereiding:
Rooster 1 eetlepel kokosrasp en zet apart. Meng in een kom het los geklopte ei, melk, vanillesuiker en de andere eetlepel kokosrasp. Snijd de boterhammen schuin door de midden. Doop in het eimengsel en stapel op elkaar. Verhit boter of olie in een koekenpan en bak de boterhammen goudbruin. Leg op een bord, verdeel het fruit erover en strooi er de geroosterde kokosrasp erover.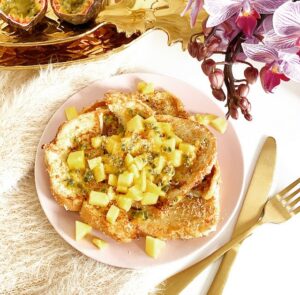 English version
For my sweet foreign followers who are wondering about the title of this breakfast dish or feel offended by it. Please don't, it's a little inside Dutch joke. In Holland we call French Toast Wentelteefjes, which literally translates to Turn Around Bitches. Why? No clue, guess the Dutch are offensive by nature ;)!
Ingredients:
3 slices white bread
1 egg
150 ml (plantbased) milk
1 teaspoon vanilla sugar
2 spoons grated coconut
Tropical fruit as topping, for example mango and passion fruit
Directions:
Roast 1 spoon grated coconut and set aside. Mix in a bowl the (beaten) egg, milk, vanilla sugar and the other spoon of grated coconut. Slice the bread diagonal. Dip in the egg mixture and put on top of eachother. Heat some butter or oil in a pan and bake the bread untill golden brown. Put on a plate, top with the fruit and sprinkle the roasted coconut on top.