Ingrediënten 1 persoon:
1 rotiplaat
1/4 kleine pompoen
1 ei, gekookt
200 gram kippendijenfilet
3 of 4 kleine kruimige aardappels
3 theelepels massala (let op! Garam Massala is Indiaans en niet Surinaams, koop voor dit gerecht massala bij de toko, geloof me, dit verschil proef je)
Olie
1 uitje
1 teentje knoflook
Bereiding:
Marineer de kippendijen met 2 theelepels massala en olie. Kook het eitje. Verwarm de oven voor op 200 graden. Snij de pompoen in blokjes en doe met een beetje olie in een ovenschaaltje en bak tot het zacht is. Schil de aardappels. En kook de aardappels gaar in een pan.
Verhit olie in een wok of hapjespan. Snipper het uitje en voeg toe. Knijp een teentje knoflook erboven uit en strooi er 1 theelepel massala over. Bak heel even aan en voeg de kip toe. Voeg een klein scheutje water toe. Bak de kip gaar. Voeg de aardappel toe. Pel het eitje en bak ook even mee. Verwarm de rotiplaat kort in een pan. Serveer met de pompoen.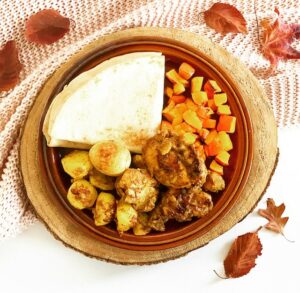 English version
Ingredients 1 person:
1 roti wrap
1/4 small pumpkin
1 egg, boiled
200 gram chicken tight filet
3 or 4 small potatoes (crumble)
3 teaspoons massala (Garam Massala is Indian and not Surinames, buy for this dish massala at the foreign supermarket, as believe me, you will taste the difference)
oil
1 small onion
1 clove of garlic
Directions:
Marinate the chicken with 2 teaspoons massala and oil. Boil the egg. Preheat the oven to 200 degrees celcius. Cut the pumpkin in cubes and put in an ovendish with a little oil and bake till soft. Peel the potatoes. And boil the potatoes till done in a pan.
Heat some oil in a wok or big pan. Cut the onion finely and add. Squeeze a clove of garlic over it and sprinkle one teaspoon massala over it. Bake for a little and add the chicken. Add some water. Bake the chicken till it's cooked but juicy. Add the potatoes. Peel the egg and bake it for a bit together with the chicken. Warm up the roti wrap in a pan. Serve with the pumpkin.