Ingrediënten:
1 zakje Sla mix
1 vijg
handje walnoten
handje pompoenpitten
1/2 pakje bacon blokjes
handje champignons
2 schijfjes geitenkaas met honing
Balsamico
Bereiding:
Verdeel de sla over een schaal. Bak de champignons met de bacon in een pan. Rooster de walnoten en pompoenpitjes met een klein beetje olie in een andere pan. Snij de vijg in schijfjes. Verdeel de champignons, bacon en vijg over de sla. Strooi de walnoten en pompoenpitten erover. Verkruimel de geitenkaas erboven. En maak af met de balsamico!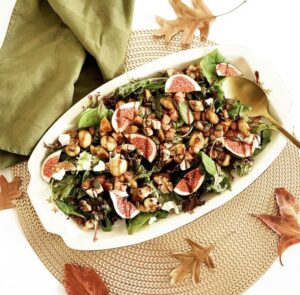 English version:
Ingredients:
1 bag lettuce mix
1 fjg
handfull walnuts
handfull pumpkin seeds
1/2 package bacon cubes
handfull mushrooms
2 slices goatcheese with honey
Balsamic
Directions:
Divide the lettuce on a plate. Bake the mushrooms with bacon in a pan. Roast the walnuts and pumpkin seeds with a little oil in another pan. Cut the fig in slices. Divide the mushrooms, bacon and figs over the lettuce. Sprinkle the walnuts and pumpkin seeds on top. Crumble the goatcheese over it. And finish with the balsamic!