Ingrediënten voor 1 persoon:
80 gram spaghetti
130 gram pompoen puree
1 glas bouillon van 1/2 bouillon blokje
100 ml slagroom
1 theelepel roomkaas
Snufje(s) chilipeper
1/2 pakje bacon
Champignons, naar smaak
1 tot 2 eetlepels broodkruimels of panko
Teentje knoflook
Bereiding:
Kook de spaghetti gaar. Doe de pompoenpuree in een pannetje. Maak een glas bouillon door een half blokje bouillon op te lossen in kokend water. Voeg toe aan de pompoenpuree. Gebruik eventueel 1/2 glas voor een dikkere saus. Voeg de slagroom en roomkaas toe. Voeg de chilipeper toe en laat inkoken. Bak ondertussen de champignons samen met de bacon blokjes in een pan. Rooster in een andere pan de broodkruimels en knijp erboven een teentje knoflook uit.
Voeg de gare spaghetti toe aan de saus en serveer met de champignons, spekjes en het broodkruim.
De saus is ook genoeg voor 2 personen, verdubbel dan de rest van de ingrediënten!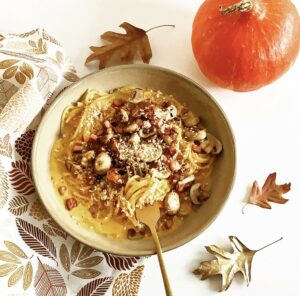 English version:
Ingredients for 1 persoon:
80 gram spaghetti
130 gram pumpkin puree
1 glass of stock made with 1/2 stock cube
100 ml cream
1 teaspoon creamcheese
Sprinkle(s) chilipepper
1/2 package bacon
Champignons, to taste
1 to 2 spoons breadcrumbs or panko
Clove of garlic
Directions:
Cook the spaghetti al dente. Put the pumpkin puree in a sauce pan. Make a stock by adding half a cube to boiling water and let it resolve. Add to the pumpkin puree. Use half a glass for a thicker sauce. Add the cream and creamcheese. Add the chilipepper and let it boil into a thicker sauce. Bake in the meanwhile the bacon with the mushrooms in a pan. Roast in another pan the breadcrumbs and squeeze out the garlic clove on top.
Add the spaghetti when done to the sauce and serve with the mushrooms, bacon and breadcrumb.
The sauce is enough for 2 persons, double the rest of the ingredients for dinner for two!