Ingrediënten:
Sla
Pompoenblokjes
Snufje chilipoeder of andere spicy kruiden
2 plakjes bacon
1 theelepel bruine suiker
Handje cranberries
Geitenkaas
Walnoten
Voor de dressing:
1 theelepel Maple syrup
1 eetlepel Tahini
2 eetlepels olijfolie
Bereiding:
Verwarm de oven voor op 200 graden. Snij de pompoen in blokjes. Doe in een ovenschaaltje en schenk er een beetje olijfolie over en wat spicy kruiden. Schep om en bak in de oven tot gaar, ongeveer 15 minuten. Leg naast het ovenschaaltje 2 plakjes bacon en bestrooi met bruine suiker. Haal na 5 minuten uit de oven en laat afkoelen.
Verdeel de sla over een bord of schaal. Verdeel daarover de pompoen. Snij de bacon in kleine stukjes en verdeel over de salade samen met de cranberries, geitenkaas en walnoten. Meng de ingrediënten voor de dressing en schenk deze als laatste over de salade.
Lekker als bijgerecht (voor bijvoorbeeld Thanksgiving of Kerst) of als grote lunch of lichte avondmaaltijd. De overige dressing is ook lekker over een gepofte zoete aardappel of bij couscous.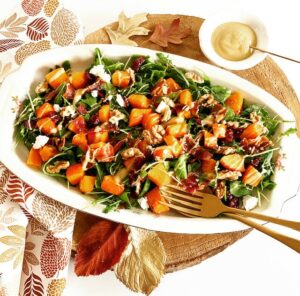 English version
Ingredients:
Lettuce
Pumpkin, in small cubes
Sprinkle of chili of other spicy spices
2 slicec bacon
1 teaspoon brown sugar
Handfull cranberries
Goatcheese
Walnuts
For the dressing:
1 teaspoon Maple syrup
1 spoon Tahini (sesame paste)
2 spoons olive oil
Directions:
Preheat the oven to 200 degrees celcius. Cut the pumpkin in pieces. Put in an ovendish and pour a little oil over it and sprinkle with the spicy spices. Mix well and bake in about 15 minutes till done (soft). Next to the oven dish put 2 slices of bacon and sprinkle the brown sugar over it. Take out of the oven after 5 minutes and let it cool.
Put the lettuce on a plate or bowl. Add the pumpkin. Cut the bacon in small pieces and sprinkle over the salad together with the cranberries, goat cheese and walnuts. Mix the ingredients for the dressing and pour this over the salad before serving.
Nice as a side dish (for example for Thanksgiving or Christmas) or as big lunch or light dinner. The leftover dressing is also delicious over a baked sweet potato or with couscous.