Ingrediënten voor 2 a 3 porties:
225 gram pompoenblokjes
1 kakifruit
1 handje cranberries
100 gram havermout
2 eetlepel hazelnootmeel of amandelmeel
1 theelepel kaneel
2 theelepels maple syrup
1 theelepel bruine suiker
1 eetlepel boter
1 theelepel olijfolie
Bereiding:
Verwarm de oven voor op 200 graden. Snij de pompoen in blokjes en kook in een klein beetje water beetgaar. Snij ondertussen de kaki (persimmon/sharon fruit) in blokjes en doe in een ingevet ovenschaaltje. Voeg de cranberries toe. Zodra de pompoen gaar is, voeg deze ook toe en bestrooi met de kaneel en schenk er maple syrup overheen en roer goed door elkaar.
Smelt de boter in een pannetje. Maak een crumble door de havermout, hazelnootmeel en bruine suiker te mengen. Voeg de gesmolten boter en olijfolie toe en strooi over de pompoen/kakifruit mengsel. Bak ongeveer 15 minuten goudbruin in de oven.
Lekker met een klein beetje speculaas kwark. Ik gebruikte het Speculaas shotje van Personal Protein om de kwark op smaak te brengen maar dit kun je ook doen door er speculaaskruiden en een beetje agave of honing door te roeren. Serveer je het als toetje dan is kun je natuurlijk ook slagroom ipv kwark gebruiken of lekker met een bolletje ijs, bijvoorbeeld Maple Bacon Pecan IJs.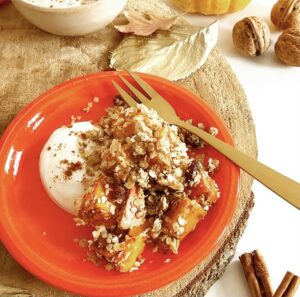 English version
Ingredients for 2 to 3 portions:
225 gram pumpkin cubes
1 kaki fruit (also known as persimmon or sharon fruit)
1 handfull cranberries
100 gram oats
2 spoons hazelnut flour or almond flour
1 teaspoon cinnamon
2 teaspoons maple syrup
1 teaspoon brown sugar
1 spoon butter
1 teaspoon olive oil
Directions:
Preheat the oven to 200 degrees. Cut the pumpkin in cubes and boil in a little bit of water al dente. In the meanwhile cut the kakifruit (persimmon/sharon fruit) in cubes and put in a oven dish which has been greased with butter or oil. Add the cranberries. When the pumpkin is done, add it to the ovendish and sprinkle some cinnamon and maple syrup over it and mix everything.
Melt the butter in a pan. Make a crumble by mixing the oats, hazelnut flour and brown sugar. Add the melted butter and olive oil and sprinkle over the pumpkin/kaki mixture. Bake in the oven untill golden brown in about 15 minutes.
Serve with some gingerbread quark. I used the Speculaas shotje of Personal Protein to flavour the quark but you can also use gingerbread spices and a little agave or honey. Serving it as a dessert that you can also used (whipped) cream instead of quark or with a delicious scoop of icecream for exampleMaple Bacon Pecan IJs.