De eerste week van NoSpendNovember is altijd het makkelijkst en er stond al een dagje naar paps en mams gepland dus natuurlijk eet ik daar dan ook een hapje mee, dus deze week moet het lukken om onder de 5 euro te blijven. Want 20 euro voor de hele maand komt ongeveer neer op 5 euro per week! En ja, de foto's op Instagram lopen niet helemaal gelijk per week, aangezien ik sommige dingen eerder maak om tijd te hebben om mooie foto's te maken en het recept uit te typen. Ook switch ik nog wel eens binnen het weekmenu als iets beter uit komt!
Boodschappen week 1:
Creamcheese
Havermout
Banaan
Kwark
Bacon
Zoete aardappel
Totaal kosten: €4,85
Maandag:
Ontbijt: smoothie met kakifruit, sinasappelsap, gembersap, havermelk, honing en lijnzaad (allemaal op voorraad)
Lunch: 1 bagel met 1 gekookt eitje, creamcheese en furikake (Japanse kruidenmix) (voorraad en boodschappen)
Diner: Wonderburger op een briochebun met rode ui en bbqsaus (voorraad)
Snack: Mueslireep, 3 mini Tony's (voorraad)
Drinken: 500 ml water tijdens sporten, 1 liter water, Oolong thee 2x, Caramel thee 3 x
Dinsdag:
Ontbijt: havermout met sojamelk, pumpkinspice, beetje cruesli en kakifruit (boodschappen en voorraad)
Lunch: 1 bagel met pindakaas, banaan, honing en kaneel (boodschappen en voorraad)
Diner: Honey Ginger Chicken met rijst (voorraad)
Snack: 2 mini kitkats (Sukura) (nog over van Pink Oktober…heeeulll vervelend ;)!)
Drinken: 500 ml water tijdens sporten, 1 caramel latte met slagroom, water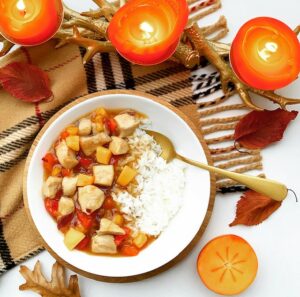 Woensdag:
Ontbijt: Caramel Latte Nicecream Shake (voorraad)
Lunch: bij mijn ouders (brood met beleg)
Diner: Macaroni met een gebakken eitje (de macaroni van mijn mams blijft het lekkerst, ook al komt ie uit een pakje!)
Snack: Homemade Tarte Tatin met appeltjes uit de tuin van mijn ouders
Drinken: water, Cappuccino, gingerbeer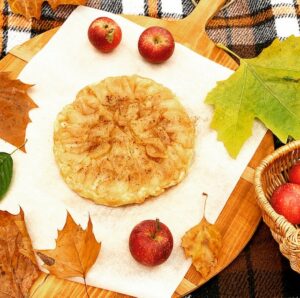 Donderdag:
Ontbijt: crêpes met gebakken kaneel appeltjes en walnoten (voorraad, appeltjes van mijn ouders, walnoten van mijn tante)
Lunch: leftover macaroni van gisteren met een gebakken eitje (meegekregen van mams)
Diner: Plaattaart met creamcheese, pompoen, kakifruit, ui en dadels (voorraad)
Snacks: mini kitkats en laatste beetje suikerspin (voorraad en gekregen/foodmail)
Drinken: Thee, water, Kombucha van Captain Kombucha (gekregen/foodmail)

Vrijdag:
Ontbijt: Smoothie met appel, kakifruit, rood fruit, bietensap en sojamelk (voorraad)
Lunch: Pompoensoep met G'nger (voorraad en gekregen/foodmail)
Diner: Pasta met zalm en roomkaas (voorraad)
Snacks: Handsoffmychocolate 1/3 reep, Bonne Maman Chocolade mousse (gekregen/foodmail)
Drinken: Thee, water, Chai Latte
Zaterdag:
Ontbijt: Pumpkin Kakifruit Crumble (recept komt vandaag online, oh en ja allemaal uit mijn voorraadkast, behalve de kwark die kocht ik gisteren)
Lunch: Panini met omelet, rode uit en creamcheese (voorraad)
Diner: Jalopeno Poppers met hete saus
Snacks: Crispy bites van Handsoff en een bakje Maple Bacon Pecan IJs (foodmail en homemade)
Drinken: Oolong thee, Kombucha, Caramel Latte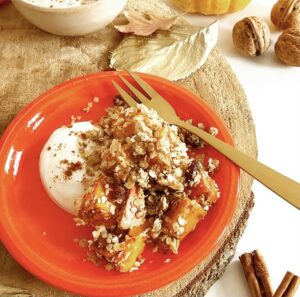 Zondag:
Ontbijt: Crêpes met aardbeienjam (voorraad)
Snacks: Handsoff Crispy Bites en Crème Brûlée van Bonne Maman (gekregen/foodmail)
Diner: Pumpkin Spice Steak met gepofte zoete aardappel en Maple cinnamon boter en bacon (voorraad en gekocht)
Drinken: Oolong thee, Caramel Latte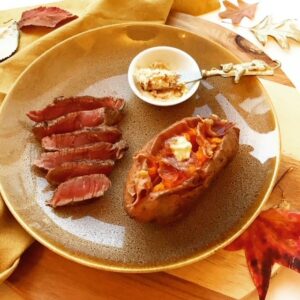 Nog in mijn portemonnee voor de rest van November: €15,15
Nog in de diepvries (vlees/vis/vega):
– Kalkoenfilet 2x
– Kipfilet 1 x
– Kipstukjes rauw 1x
– Kipstukjes gaar 2x
– Biefstuk 2 x
– Parmaham 2 plakjes
– Eendenborstfilet 1x (groot)
– Zalmfilet 1x
– Wonderburger (vega) 1x
– Bietenburger mix
English version
The first week of NoSpendNovember is always the easiest and i also had planned a day at my parents a while ago and ofcourse i will have a bite there, so it won't be that hard to stay under €5 this week. As 20 euro for the whole month is about €5 per week! And yes, the photos on instagram are not exactly what i ate as i sometimes make things ahead to make nice pictures and write out the recipes. And sometimes i switch within my weekmenu when it's easier or if i'm more in the mood for something else that day!
Groceries week 1:
Creamcheese
Oats
Banana
Quark
Bacon
Sweet potato
Total costs: €4,85
Monday:
Breakfast: smoothie with kakifruit, orange juice, ginger juice, oatmilk, honey and flax seed (all in my pantry/freezer/fridge)
Lunch: 1 bagel with 1 boiled egg, and furikake (Japanese spice mix) (pantry/fridge and groceries)
Diner: Wonderburger on a briochebun with red onion and bbqsauce (freezer/pantry/fridge)
Snack: Granola bar, 3 mini Tony's chocolates (pantry)
Drinks: 500 ml water while working out, 1 liter water, Oolong tea 2x, Caramel tea 3 x
Tuesday:
Breakfast: oats with soy milk, pumpkinspice, little bit of granola and kakifruit (groceries/fridge/pantry)
Lunch: 1 bagel with peanutbutter, banana, honey and cinnamon (groceries and pantry)
Diner: Honey Ginger Chicken with rice (freezer/fridge and pantry)
Snack: 2 mini kitkats (Sukura) (leftovers from Pink October…how awefull ;)!)
Drinks: 500 ml water during my workout, 1 caramel latte with whipped cream, water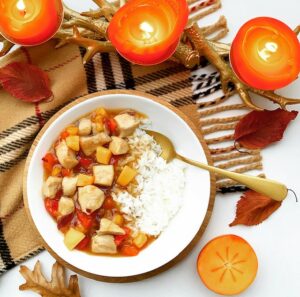 Wednesday:
Ontbijt: Caramel Latte Nicecream Shake (freezer/pantry)
Lunch: at my parents (sandwiches)
Diner: Macaroni with a baked egg (mums macaroni is the best, even if it comes from a package!)
Snack: Homemade Tarte Tatin with apples from my parent's garden
Drinks: water, Cappuccino, gingerbeer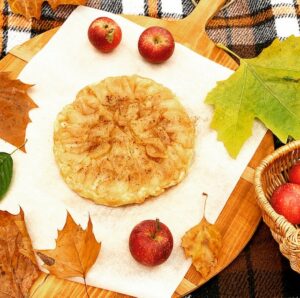 Thursday:
Breakfast: crêpes with baked cinnamon apples and walnuts (pantry, apples from my parents garden and walnuts out of my aunts garden)
Lunch: leftover macaroni of yesterday and a baked egg (gotten from mum)
Diner: Plate pie with creamcheese, pumpkin, kakifruit, onion and dates (freezer/pantry/fridge)
Snacks: mini kitkats and last bit of cotton candy (pantry and gifted/foodmail)
Drinks: Tea, water, Kombucha of Captain Kombucha (gifted/foodmail)

Friday:
Breakfast: Smoothie with apple, kakifruit, red fruit, beet juice and soymilk (freezer/pantry/fridge)
Lunch: Pumpkinsoup with G'nger (fridge/pantry and gifted/foodmail)
Diner: Pasta with salmon and creamcheese (freezer/pantry/fridge)
Snacks: Handsoffmychocolate 1/3 choclatebar Bonne Maman Chocolate mousse (gifted/foodmail)
Drinken: Tea, water, Chai Latte
Saturday:
Breakfast: Pumpkin Kakifruit Crumble (recipe will be online today and yes, all from things i had at home (bouhgt the quark yesterday)
Lunch: Panini with omelet, red onion creamcheese (freezer/pantry/fridge)
Diner: Jalopeno Poppers with hot sauce (freezer)
Snacks: Crispy Bites van Handsoffmychocolate and Maple Bacon Pecan Icecream (foodmail and homemade)
Drinken: Oolong tea, Kombucha and Caramel Latte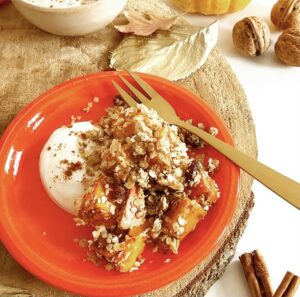 Sunday:
Breakfast: Crêpes with strawberry jam (pantry/fridge)
Snacks: Crispy Bites of Handsoffmychocolate and Crème Brûlée of Bonne Maman (foodmail)
Diner: Pumpkin Spice Steak with baked sweet potato with Maple Cinnamon Butter and candied bacon (freezer/fridge/bought)
Drinks: Oolong tea and Caramel Latte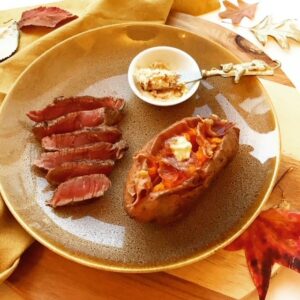 Still in my wallet for the rest of November: €15,15
Still in the freezer (meat/fish/vega):
– Turkey filet 2x
– Chicken filet 1 x
– Chicken pieces raw 1x
– Chicken pieces, baked 2x
– Steak 2 x
– Parmaham 2 slices
– Duck breast filet 1x (big)
– Salmon filet 1x
– Wonderburger (vega) 1x
– Beet burgermix