Ingredienten:
Multigranen bagel
1 theelepel mayolijn (of als je niet vegan bent, een lepeltje truffelmayonaise)
1 handje rucola
1 klein sjalotje, gesnipperd
1 teentje knoflook, heel fijn gesneden
3 takjes tijm, alleen de blaadjes
4 of 5 grote champignons
1 lepel soja kookroom
Peper en zout
Bereiding:
Toast de bagel in de broodrooster. Besmeer met een beetje mayolijn en doe daar boven op het handje rucola. Verhit (olijf)olie in de pan en voeg het sjalotje en knoflook toe en bak tot glazig. Voeg daarna de champignons toe, de tijm en bestrooi met wat peper en zout. Roer goed door en als de champignons wat zachter worden, voeg dan de soja room erdoor. Laat even inkoken. Doe de champignons boven op de rucola en enjoy!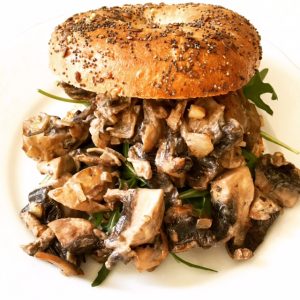 English version:
Ingredients:
Multigrain bagel
1 tea spoon vegan mayonaise (i used mayolijn of Remia) (or if you are not vegan, use some truffle mayonaise)
1 small hand argula
1 small shallot, cut in small pieces
1 glove garlic, minced
3 springs of thyme, just the leaves
4 or 5 big mushrooms
1 spoon soy cooking cream
Salt and pepper
Directions:
Toast the bagel in your toaster. Spread a little mayolijn (vegan mayonaise) on 1 half and top with the argula. Heat a little bit of (olive) oil in a frying pan and add the shallot and garlic and fry till it glazes. Add the mushroom, thyme and salt and pepper. Give it a stire to mix all the ingredients and when the mushrooms are getting softer, add the soy cream. Let it warm through. Put the mushrooms on top of the argula and enjoy!