Ingredienten:
200 ml kokosmelk
150 ml rijstmelk
1 1/2 of 2 lepels cacao
Scheutje Maple Syrup
Bereiding:
Doe de kokosmelk en rijstmelk in een steelpannetje en warm op maar laat het niet koken. Voeg de cacao toe en de maple syrup. Roer heel goed door met een garde en blijf roeren tot de gewenste warmte. Bestrooi eventueel met wat geroosterde geraspte kokos.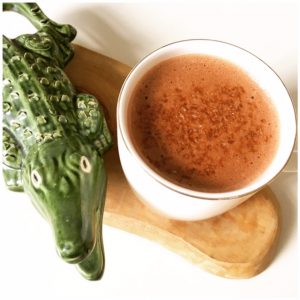 English version:
Ingredients:
200 ml coconut milk
150 ml rice milk
1 1/2 or 2 spoons cacao
Little splash of Maple Syrup
Direction:
Put the coconut milk and rice milk in a sauce pan and heat up but don't let it boil. Add the cacao and maple syrup. Whisk really good and stay whisking till the preffered heat. Optional: sprinkle a little toasted greated coconut on top.