Ingrediënten voor het amandelspijs:
Lekker als je dit al een paar dagen eerder/week van tevoren maakt om te laten rijpen in de koelkast.
100 gram amandelmeel
100 gram agavesiroop
2 eetlepels citroensap
Ingrediënten:
Voor het bananenbrood:
2 hele rijpe bananen
2 eieren
1/2 zakje (wijnsteen) bakpoeder
3 volle eetlepels volkoren roggemeel
3 volle eetlepels speltvlokken
3 eetlepel speculaaskruiden
1/2 eetlepel kaneel
1 theelepel maple syrup
1 handje amandelen of naar smaak
1 handje speculaas schuddebuikjes
Amandelschaafsel
Bereiding:
Verwarm de oven voor op 200 graden. Doe alle ingrediënten behalve de amandelen, schuddebuikjes en amandelspijs in een keukenmachine en mix tot een glad beslag. Roer er vervolgens de amandelen en schuddebuikjes door.  Schenk de helft van het beslag in een ingevette cakevorm (eventueel bedekt met bakpapier). Haal het amandelspijs uit de koelkast en vorm er een lange rol van. Leg dit in het midden van het beslag en schenk er de rest van het beslag over. Bak 15 minuten in de oven, haal even uit de oven en bestrooi met het amandelschaafsel. Bak vervolgens nog eens 15 minuten. Hij is gaar als je een satéprikker in steekt (uiteraard niet in het gedeelte waar de amandelspijs zit) en deze komt er schoon uit. Haal uit de oven en laat volledig afkoelen.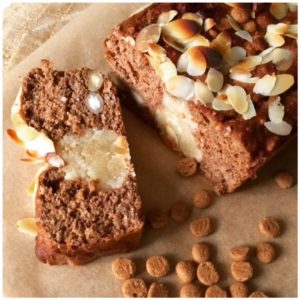 English version:
Ingredients for almond paste:
It's more delicious if you make it a few days/a week prior to let it mature in the fridge.
100 gram almond flour
100 gram agave syrup
2 spoons lemon juice
Ingredients for the bananabread:
2 whole ripe bananas
2 eggs
1/2 bag (winestone) backing powder
3 full spoons rye wheat flour
3 full spoons spelt flakes
3 spoons speculaas spices
1/2 spoons cinnamon
1 tea spoon maple syrup
1 hand almonds or to taste
1 hand speculaas schuddebuikjes (dutch product, can be replaced with piece gingerbread cookies)
Almond shavings
Direction:
Preheat the oven to 2oo degrees. Put all the ingredients, except the almonds, schuddebuikjes/gingerbreadpieces and almondspice in a kitchen machine and mix to a smooth batter. Mix in the almonds and schuddebuikjes/gingerbread pieces afterwards. Pour half of the batter in a greased cake mold (optional: covered in greasefree paper). Take the almondpaste from the fridge and form it in a long roll. Put this in the middle of the batter and pour the rest of the batter over it. Bake 15 minutes in the oven, get it out of the oven and sprinkle with the almond shavings. Put back in the oven and bake for another 15 minutes. It's done whten you stick a skewer in it (obviously not in the part of the almond paste) and it comes out clean. Get out of the oven and let it cool completely.