Het leuke van een vriendinnetje die in Amsterdam woont en net als mij gek op eten is, is dat ze altijd de lekkerste plekjes uitzoekt om bij te kletsen. Vorige keer nam ze mee naar Bar James (helaas is deze er niet meer) en kwamen we op de terugweg langs 505, waarop ze zei, hier gaan we volgende keer naar toe. Het zag er zo leuk uit en toen ze het concept uitlegde, verheugde ik me al op het volgende bezoek aan Amsterdam.
Afgelopen dinsdag was het zover en stapte we 505 binnen. Wat een gezellig plekje in de Indische Buurt. Ben je gek op Aziatisch dan kun je hier je hart op halen. De menukaart staat vol met heerlijk Asian urban Streetfood. Van sushi en heerlijke saté tot dim sum en mijn favoriet…gestoomde broodjes met heerlijke vulling. Perfect bites om te delen, dus dat deden we dan ook.
We bestelde de Mini Springrolls, de Malasyian Sate, Yakitori, Beijng Duck Bun en de Pork Belly Bun. De saus van de Malasyian saté was zo heerlijk en toen er overbleef dipte we hier onze steamed buns lekker in, zonde om weg te gooien. Ik ben gek op Boa en normaal zou ik alleen die met Pork Belly hebben besteld. Maar aangezien je er twee krijgt en m'n vriendinnetje die met eend lekker vindt, besloten we ze allebei te nemen. En om heel eerlijk te zijn, was die met eend wel echt heel erg goddelijk. Dus mocht je twijfelen….ga voor de eend! (ook door Het Parool gekozen als broodje van de week). Ook een aanrader, als drankje, Ginger Beer…dat is natuurlijk als je van gember houdt. Ik had het nog nooit op maar ga er vanaf nu wel vaker naar zoeken op de drankenkaarten.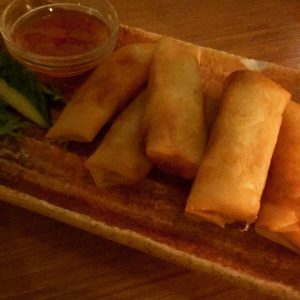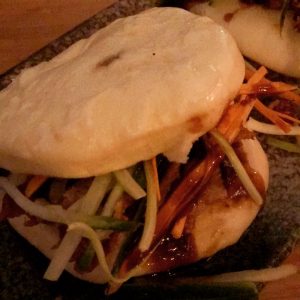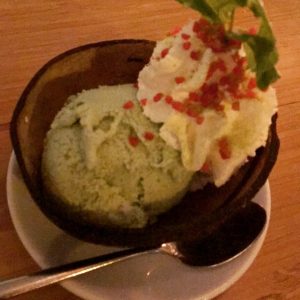 De toetjes klonken ook echt heerlijk en normaal zou ik zeker voor de spekkoek gaan maar ik zat zo vol, dat ik maar voor een bolletje Groene Thee ijs ben gegaan.
Aangezien we meestal steeds verschillende restaurantjes uit proberen (volgende keer is Ter March & Co aan de beurt), weet ik niet wanneer m'n volgende bezoekje aan 505 zal zijn, maar iets verteld me dat ik hier nog wel vaker ga komen. Het concept, het eten, de inrichting en het vriendelijke personeel maakt dat ik gelijk verliefd werd op dit leuke restaurant. Ook zijn de prijzen leuk, we waren uiteindelijk €30,- per persoon kwijt inclusief drankjes en fooi.
Benieuwd of op zoek naar een leuk & lekker restaurantje in Amsterdam: Insulindeweg 505, Amsterdam, open van dinsdag t/m zondag vanaf 12.00 uur. www.vijfnulvijf.nl
English version:
The best thing of having a friend in Amsterdam and just as crazy about food as me, is that she always knows the best places to catch up. Last time she took me to Bar James (unfortunately no longer there) and on our way home we past by 505 and she said, oh next time we will be going here. It looked cute and when she explained the concept, i couldn't wait for my next visit to Amsterdam.
Last Tuesday i was back in Amsterdam and time for 505. Such a cute cozy place in the Indische neighborhood. If you love Asian food, this is the place to be. The menu is full of delicious Asian urban Streetfood. From sushi to delicouse saté and from dim sum to my favorite…steamed buns with delicous filling. Perfect bites to share, which we did.
We ordered the Mini Springrolls, the Malasyian Sate, Yakitori, Beijng Duck Bun and the Pork Belly Bun. The sauce of the Malasyian saté was so delicious, we used the leftover to dip our steamed buns in. I love Boa and normally i would have only ordered the one with Pork Belly. But as you get two buns and my friend loves the one with duck, we decided to get both. And to be honest, the one with the duck was absolutely divine. So in doubt….go for the duck! (als chosen by Het Parool (dutch newspaper) as bun of the week).  Oh also worth to order, Ginger Beer…that is, if you like ginger ofcourse.  I never had it before but definetly will start looking for it now on the menus.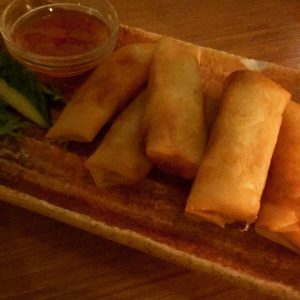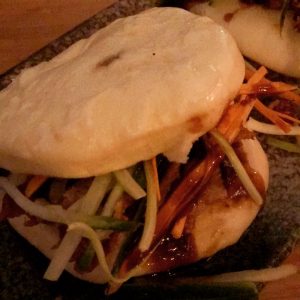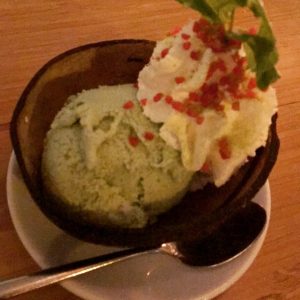 The dessert sounded delicious and normally i would have chosen the spekkoek (Indonesian layer cake) but i was so full that i went for one scoop of Green Tea Icecream instead.
We usually never go to the same restaurant twice and try out new ones (next visit we go to Ter March & Co), so i'm not sure when my next visit to 505 will be, but something tells me i will visit more often. The  concept, the food, the interior and friendly personnel made me fall in love immediately with this cozy restaurant. And price wise also pretty good, we spend €30,- per person including drinks and tips.
Curious or lookinf for a cute & delicious restaurant in Amsterdam: Insulindeweg 505, Amsterdam, open from Tuesday till Sunday from 12.00 o'clock. www.vijfnulvijf.nl