Ingrediënten voor 4 letters (Sint):
150 gram amandelmeel
150 gram agavesiroop
3 eetlepels citroensap
8 plakjes bladerdeeg
Losgeklopte ei
Bereiding:
Maak de amandelspijs door het amandelmeel, agavesiroop en citroensap door elkaar te mengen. Maak het amandelspijs 1 of 2 weken van tevoren zodat het goed kan rijpen in de koelkast.
Verwarm de oven voor op 200/220 graden. Ontdooi de plakjes bladerdeeg. Leg 4 plakjes op je werkblad en vorm met de amandelspijs op elk bladerdeegplakje een letter. Leg het andere plakje bladerdeeg erop en snij langs de letter uit. Druk de randjes goed aan met een vork. Prik wat gaatjes in het deeg. Doe dit met alle plakjes, besmeer met het losgeklopte ei en Leg op een bakplaat met ovenpapier. Bak in de oven tot goudbruin (ongeveer 20 minuten maar ligt aan je oven). Laat goed afkoelen!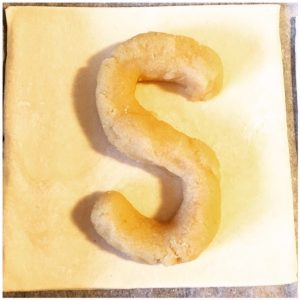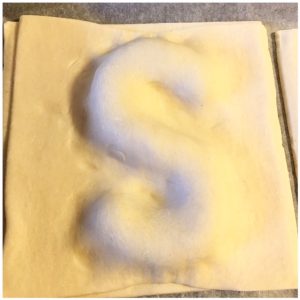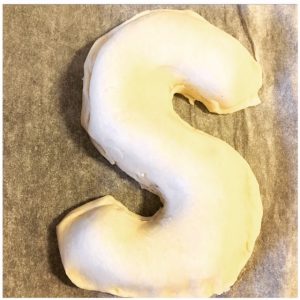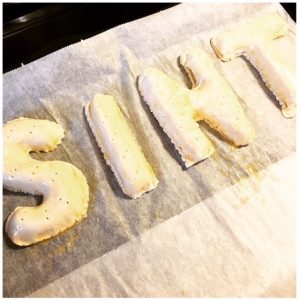 English version:
Almond filled pastry letters
Ingredients for 4 letters:
150 gram almond flour
150 gram agave syrup
3 spoons lemon juice
8 sheets puff pastry
Beaten egg
Directions:
Make the almond paste by mixing the almond flour, agave syrup and lemon juice. Make the paste 1 or 2 weeks before and let it ripe in the fridge.
Preheat the oven to 200/220 degrees celcius. Defrozed the puff pastry. Place 4 sheets on your bencetop and make a letter on each sheet with the pastry paste. Top with another sheet of puff pastry and cut around the letter. Press the sides firm together using a fork. Repeat with the rest of the puffpastry, smear some beaten egg on top and put on a ovenplate with nongrease paper. Bake in the oven untill golden brown (approximately 20 minutes but depends on your oven). Let cool down completely before serving!