Ingredienten 1 of 2 personen:
3 wraps
1 tot 2 kipfilets, in stukjes
1 tot 1,5 theelepel Mexicaanse kruidenmix (makkelijk zelf te maken door: 1 tl uienpoeder, 1 tl knoflookpoeder, 1 tl zout, 2 tl komijnpoeder, 1 tl chilipeper poeder en 3 el paprikapoeder te mixen)
1/2 rode paprika
1/2 groene paprika
1/2 Ui
1/2 tomaat, in blokjes
Jalopeno pepers, naar smaak
1/2 bakje Mexicaanse dip van Heks'n
Geraspte kaas, naar smaak
Bereiden:
Verwarm de oven voor op 200 graden. Snij de paprika's en ui in reepjes. Vet een ovenschaaltje in en rooster de paprika's en ui in de oven tot ze gaar/zacht zijn. Bestrooi de kipfilet met de Mexicaanse kruiden en bak de kipfilet in de pan gaar. Zet tot gebruik aan de kant in een kommetje. Vet een ovenschaal groot genoeg voor 3 opgerolde wraps in met wat olie. Vul elke wrap met paprika, ui, kipfilet, tomaat, jalopeno's en een klein beetje geraspte kaas. Rol ze op en leg in de ovenschaal. Bestrooi met kaas naar smaak en schep er de mexicaanse dip op. Bak in de oven op 200 graden voor 10 tot 20 minuten.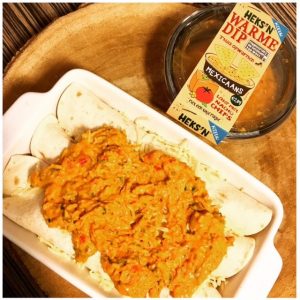 English version:
Ingredients 1 or 2 persons:
3 wraps
1 to 2 chickenbreasts, in pieces
1 to 1,5 teaspoons Mexican Spicemix (easy to make by mixing: 1 teaspoon onion powder, 1 teaspoon garlic powder, 1 teasoon salt, 2 teaspoons cumin powder, 1 teaspoon chilipeper powder and 3 spoons bellpepper powder)
1/2 red bellpepper
1/2 green bellpepper
1/2 onion
1/2 tomato, diced
Jalopeno peppers, to taste
1/2 package Mexican dip of Heks'n
Grated cheese, to taste
Directions:
Preheat the oven to 200 degrees celcius. Cut the bellpepper and onion in slices. Grease a small ovendish and roast the bellpepper and onion in the oven till done/soft. Sprinkle the mexican spices over the chickenbreast and bake the chicken till done in a pan. Set aside till use. Grease an ovendish big enough to hold 3 rolled up wraps with a little oil. Fill every wrap with the bellpepper, onion, chickenfilet, tomato, jalopeno's and a little grated cheese. Roll up and put in the ovendish. Sprinkle some more cheese on top and pour the Mexican dip on top. Bake in the oven on 200 degrees celcius for about 10 to 20 minutes.